Jose Cruz
Jump to navigation
Jump to search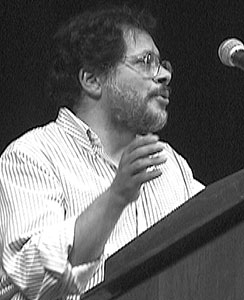 Jose A. Cruz is the Editor of Mundo Popular, the Spanish language version of People's Weekly World[1].
Massachusetts May Day
In May 1995 the Communist Party USA newspaper Peoples Weekly World published a May Day supplement. Included was a page offering May Day greetings to Massachusetts Communists Lew Johnson, Laura Ross, and Ann Timpson. Endorsers of the greeting included Jose Cruz.[2]
Labor Day call
The Communist Party USA paper People's Weekly World issued a statement to mark Labor Day 1995, entitled "We honor the dead and fight like hell for the living."
Of the more than 100 endorsers listed, almost all were identified members of the Communist Party USA.
Jose Cruz Attleboro Massachusetts, was on the list.[3]
Endorsed Communist Party Call
On March 30 2002 the Communist Party USA paper People's Weekly World called for a national holiday in honor of late Farm Workers Union leader Cesar Chavez. The article was followed by a long list of endorsers[4]including Jose Cruz, Almost all endorsers were confirmed members of the Communist Party USA.
Getting out the Latino vote
Rosalio Munoz and his comrade Lorenzo Torrez are entrusted by the Communist Party USA with swinging the Latino vote in the Southern States behind the Democratic Party[5];
TUCSON, Ariz. – Communist Party leaders and activists met here to discuss plans to bring out the broadest possible Mexican American and Latino vote to defeat the ultra right in the November elections and to strengthen the CPUSA's work among this section of the population. The participants at the meeting, held in the Salt of the Earth Labor College on May 15-16, came chiefly from the Southwest and the West Coast.
Lorenzo Torrez, chair of the Party's Mexican American Equality Commission, reviewed the Commission's work in the recent period. He proposed the organizing of a left-center Latino coalition to mobilize the progressive sentiments of U.S. Latinos. Rosalío Muñoz, CPUSA organizer in Southern California, reported on Latinos and the elections. He noted that the presidential race will be decided in key "battleground states." A number of these, such as Arizona, New Mexico, and Colorado, are states where Mexican Americans are concentrated, he said.
Muñoz proposed that the CPUSA put out literature in both Spanish and English explaining what is at stake for Latinos in the upcoming elections.
José A. Cruz, editor of Nuestro Mundo, the Spanish-language section of the People's Weekly World, discussed ways of improving the paper's coverage of critical issues in the Mexican American and Latino communities.
References