Jose Angel Gutierrez
From KeyWiki
Dr. Jose Angel Gutierrez is a Texas activist.
Education
Dr. Gutierrez is a 1962 graduate of Crystal City High School in Crystal City, Texas. He has also earned degrees from Texas A & M University at Kingsville (B.A. 1966), St. Mary's University in San Antonio, Texas (M.A. 1968), the University of Texas at Austin (Ph.D. 1976) and the University of Houston, Bates College of Law, Houston, Texas (J.D. 1988). He has done other postdoctoral work at Stanford University, Colegio de México, University of Washington, and Centro de Estudios Económicos y Sociales del Tercer Mundo in Mexico City, Mexico[1].
Soviet connection?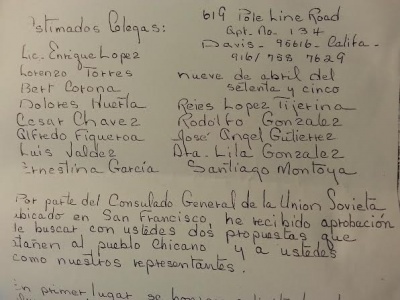 On April 9, 1975, Jorge Acevedo wrote a letter in Spanish to several well known Chicano activists including Enrique Lopez, Lorenzo Torrez, Bert Corona, Dolores Huerta, Cesar Chavez, Alfredo Figueroa, Luis Valdez, Ernestina Garcia, Reies Lopez Tijerina, Rodolfo Gonzales, Jose Angel Gutierrez, Lila Gonzalez, and Santiago Montoya.
The letter referred to the Soviet Consulate in San Francisco, Chicano participation in the Patrice Lumumba University in Moscow, Chicano self-determination, the "socialist system" and the Soviet front World Peace Council. The letter spoke of two proposals received from the Soviet Consul in San Francisco.
The first proposal was to invite students of both sexes to enrol in the Patrice Lumumba University in Moscow, for the academic year beginning in September 1975.
"Professional and personal expenses" would benefit the socialist system, which "seeks to support the Chicano self-determination movement."[2]
MAYO
There were five founding members of the Mexican American Youth Organization-Jose Angel Gutierrez, Juan Patlan, William C. Velasquez (Willie Velasquez), Ignacio Perez, ("Nacho" Perez) and Mario Compean.
Gutierrez was a graduate political science student at St. Mary's University . Jose Angel Gutierrez was the "heart and soul" of MAYO and was responsible in great part for bringing this group together. Juan Patlan was an old friend of Gutierrez from high school. Willie Velasquez worked for the Catholic Bishop's Committee on the Spanish Speaking. "Nacho" Perez was a non student who was active raising money for the Texas chapter of the United Farm Workers Organizing Committee. Mario Compean, the last to join this group, was a former migrant worker who was entering his freshman year as a political science student in 1967.
According to Gutierrez they(the founding members) came to discuss politics, the Chicano student movement in California, and the conditions of Mexican Americans in general, and to drink beer. It was this group that would be the driving force behind the Mexican American Youth Organization. This group first met at a local bar, the Fountain Room, situated a few blocks from St. Mary's University.
This group studied different political theories and examined the works of black nationalists such as Stokely Carmichael, Eldridge Cleaver, and Malcolm X. This nucleus of MAYO also followed the actions of the Alianza de Pueblos Libres movement led by Reies Lopez Tijerina in New Mexico and the Crusade for Justice movement in Colorado headed by Rodolfo Gonzales[3].
These Mexican American activists were not satisfied with just reading about the works and political philosophies of U.S. activists. Members of this group were sent into the South to talk to Stokely Carmichael and associates of Dr. King. Tijerina was interviewed also. After the interviews were completed, reports were made back to the group. As a result of these travels and the study sessions the Mexican American Youth Organization came into being. These activists concluded that an organization needed to be formed to get involved in issues of discrimination, police brutality, labor organizing, and education and the treatment of Mexican American students in public schools. In addition, MAYO would attempt to foster a new pride in being Chicano.
According to Mario Compean, the group adopted the confrontational tactics of Chicago based "community organizer" Saul Alinsky[4];
"What we needed was an approach similar to what the Black Movement was using . . . demonstrating, marching in the streets. To that we incorporated a Saul Alinsky component of confrontational politics. And we said that was going to be the strategy MAYO was going to be using. Use of confrontational politics based on information well researched but foregoing the use of nice language."
Political Rights Defense Fund
Gutierrez was listed as a "Sponsor" of the Trotskyite communist front, the Political Rights Defense Fund (PRDF) in two of their mailings in late 1973 or early 1974. The PRDF was created and controlled by the Socialist Workers Party (SWP), an illegal, covert member of the old "Fourth International" based in Paris. On one of the two PRDF pamphlets he was identified as a member o La Raza Unida Party La Raza, along with Juan Jose Pena, chairman, La Raza Unida Party, New Mexico, Flores Amaya, La Raza Unida Party, Texas, and Jose Chalderon, chairman, La Raza Unida Party, Colorado.
Palestine Human Rights Campaign
A brochure came out in early 1978 announcing "A National Organizing Conference" sponsored by the Palestine Human Rights Campaign to be held on May 20-21, 1978, at American University, with the theme of "Palestinian Human Rights and Peace".
The list of "Sponsors" was a mix of a several groupings including the Communist Party USA and its sympathizers, the World Peace Council, the Hanoi Lobby, black extremists, mainly marxists, radical Christians, and Arab/Arab-American organizations, plus a few phone-booth sized pro-Palestinian Christian groups.
Individual sponsors of the event included Jose Angel Gutierrez.
DSOC
Some 150 delegates and 100 observers met at Houston's Airport Holiday Inn, February 16-19, 1979, for the fourth national convention of the Democratic Socialist Organizing Committee (DSOC).
DSOC's advertised convention participants were listed as including Rep. Ron Dellums (D-CA), Joyce Miller-president, Coalition of Labor Union Women, City Councillor Hilda Mason-DC Statehood Party, Maury Maverick Jr., San Antonio, Texas, James Farmer executive director, Coalition American Public Employees, William Holayter-political action director, International Association of Machinists, Jose Angel Gutierrez-La Raza Unida Party, Crystal City, Texas, Ruben Berrios-head of the Puerto Rican Independence Party and Kris Muller-Osten, a representative of the Willy Brandt led West German Social Democratic Party[5].
Official positions
Dr. Gutiérrez has been elected and appointed to public office since 1970. He has served as an elected Trustee and President of the Crystal City Independent School District (1970-1973), Urban Renewal Commissioner for Crystal City, Texas (1970-1972), County Judge for Zavala County, Texas (1974-1978, re-elected 1978-1981), Commissioner for the Oregon Commission on International Trade (1983-1985), Administrative Law Judge for the City of Dallas (1900-1992), and member of the Ethics Commission for the City of Dallas 1999-2000[6].
Chicano movement
The 40th Anniversary Commemoration Committee of the Chicano Moratoriums was formed in the summer 2009 by the Chair of the National Chicano Moratorium Committee of August 29, 1970 along with two independent Chicano Movement historians whom although not of the baby boomer generation, have become inspired by the Movimiento.
The organization posted a list of significant "Chicano movement" activists on its website which included Jose Angel Gutierrez.[7]
References