Jorge Acevedo
From KeyWiki
Jorge Terrazas Acevedo was a California marxist academic.
Letter to Chicano activists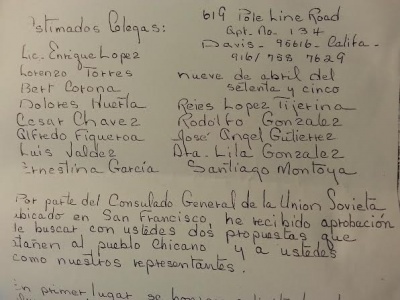 On April 9, 1975, Jorge Acevedo wrote a letter in Spanish to several well known Chicano activists including Enrique Lopez, Lorenzo Torrez, Bert Corona, Dolores Huerta, Cesar Chavez, Alfredo Figueroa, Luis Valdez, Ernestina Garcia, Reies Lopez Tijerina, Rodolfo Gonzales, Jose Angel Gutierrez, Lila Gonzalez, and Santiago Montoya.
The letter referred to the Soviet Consulate in San Francisco, Chicano participation in the Patrice Lumumba University in Moscow, Chicano self-determination, the "socialist system" and the Soviet front World Peace Council. The letter spoke of two proposals received from the Soviet Consul in San Francisco.
The first proposal was to invite students of both sexes to enrol in the Patrice Lumumba University in Moscow, for the academic year beginning in September 1975.
"Professional and personal expenses" would benefit the socialist system, which "seeks to support the Chicano self-determination movement."[1]
US Delegate to WPC
The official World Peace Council publication/book World Peace Council - List of Members 1977-1980 listed several members of the U.S. delegation with personal information and organizational affiliations.
They included Jorge Acevedo - Professor, Chicano Studies, University of California.
References
↑

[Rodolfo Gonzales papers Denver Public Library]