Jordan Flaherty
Jump to navigation
Jump to search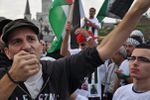 Jordan Flaherty
New leadership
June 2019, a number of candidates ran for local council seats in New Orleans Democratic Socialists of America, with Jordan Flaherty elected as a new co-chair alongside re-elected Co-Chair Michael Ifeoma Esealuka
The entire elected Local Council includes Zach D. and Sophie Kosofsky as at-large Local Council members, Logan Yates as membership chair, Alli DeJong as treasurer, and Ryan S. as secretary. Michael Ifeoma Esealuka, Suzanne-Juliette Mobley , Frances Gill, Joshua Lewis, and Jordan Flaherty were chosen to represent the chapter at DSA's upcoming National Convention in August.[1]
For May Day and Beyond
For May Day and Beyond: White People Stepping Up for Immigrant Rights! was a letter circulated in May 2006, among people mostly affiliated with the Freedom Road Socialist Organization.
Open Letter to White Communities
In the past month, five million people, mostly immigrants of color, have mobilized for justice and are making history, flooding the streets in unprecedented numbers. Meanwhile, the most visible participation by white people is coming from the racist and right wing leaders who are defining and dominating the debate in the Federal government and in the news, radio and opinion pages. Where are the voices of anti-racist white people in this crucial moment, when the worst anti-immigrant legislation in decades is still poised to drop?
Signatories included Jordan Flaherty, Left Turn Magazine. [2]
Left Forum 2013
Organizing Among/Within Crisis: Lessons From The Housing Market Collapse, Occupy Wall Street, and Relief and Rebuilding After Hurricanes Katrina & Sandy
World Social Forum 2013
Grassroots Global Justice Alliance activists attended the World Social Forum 2013 held in Tunis, Tunisia. Delegates included Kali Akuno (MXGM), Jordan Flaherty (Floodlines), Maria Poblet (CJ/JC), Helena Wong (CAAAV), Erin Byrd (BWFJ), Autumn Martinez (UE 199), Cindy Wiesner (GGJ), Charity Hicks (EMEAC), and Tammy Bang Luu (LCSC).[3]
"Speaks truth about terrorism, racism and Palestine"
Tidal Magazine June 17, 2013.
Listen to this spoken word of an angry (yes, angry!) woman of color as she speaks truth about terrorism, racism and Palestine. Listen . Like . Share: http://www.youtube.com/watch?v=sLUirMONjm0 — with Sofia Gallisa Muriente, Lamis Deek, Conor Tomas, Nariman Khalaf Rajab, Jordan Flaherty, Yasmin Hamidi, Laura Raicovich, Ashley Cunningham, Josh MacPhee, Anas Amireh, Rachel Smith, Winnie Wong, Andrew Kadi, Omar Khartabil, Jose LaSalle, Nicholas Mirzoeff, Anthony Yenafuk, Kareem Estefan, Gina Grimm Nagle, Ashe Hu, Hanan Thabet, Ravi Ahmad, Susan Gail Wilcox, Nicolas Haeringer, Ghassan Nasr, Kazembe Balagun, Raed Samara, Suzahn Ebrahimian, Amany Khalifa, Pamela Brown, Jerry Ashton, Marina Sitrin, Jed Brandt, Cindy Milstein, Manissa M. Maharawal, Summer Mamoun Husain, Nounie Hussein, Remi Kanazi, Faten Ali, Darragh Mosca Sheehan, Josephine Hilalia, Youmna El Khattam, Katherine Ramos, Amar Mamoun Husain and Omar Atway.
Left Turn Editorial collective
As of February 2017;[4]
References