Jonathan Kozol
From KeyWiki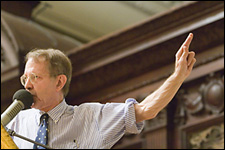 Jonathan Kozol...
Education/early activism
Jonathan Kozol graduated from Harvard in 1958 and was awarded a Rhodes Scholarship to Magdalen College, Oxford. In 1964 he took a job as a teacher in a public school in Roxbury, which led to his book "Death at an Early Age: The Destruction of the Hearts and Minds of Negro Children in the Boston Public Schools." The work received the National Book Award in Science, Philosophy and Religion in 1968.
Campaign for America's Future
In 1996 Jonathan Kozol was one of the original 130 founders of Campaign for America's Future.[1]
Educational activism
In 2007 Kozol was lobbying Democratic Party Congress[2]against school testing.
Recently, Kozol has spent a lot of time in Washington, D.C., urging the Democratic leadership in Congress to make what he calls "radical change" to No Child Left Behind in part by drastically reducing the amount of high-stakes testing. A vote to reauthorize the federal law is expected this fall, with the Bush administration pushing to broaden its scope.
Kozol is also mobilizing teachers with Education Action, a network of educators whom he hopes will carry on his efforts.
Wellstone Action
In 2009 Jonathan Kozol was listed as a member of the Advisory Board[3] of Wellstone Action, a Minnesota based organization based on the political legacy[4] of that state's late 'progressive" Senator Paul Wellstone.
Wellstone Action and Wellstone Action Fund combine to form a national center for training and leadership development for the progressive movement. Founded in January 2003, Wellstone Action's mission is to honor the legacy of Paul and Sheila Wellstone by continuing their work through training, educating, mobilizing and organizing a vast network of progressive individuals and organizations.
Social Policy
For over 30 years, Social Policy has served as "key site for intellectual exchange among progressive academics and activists from across the United States and beyond", including: Frances Fox Piven, Jonathan Kozol, Noam Chomsky, Marian Wright Edelman, Ivan Illich, Stanley Aronowitz, Michael Lerner, Gloria Steinem, and others[5].
References