Jon Fromer
From KeyWiki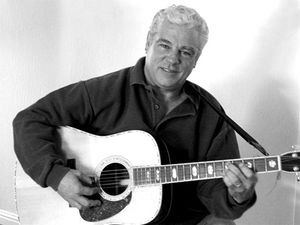 Jon Fromer ..."singer-songwriter, soccer champ, and all-around progressive artist ... died of stomach cancer Jan. 2, 2011, at his home in Mill Valley" Northern California.
At the 2009 Committees of Correspondence convention in San Francisco, Jon Fromer organized and led a workshop on "Working Class Culture and Movement Building" sponsored by the Bay Area Billie Holiday Collective of which Jon was a key force behind for decades. Fromer was the key organizer of the annual Bolshevik Café, a fundraising cultural event for progressive organizations in northern California, including CCDS.
He will be remembered at the annual protest of the School of the Americas at Ft. Benning, Georgia where Fromer gave of his talents in songs each year. [1]
Background
As a TV producer, including several kids' shows, Fromer won 13 Northern California Emmys, one national Emmy and two Iris awards from the National Association of Television Program Executives.
Fromer was on the U.S. National Soccer Team and was an alternate on the 1976 U.S. Men's Olympic Soccer Team.
Born in Chicago in 1946, Fromer grew up in San Francisco. In 1965, he marched from Selma to Montgomery, Alabama with civil rights marchers, kick-starting his life-long devotion to fighting for justice through song.
Besides his musical and athletic activities, he also performed with improv comedy groups - an aspect of his life highlighted at the memorial by improv artists Diane Amos and Chris Pray.
In 2011, he received the Joe Hill Award from the Labor Heritage Foundation and the Labor Arts Award from the Western Workers Labor Heritage Festival.
Besides his wife and brother, Fromer is survived by his son, Mark Mackbee, grandson Shay Macbee, and a sister, Ann Fromer-Spake.[2]
WEB DuBois Clubs of America
In 2014, Jon Fromer was listed a a friend on the DuBois Clubs Facebook page.[3]
CPUSA
Jon Fromer was a California delegate to the 1991 Communist Party USA convention in Cleveland.
CoC National Conference endorser
In 1992 Jon Fromer, executive board, American Federation of Television and Radio Artists, San Francisco, endorsed the Committees of Correspondence national conference Conference on Perspectives for Democracy and Socialism in the 90s held at Berkeley California July 17-19.[4]
NCC candidate
At the Committees of Correspondence Conference, July 19,1992, Jon Fromer was a candidate for the CoC NCC.[5]
Conference on Perspectives for Democracy and Socialism in the 90s
The Conference on Perspectives for Democracy and Socialism in the 90s was the Committees of Correspondence's first national conference held in Berkeley, California July 17-19, 1992.[6]
Workshops that were held at the conference on Saturday, July 18 included:[7]
People's Art How to combat defunding, denial of access and cooptation?
Memorial service
The Great Hall at the San Francisco Unitarian Church was packed to the rafters Feb. 16 2013, as hundreds gathered to pay tribute Jon Fromer.
From opening remarks by Belva Davis - longtime host of KQED's This Week in Northern California, now retired - to a moving thank-you to the audience from Jon's wife of 42 years, Mary Fromer, the program was a "testament to Fromer's rich contributions to people's struggles".
As audience members often sang along, Holly Near, Francisco Herrera, and the Vukani Mawethu choir performed songs by Fromer and others, and Fromer's brother and nephew, David Fromer and Reed Fromer, sang Fromer's last song, Harvest of My Soul.
Author and songwriter Bernard Gilbert's reading of a chapter from Fromer's as-yet unpublished novel "enthralled the room with vivid storytelling in a very different medium".
In a letter read by Herrera, Father Roy Bourgeois, founder of School of the Americas Watch, told how Fromer revived the spirits of fasting members of the group.
"Years ago, when the School of the Americas Watch movement was just getting started," Bourgeois wrote, "a group of us were on a 40-day fast on the steps of the Capitol at Washington DC. Two weeks into the fast, our bodies grew weak, and our morale was down. And then out of nowhere this guy showed up with his guitar and he started singing!
"I will never forget that moment. Everyone perked up and came to life. Jon was like an angel who appeared and uplifted our spirits ... And that he did every year, and uplifted the spirits of thousands with love and hope.
California Labor Federation head Art Pulaski called Fromer "labor's superhero ... Like a one-man cavalry, he would fly in when we were down, when we felt this battle, this strike, was almost defeated ... and lift us up on his shoulders and carry us forward on the battlefield for justice. Eight minutes with Jon was better than two dozen speaking heads."[8]
References