John Tanner
From KeyWiki
John S. Tanner is a Democratic member of the United States House of Representatives, representing the 8th district of Tennessee.
Cuba trip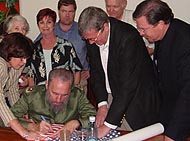 From March 15-18, 2002 The Alliance for Responsible Cuba Policy Foundation sponsored a fact-finding, educational trip to Cuba March 15-18, led by Congressman John Tanner (D-TN), including Alliance board members Dr. Ruth Cowan, Honorable Dennis DeConcini, and Mr. James C. Free. The delegation met with the Catholic Cardinal of Havana, His Excellency Jaime Ortega, as well many senior Cuban government officials. The delegation had a three-hour meeting with President Fidel Castro. President Castro and the delegation discussed cooperation between the United States and Cuba on the issues of drug interdiction, terrorism, and illegal migration, in light of a press statement released that morning by the Cuban government offering their assistance to the United States regarding those issues. [1]
Calling on Israeli Govt. to lift Gaza Travel Ban
On Dec. 22, 2009, thirty-three U.S. Representatives wrote to Secretary of State Hillary Clinton, calling on her to request that the Israeli Government end the ban on student travel from Gaza to the West Bank. John Tanner was one of the signatories of the letter.[2] The entire letter together with a complete list of signatories can be read by clicking here.
External links
References