John Perez
Jump to navigation
Jump to search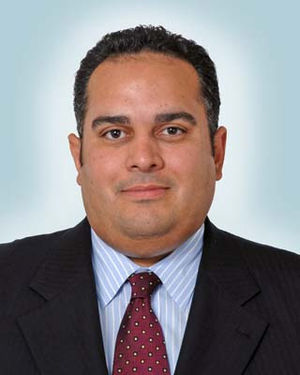 Template:TOCnestleft John A. Perez is a State Representative from California and in 2010 was sworn in as the Speaker of House.
Personal Life
As the first openly gay person of color to be elected to state office in California, Perez has been a longtime advocate on behalf of the Lesbian Gay Bisexual Transgender Community. He has been a leader with AIDS Project Los Angeles, the Latino Coalition against AIDS, and the California Center for Regional Leadership. In recognition of his work, he was appointed by both President Bill Clinton and President George W. Bush to serve on the President's Advisory Council on HIV/AIDS.[1]
Public Service
Perez grew up in the working class communities of El Sereno and Highland Park. After attending the University of California at Berkeley, he became active in the labor movement, where he spent over 15 years "working to create jobs, expand healthcare and protect workers' rights". Prior to his election to the State Assembly, Perez served as political director for the United Food & Commercial Workers Union Local 324, and previously served in a similar position for the California Labor Federation. He has served on the board of directors of the Los Angeles Community Redevelopment Agency, where he led the effort to mandate a local hire agreement requiring 30% of all major construction jobs to be dedicated to local residents and those in need. Perez serves as an elected member of the Democratic National Committee. He has previously served as a board member for the California League of Conservation Voters and the Los Angeles Economic Development Corporation. He was appointed by former Speaker Bob Hertzberg to serve on a blue ribbon panel on Initiative Reform as well as the Voting Modernization Board.[2]
Endorsed Marcy Winograd
In 2006 John Perez, Chair 58th AD of the California Democratic Party was a Delegate endorser of Marcy Winograd of the Los Angeles Progressive Democrats of America in her unsuccessful primary bid for the Democratic Party nomination 26th Congressional District in California[3]
California Legislature
Pérez was elected in 2008 to represent the 46th Assembly District, comprising the cities of Maywood, Vernon, Huntington Park as well as the communities of Boyle Heights, Downtown Los Angeles, unincorporated East Los Angeles and parts of South Los Angeles. In January 2010, he was elected Speaker of the California Assembly and was sworn in as the 68th Speaker on March 1, 2010.[4]
"Latinos Need Barack Obama"
Rep. Linda Sanchez posted an article on the Huffington Post blog September 17, 2012, co-signed by several leftist California activists, and legislators, supporting Barack Obama for president;
We support comprehensive immigration reform and we believe President Obama is on the right track. He favors an immigration policy that rewards hard work and responsibility and lifts the shadow of deportation from young people who were brought here as children, through no fault of their own, and grew up as Americans. And given congressional inaction, the President and the DHS implemented a stop-gap measure that temporarily lifts the shadow of deportation from DREAMers.
The economic recovery is not yet complete, but we recognize President Obama's work to help our communities. From the Latina back in school thanks to expanded Pell Grants to the family that can now afford health care for their child with a preexisting condition, all Latinos need a leader that will stand by his word and respect their pursuit of the American Dream.
Sadly when Mitt Romney speaks to Latinos today he will not answer our Grito de Verdad y Liderazgo because he stands on the wrong side of every Latino voter priority. Latinos know that what we need is a President who will lead our community with respect and value our contributions and that the contrast between Romney's campaign rhetoric and four years of action from this administration is clear: the man we need to lead us is Barack Obama.
References