John McTernan
Jump to navigation
Jump to search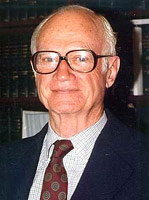 Template:TOCnestleft John Tripp McTernan (1910-2005) was a prominent left wing lawyer from California.
Early life
McTernan was born in White Plains. His father was a trust deed officer and his mother a schoolteacher.
Education
McTernan graduated from Amherst College and Columbia Law School, paying his way by winning scholarships and working odd jobs.
Career
McTernan's first job was with the United States Shipping Board Bureau, an agency in the Commerce Department, and his second was with the United States Maritime Commission.[1]
He then worked for the National Labor Relations Board, rising to regional counsel for Northern California. He moved on to the Office of Price Administration, then joined a private law firm in 1944.
At the firm, he teamed up with Ben Margolis, famous for defending black-listed movie-industry figures.
The firm paid its bills with labor, personal injury and product liability cases, but the passion of Mr. Margolis and Mr. McTernan was defending the needy and the leftist.[2]
National Lawyer's Guild
In 1950, McTernan served on the executive board of the National Lawyer's Guild.[3]
Leaving the Party/NAM
In the early 1970s, Dorothy Healey, Ben Dobbs and a group of their former California comrades, including housing and civil-liberties activist Frank Wilkinson and attorneys Ben Margolis and McTernan left the Communist Party USA. They later joined the New American Movement and eventually the Democratic Socialists of America.[4]
Dorothy Healey, John McTernan and Ben Margolis were all in the same Southern California New American Movement branch[5]with Paul Jarrico and Bill Jarrico.
Turned down for China trip
In April 1974 Hugh DeLacy wrote to Mme. Wu, Peoples Republic of China representative in Ottawa, requesting that a party be allowed to visit the PRC. Those requested to visit were[6];
In December 1974 Delacy recieved a reply from Hu Hung-fan of The Chinese Peoples Association For Friendship With Foreign Countries, Peking, China, inviting the DeLacy's but declining the rest.
New American Movement
In 1981, Ben Margolis, John McTernan, Howard Sacks, David Epstein, Barbara Hadsell and Jim Varga congratulated the New American Movement on the occasion of its 10th anniversary.[7]
Tribute to Ben Dobbs
On Sunday, June 7, 1981, the Los Angeles Chapter of the New American Movement sponsored a Tribute to Ben Dobbs for "His lifelong commitment to socialism". The event was held at the Miramar-Sheraton Hotel, Santa Monica, California. Sponsors of the event included John McTernan.[8]
Remembering Hugh DeLacy
On September 6, 1986 a memorial for Hugh DeLacy was held at the Louden Nelson Center, Santa Cruz, California.
Mardi Wormhoudt was the presenter, speakers included Margaret DeLacy, Jack Berman, Hon. Leon Panetta, John McTernan, Gary Patton, songs by Mike Rotkin, readings by Leon Papernow and Linda Bergholdt, a letter from Dorothy...by Greta Davis and songs by Steve Turner and Terry Turner[9].
DSA potential donors list
On January 21, 1992 Steve Tarzynski, National Political Committee of Democratic Socialists of America, wrote a letter to "Harold" (probably Harold Meyerson).
"Following is the list of possible major donors I can think of to pledge support for Trish and our program in southern California. Additions and comments sorely needed."
Question marks in original list.[10]
Los Angeles DSA potential donors list
On July 26 1992 California Democratic Socialists of America leader Steve Tarzynski wrote a draft "major donor letter" for Southern California DSA, inviting donors to join the Upton Sinclair Club of DSA[11]
We know you have been generous in supporting DSA's important work in the past. We'd like to develop a core of at least twelve people who will pledge 1,000 annually to keep our Organization working for Southern California DSA. We invite you to be one of those people. This select group of members and friends would have a key role in rebuilding a democratic left opposition in California.
This unique group of individuals would form the "Upton Sinclair Club" which will act in an advisory role meeting with the Southern California DSA leadership at an annual brunch. Sinclair Club members will receive a quarterly bulletin reporting on Southern California DSA's progress, and will have an opportunity to meet international DSA spokespeople and international guest speakers in more intimate small group settings. Admission to all local, statewide, and national DSA events in the Southern California would be complimentary with membership in the Sinclair Club.
The draft was accompanied by a "List of Potential major donors to DSA"
Upton Sinclair Club
In the early 1990s John McTernan and Anne McTernan, Los Angeles, were members of the Upton Sinclair Club, of Democratic Socialists of America. The club consisted of wealthy Californians able to contribute significant donations to DSA[12].
Still left
In an interview[13] with The Los Angeles Daily Journal in 2000, Mr. McTernan said, "I'm still what I'd call a left-winger."
References