John Henrik Clarke
Jump to navigation
Jump to search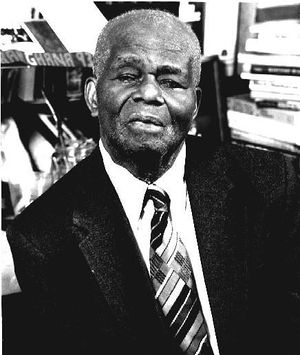 Template:TOCnestleft John Henrik Clarke of New York, was born John Henry Clark.
Clarke was recruited into the Young Communist League USA in the 1930s, but claims never to have joined the main Party. he remained life long friends with party leader Henry Winston[1];
I was immediately drawn to radical elements. They were the only ones who acknowledge our plight and attempted to do anything about it. I became active in the Young Communist League. I was never a member of the Communist Party, contrary to what many believed. As a matter of principle, if I had been a member of the Communist Party, I would have said so unashamedly. I was active with radicals who were committed to doing something. This is where those who claimed that I was a communist got mixed up. There were communist-sponsored activities where non-communists like myself were more effective and more active. For example, I was active in the Scottsboro and Angelo Herndon cases as a young street speaker and fundraiser. I was at the rallies and did things automatically.
My first act with the Young Communist League was to prevent Henry Winston and family from being evicted from their Lower East Side apartment. The law was written in such a way that if you are evicted and someone put your things back in the house, the marshal had to wait another thirty days to give you another eviction notice. In three days you could find another place to stay. So I was head of a group of young Turks who put their furniture back in the house. Henry and I remained friends, though we had some strong disagreements about Marxism.
When Henry wrote his book, Strategy for a Black Agenda, I was the only one to raise the question of whose black agenda? I had arrived at an important position in the 1930s—a position that has been verified by events in the communist world today. Communism and socialism were not monoliths to be applied in the same way in all nations. Each country will have to approach socialism based on its own needs and character. Poland is a good example. No matter how communist Poland becomes, they are going to remain Catholic. You can say religion is the opiate of the people and I might agree with you, but that will not change anything. Poles are going to remain Catholic. You can declare that Russia is an atheist nation all you want, but there are going to continue to be millions of religious people in Russia, including 30 million Moslems. I told Henry and other communists that they had to work from reality, not their ideological declarations. So if black people become socialist, we become Baptist socialists, Methodist socialists, holy-roller socialists, Father Divine socialists, and Moslem socialists. That is reality.
Herbert Aptheker Testimonial Dinner
On April 28, 1966 John Clarke was a sponsor of the Herbert Aptheker Testimonial Dinner. The dinner was held on the occasion of Herbert Aptheker's 50th birthday, the publication of his 20th book, and the 2nd anniversary of the American Institute for Marxist Studies. It was held in the Sutton Ballroom, The New York Hilton, Avenue of the Americas, 53rd to 54th Street, New York City. Most speakers, organizers and sponsors were known members or supporters of the Communist Party USA.[2]
Malcolm X conference
A conference, Malcolm X: Radical Tradition and a Legacy of Struggle was held in New York City, November 14 1990.
The opening panel consisted of;
References