John Dingell
From KeyWiki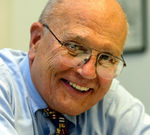 John D. Dingell (born July 8, 1926 in Colorado Springs, Colorado) was a Democratic U.S. Representative representing the 15th District of Michigan.
Early Life
Dingell was born July 8, 1926 in Colorado Springs, Colorado. He split much of his childhood between Detroit and Washington, DC, while his father, also named John, served as Congressman from Michigan's 15th district.
Army Service
In 1944, at the age of 18, Dingell joined the U.S. Army and prepared to fight the Axis powers in World War II. He rose to the rank of Second Lieutenant and received orders to take part in the first wave of a planned invasion of Japan in November of 1945. The Congressman has said President Truman's decision to use the atomic bomb to end the war 'saved' his life.
When he finished his military service in the fall of 1946, Dingell attended Georgetown University in Washington, D.C. where he studied chemistry. He continued his studies at Georgetown Law School, graduating in 1952. He then worked as a forest ranger, a prosecuting attorney for Wayne County and ran his own private law office.[1]
Political Career
When his father passed away while still a Member of the US House of Representatives in 1955, the younger Dingell stepped up to fill the void, beginning his career on Capitol Hill at the age of 29.
At the beginning of every session of Congress, Congressman Dingell introduces the national health insurance bill his father sponsored when he was a Member.
On February 11, 2009, he became the longest serving Member in the history of the U.S. House of Representatives.[1]
Protecting Islamic extremists
During the first Gulf War, John Conyers fought FBI outreach efforts in the Arab and Muslim community in Detroit that were designed to gather intelligence on potential cells and protect the home front. Conyers and other Detroit-area Democrats at the time, David Bonior and John Dingell, threatened to hold hearings unless the FBI stopped counterterrorism interviews.[2]
Arab American Political Action Committee
The second annual Arab American Political Action Committee dinner was held in 1999 and was attended by over 800 people. Osama Siblani welcomed the audience and introduced Samer Jaafar the Chairman of the Endorsement Committee. AAPAC's president Abed Hammoud delivered the organization's message and plans for the future. Congressman David Bonior, the House Minority Whip and U.S Senator Spencer Abraham delivered their addresses. Dr. Mohamad Khansa chaired the Dinner Committee.
Prominent Michigan public officials in attendance included US Senator Spencer Abraham and his wife Jane Abraham, US Congressman David Bonior and his wife Judy Bonior, US Congressman John Dingell and his wife Debbie Dingell, US Congressman Sander Levin and his wife Vicki Levin, US Congressman John Conyers, Jr., US Congresswoman Debbie Stabenow, US Congressman Joe Knollenberg, US Congresswoman Lynn Rivers, Wayne County Sheriff Robert Ficano and Eunice Confer representing U.S. Senator Carl Levin.[3]
The Arab American Political Action Committee endorsed John Dingell for the Nov. 2, 2010 elections.[4]
Swearing in Nancy Pelosi
On January 3, 2007, Pelosi defeated Republican John Boehner of Ohio with 233 votes compared to his 202 votes in the election for Speaker of the House. She was nominated by Rahm Emanuel of Illinois, the incoming chairman of the House Democratic Caucus, and sworn in by her long time friend, John Dingell of Michigan, as the longest-serving member of the House traditionally does.
"Single - payer" movement
According to Michael Lighty, a former National Director of Democratic Socialists of America, and Director of Public Policy for the California Nurses Association/National Nurses Organizing Committee, writing in DSA's Democratic Left, Winter 2007/2008 .[5]
There's a growing movement for single-payer universal healthcare. The movement is led by activists in Healthcare-Now!, doctors in the Physicians for a National Health Program, nurses in the California Nurses Association/National Nurses Organizing Committee, leaders in labor unions such as United Steelworkers of America and Communication Workers of America, activists in the Progressive Democrats of America, and Congressman John Conyers, with the support for HR 676 by 300 union locals, 75 Central Labor Councils, and 25 state Federations of Labor, and hundreds of clergy and faith-based organizations, as well as civil rights, women's and healthcare advocacy groups in the Leadership Conference for Guaranteed Healthcare.
The policy proposals developed by Beltway think tanks and the principles for reform adopted by the AFL-CIO confer support for single-payer while allowing for private insurance-based approaches as well. Other bills in Congress, notably sponsored by Ted Kennedy and John Dingell and "Americare" introduced by Pete Stark, seek to incrementally establish a single-payer system.
Calling on Israeli Govt. to lift Gaza Travel Ban
On Dec. 22, 2009, thirty-three U.S. Representatives wrote to Secretary of State Hillary Clinton, calling on her to request that the Israeli Government end the ban on student travel from Gaza to the West Bank. John Dingell was one of the signatories of the letter.[6] The entire letter together with a complete list of signatories can be read by clicking here.
Supported Lifting the Gaza Blockade
On Jan. 27, 2010, U.S. Representatives Keith Ellison and Jim McDermott led 52 other members of Congress in signing a letter addressed to President Barack Obama, calling for him to use diplomatic pressure to resolve the blockade affecting Gaza. John Dingell was one of the signatories of the letter. [7] The entire letter together with a complete list of signatories can be read by clicking here.
DSA sponsored rally
Over 300 people attended the Call to Action Rally at the United Food and Commercial Workers Union (UFCW) Local 876 Hall in Madison Heights on February 18th 2010. The rally was organized to press members of the Michigan Congressional delegation , particularly in the Senate, to pass key components of the progressive agenda including health care reform, cap and trade energy legislation, immigration reform, and the Employee Free Choice Act. Greater Detroit Democratic Socialists of America co-sponsored the rally along with 31 other organizations including Health Care for America Now, the UAW, the Metropolitan Detroit AFL-CIO, the Service Employees International Union ), UFCW, UNITE-HERE Local 24, AFSCME Council 25, Reform Immigration for America, Repower America (the organization founded by former Vice-President Al Gore to promote investment in renewable energy), Gray Panthers of Metro Detroit, Michigan Universal Health Care Access Network, the Arabic Community Coalition for Economic and Social Security, Southeast Michigan Jobs with Justice, MoveOn, and MOSES.
Congressmen Sander Levin and John Conyers, Jr. addressed the audience. In addition, aides to Senators Debbie Stabenow and Carl Levin and Representatives Dale Kildee, Gary Peters, Carolyn Cheeks Kilpatrick, and John Dingell attended the rally.
DSA member Al Fishman spoke to the audience about how the disastrous wars in Iraq and Afghanistan had undermined Obama's domestic agenda in a manner analogous to the way in which the Vietnam War undermined President Johnson's Great Society programs. DSA Executive Board member Dave Ivers spoke about the imperative for a national jobs program, shared a personal anecdote about how the health care crisis had affected his family, and stressed the importance of Congress passing the Employee Free Choice Act to make it easier for workers to organize unions. Other speakers included Chris Michalakis, Legislative Director of UFCW Local 876, who spoke about the importance of comprehensive immigration reform. Luke Canfora of Repower America described the huge potential benefits of investment in renewable energy (decreased reliance on foreign oil, reduced emissions of greenhouse gases, and job creation). Marcia Boehm and Altheia Henry discussed the urgent need for health care reform. John Freeman, Michigan Director of Health Care for America Now, moderated the event.[8]
Detroit rally
Over 10,000 Detroiters marched down Washington Boulevard from the UAW-Ford National Programs Center to Grand Circus Park on Saturday, August 28th 2010, to demand "jobs, peace, and justice". The march was organized by United Auto Workers (UAW) President Bob King and Operation PUSH founder and director Reverend Jesse Jackson. It commemorated the 47th anniversary of Dr. Martin Luther King's March on Washington.
The dais at Grand Circus Park was "teeming with dignitaries—politicians, clergy of every denomination, and union leaders". Among the elected officials present were Representatives John Conyers, Jr., John Dingell, Maxine Waters, Marcy Kaptur and Senator Debbie Stabenow. Michigan Democratic Party gubernatorial nominee Virg Bernero briefly addressed the audience and committed himself to placing the interests of Main Street over those of Wall Street. Among the union leaders who spoke were UAW President Bob King, newly-elected President of the Service Employees International Union Mary Kay Henry, Farm Laborers Organizing Committee President Baldemar Velasquez, and American Federation of State, County, and Municipal Employees Council 25 President Al Garrett.[9]
CAIR connections
CAIR Michigan 2010 Banquet
The 2010 Michigan CAIR gala, was held on March 31, with about "1,000 attendees including many powerful audience members from the business, media, and political community". Present at this year's fundraiser was Nihad Awad, who founded CAIR and set it up as a not-for-profit franchise operation of sorts, with now branch offices across the country to advocate for Muslims.
But the real jewels in the crown of the 2010 CAIR Michigan fundraiser were the civil rights workers who for sixty years have been deeply involved at their own personal peril with the struggle for civil rights in the USA.
Jesse Jackson , the keynote speaker, was one of those. But there was also Rep. John Conyers (D-MI-14), whom Jackson described as "perhaps the only man who was ever endorsed by Martin Luther King." There was Rep. John Dingell (D-MI-15). There were many others, including the strong gubernatorial candidate Virg Bernero (currently Lansing's mayor).
Other attendees included Wendell Anthony, Imam and CAIR Michigan Executive Director Dawud Walid, CAIR Michigan Attorney Lena Masri, Ron Scott, Raheem Hanifa, and Jukaku Tayeb of CAIR Michigan.[10]
CAIR Michigan 2011 Banquet
Congressman John Dingell spoke at the CAIR-MI 2011 banquet.
Praising CAIR
"Through town hall meetings discussing Muslim civil rights or fighting for American Muslim employees to receive the same benefits as their colleagues, CAIR has done an admirable job advocating for equality for the American Muslim population in Michigan." - Rep. John D. Dingell (D-Mich.) (August 2013). [11]
ARA endorsement
Alliance for Retired Americans endorsed John Dingell in 2012.[12]
Staff
The following have worked as staff members for John Dingell:[13]
External links
References