John Chasnoff
From KeyWiki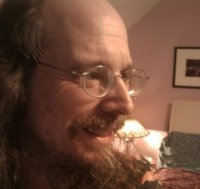 John Chasnoff is a Missouri activist. Works at Coalition Against Police Crimes and Repression. Former Program Director at American Civil Liberties Union of Eastern Missouri. Former Owner-Operator at John Chasnoff Painting. Lives in St. Louis Missouri, and married to Susie Chasnoff.
Education
Studied English Literature at Yale University
Went to St. Louis Country Day School
Young Muslims Build Leadership Skills
The 2nd annual Muslim Youth Leadership Symposium (MYLS) in St. Louis was a resounding success. Over 25 future Muslim leaders attended the one day workshop held inside the Islamic Foundation of Greater St. Louis (IFGSTL) Dar-Al-Islam Masjid. Throughout the day the students participated in various workshops and listened to five different speakers. The speakers covered topics such as:
Coalition Against Police Crimes and Repression
Members of the Coalition Against Police Crimes and Repression held a press conference in front of St.Louis City Hall June 13,2006 to call attention what they claim are serious violations to the state's Sunshine Law by the St. Louis Police Board.
Jamala Rogers and John Chasnoff said that the version of a Civilian Review Board reflected in a General Order signed in May by Police Board President Chris Goodson is different from the one presented and approved at the board's April meeting.
The Coalition said these changes are significant, and that they were not made in an open meeting is a violation of Missouri's laws on open government.[1]
Missouri comrades
Alison Dreith March 13, 2015:
With John Chasnoff, Jasmin Maurer, Kirstin Palovick, Sandra Tolbert-Abron, Lauren May, Mike Kinman, Michael McPhearson, Deborah Jacobs, Mustafa Abdullah, Denise Lieberman and Jennifer Knopf Bernstein at Missouri State Capitol.
Revolutionary Strategies to Beat the Rising Right Wing
Revolutionary Strategies to Beat the Rising Right Wing, was a nationwide conference call organized by Freedom Road Socialist Organization, Sunday October 30, 2016.
What's the nature of this right-wing threat? What has this election cycle changed about the political terrain we're fighting on? How do we need to prepare for whats coming after the election? Hear about these crucial questions from our panel of top political strategists, including Nelini Stamp, Bill Fletcher, Jr., Linda Burnham, and Sendolo Diaminah.
Those indicating interest in attending, on Facebook included John Chasnoff.[2]
References