John Bonifaz
From KeyWiki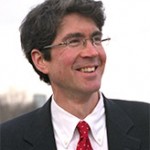 John C. Bonifaz is a constitutional lawyer, voting rights advocate, and co-founder of After Downing Street Coalition. In 2003 he served as lead counsel for a coalition of U.S. soldiers, parents of soldiers, and members of Congress in a federal lawsuit challenging President Bush's authority to wage war against Iraq absent a congressional declaration of war or equivalent action. He was also lead counsel for the Green/Libertarian Party sponsored recount in Ohio in 2004, prompted by the close vote and voting irregularities. He is the author of "Warrior King: The Case for Impeaching George W. Bush." In 2006, he was a Democratic Party candidate for Massachusetts Secretary of State.
DSA connection
In 1995, Central New Jersey Democratic Socialists of America launched an education and activist campaign on the issue of campaign finance reform. The local co-sponsored an April 2 5 forum with Princeton University's Woodrow Wilson School. John Bonifaz, the founder and director of the Massachusetts based National Voting Rights Institute, offered ideas about how to challenge the constitutionality of the current congressional campaign finance system, which "violates both candidates' and voters' rights".[1]
21st Century Democrats support
21st Century Democrats is a Political Action Committee that has stood for Progressive causes for over 20 years. Founded in 1986 by Institute for Policy Studies affiliate, Iowa Senator Tom Harkin, Democratic Socialists of America affiliates, former Texas Agriculture Secretary Jim Hightower, and former Illinois Congressman Lane Evans. Its three main goals are to help elect progressive candidates, train young people about grassroots organizing, and lastly, to continue to support our elected officials after Election Day "through our comprehensive progressive network".
Long time Board chair was Democratic Socialists of America member Jim Scheibel, a former Mayor of Saint Paul, Minnesota.
The mission of 21st Century Democrats is to build a "farm team" of progressive populists who will be the future leaders of the Democratic Party.
In each election cycle, we endorse a diverse array of candidates who exemplify our values and show unusual promise to advance our progressive goals. We invest in some of the most competitive races as well as in some of the most challenging – those in which the candidates are outstanding but the traditional Democratic supporters are most reticent. We back candidates in primaries as well as general election races, and we focus the bulk of our resources on electing challengers and protecting vulnerable incumbents.[2]
Bonifaz, for Massachusetts Secretary of State, was one of 9 key progressives endorsed by 21st Century Democrats in the 2006 election cycle, second round. [3]
PDA backing
Progressive Democrats of America worked to elect several "progressive" secretaries of state in 2006-a strategy identified by other groups such as the Secretary of State Project as a means of helping to ensure that elections were not 'stolen" from "progressive" candidates. Deborah Bowen, Mark Ritchie and John Bonifaz all received strong PDA backing.[4]
Given the importance of election integrity, PDA also has worked on secretary of state races around the nation, backing Deborah Bowen in California, Mark Ritchie in Minnesota, and PDA Board Member John Bonifaz in Massachusetts.
Progressive Democrats of America board
John Bonifaz served on the Advisory Board of Progressive Democrats of America.[5]
America's Future Now!
John Bonifaz was one of the 148 speakers who spoke at the 2010 America's Future Now Conference.[6]
Take Back the American Dream Conference 2011
John Bonifaz was one of the 158 speakers who addressed the Take Back the American Dream Conference 2011 . The Conference was hosted by the Institute for Policy Studies, and Democratic Socialists of America dominated Campaign for America's Future, [7]
FightingBobFest speaker
John Bonifaz was a guest speaker at Wisconsin's annual progressive Fighting Bob Fest, in 2010.[8]
References