John Bellamy Foster
From KeyWiki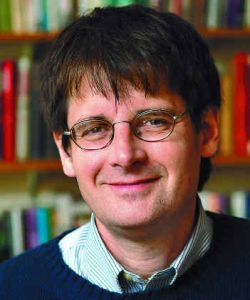 Prof. John Bellamy Foster
Sacramento Marxist School
On Mar 5 2005 John Bellamy Foster lectured at the Sacramento Marxist School on Capitalism and Socialism.[1]
Open letter to Andy Stern
On May 1 2008, John Bellamy Foster, a Professor of Sociology, University of Oregon signed an open letter to SEIU president Andy Stern in protest at SEIU move to force its local United Healthcare Workers into trusteeship.
"We are writing to express our deep concern about SEIU's threatened trusteeship over its third largest local, United Healthcare Workers (UHW). We believe that there must always be room within organized labor for legitimate and principled dissent, if our movement is to survive and grow. Putting UHW under trusteeship would send a very troubling message and be viewed, by many, as a sign that internal democracy is not valued or tolerated within SEIU. In our view, this would have negative consequences for the workers directly affected, the SEIU itself, and the labor movement as a whole. We strongly urge you to avoid such a tragedy."
"Support Bill Ayers"
In October 2008, several thousand college professors, students and academic staff signed a statement Support Bill Ayers in solidarity with former Weather Underground Organization terrorist Bill Ayers.
In the run up to the U.S. presidential elections, Ayers had come under considerable media scrutiny, sparked by his relationship to presidential candidate Barack Obama.
We write to support our colleague Professor William Ayers, Distinguished Professor of Education and Senior University Scholar at the University of Illinois at Chicago, who is currently under determined and sustained political attack...
We, the undersigned, stand on the side of education as an enterprise devoted to human inquiry, enlightenment, and liberation. We oppose the demonization of Professor William Ayers.
John Bellamy Foster, Professor, University of Oregon signed the statement.[2]
Monthly Review celebration
On September 17, 2009, U.S. socialist magazine Monthly Review celebrated its 60th anniversary at the New York Society for Ethical Culture in New York City. Five-hundred enthusiastic supporters gathered to hear remarks by Robert McChesney, Grace Lee Boggs, John Bellamy Foster, Fred Magdoff, Rev. Jeremiah Wright, Michael Tigar and hear music by Toshi Reagon[3].
References