Johari Abdul Malik
Jump to navigation
Jump to search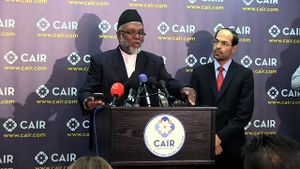 Template:TOCnestleft Imam Johari Abdul Malik was born Winslow Seale. He is a founder of the Muslim Peace Foundation.[1] Imam Johari Abdul Malik is associated with the Dar Al-Hijrah Islamic Center in Virginia and the Council on American Islamic Relations.
CAIR Awards Banquet
Johari Abdul Malik spoke at CAIR's The 15th Annual Civil Rights Banquet, where "Long time community activist" April Stoltz was awarded with the I-CAIR Solidarity Award. Speakers included Nihad Awad, CAIR-National co-founder and executive director; Imam Johari Abdul Malik of the Dar Al-Hijrah Islamic Center in Virginia; and keynote speaker Dr. Daniel Tokaji, a constitutional scholar from The Ohio State University.[2]
Gadaffi connection
According to the Investigative Project on Terrorism, in September 2009 CAIR executive director Nihad Awad (along with CAIR national spokesman Ibrahim Hooper and chairman Larry Shaw) praised Libyan dictator Muammar Gaddafi for his "leadership" and his "continuing efforts for world peace," and asked him to underwrite a CAIR program to distribute a million copies of the Quran to American government officials and the general public. "We want to assure you that Muslims in America are your brothers and supporters," Shaw said. "They share with you your interests and aspirations." The CAIR officials also asked Gaddafi for financial assistance to help them run an entity known as the Muslim Peace Foundation, founded in 2008 ostensibly to help repair American-Muslim relations. One of the foundation's founders was a man named Winslow Seale, a Muslim convert who later changed his name to Johari Abdul Malik. Malik's Dar al-Hijrah mosque is believed to be "associated with Islamic extremists" and "has been linked to numerous individuals linked to terrorism financing."[3]
References