Joe Tepania
Jump to navigation
Jump to search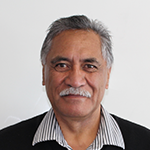 Joe Tepania serves on the board of the Porirua Whanau Centre. Joe has been on the Board since 2012. A resident of Porirua for 50 years he is of Ngapuhi descent and is a respected kaumatua for Maraeroa Marae.
Joe is actively involved with the business sector of the Cannons Creek and wider Porirua community as a business owner. He has led a number of community development projects and works alongside the Community Police Unit and Ngati Toa Maori Wardens to support a safe and violence free community.[1]
Last SUP Central Committee meeting before split
Wellington March 1990.
Back Joe Tepania, Dave Arthur, Alan Ware, Ken Douglas, Graeme Whimp, Richie Gillespie, Doug McCallum, Jan Farr, Joe Tonner.
Front row Frank McNulty, Jack Marston, Marilyn Tucker, Robin Tate, Bruce Skilton, George Jackson, Bill Andersen.
SUP activist
In the early '80s, Joe Tepania was a driver with the firm "Ginty's" in Wellington.
As a Maori with leadership qualities, he was targeted for recruitment to the Socialist Unity Party, by party leader Ken Douglas and his right hand man, Driver's Union official Richie Gillespie.
By the mid '80s, Tepania was a card carrying member of the SUP and was working closely with Jackson Smith on the "National Question". He and Smith were working closely, but discretely, with several of the prominent Maori radicals of the day, including Tom Poata.
An high-flier, by 1987 Te Pania was chairman of the Wellington regional committee of the SUP.
By 1988 Te Pania was a member both of the SUP's Central Committee and their Commission for the "National Question".
Te Pania worked in the Distribution Workers Federation with Jackson Smith until 1990, when he became Maori Educator for the Trade Union Education Authority.
TUEA was set up by a 1985 Task Force which included Jackson Smith, ex HART leader Mike Law and future Labour MP Maryan Street. Seen by some commentators as a "payoff" by Labour for SUP/Union support in the 1984 General Election, TUEA was staffed almost exclusively by SUP and Workers Communist League members and was taxpayer funded to the tune of $3,000,000 per annum.
Te Pania used his position to Work on establishing "Runanga" linking unions to the Maori community and ran a series of Huis around the country for Maoris on Labour's Runanga-Iwi bill. This Bill, giving Iwi (tribal) Authorities a quasi-governmental role, was, like most of Labour's Maori policy, supported by the SUP.
Te Pania was effectively a taxpayer funded SUP activist.
In a June 1990 Te Pania gave an interview to the SUP's "Tribune" on "How the Runanga Iwi Bill Can Develop the Treaty".
"Dignity and respect are at the heart of the Treaty", Joe believes. Those things can be realised today by developing self-determination. "If we are to have that we need to be developing a Maori economic plan."
In 1993 the National Government abolished TUEA, so Te Pania went to work for several years as a "policy analyst" for the fledgling NZ Qualifications Authority.
Working in NZQA's "Whanau" division, Te Pania's job including checking that NZQA initiatives were in accord with the principles of the Treaty of Waitangi.
Tepania was in a position to influence the education of every NZ school pupil.
After leaving NZQA, Te Pania worked for some time as Nga Toa Awhina for the Public Service Association. Here, Te Pania was able to exert considerable influence on one of NZ's largest trade unions.
Te Pania, is still active in Maori causes and has, for some years, been chairman of Porirua's Maraeroa Marae.[2]
References