Joe Garcia
From KeyWiki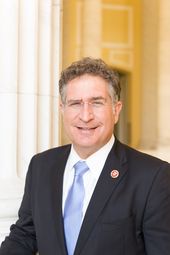 Joe Garcia is a former Democratic member of the United States House of Representatives, representing the 26th district of Florida.[1]
Background
Congressman Joe Garcia was elected to the United States House of Representatives in 2012. With scholarships and money he had saved from cutting grass with his grandfather on weekends, Congressman Garcia put himself through Miami Dade College and later the University of Miami where he completed his undergraduate studies and attended law school.
After graduating UM Law School, Gov. Lawton Chiles appointed Congressman Garcia to the Florida Public Service Commission, the state agency regulating utilities. Congressman Garcia left the PSC in 2000 and was named Executive Director of the Cuban American National Foundation where he became one of the country's leading advocates for human rights in Cuba and Latin America.
In 2009, President Obama appointed Garcia to serve as a director in the Department of Energy. He also previously served as director of the New Democratic Network Hispanic Strategy Center.
Congressman Garcia is a staunch advocate of comprehensive immigration reform and has been a leader on the issue. In 2013, he introduced the Venezuelan Liberty Act and H.R. 15 – two important pieces of legislation aimed at fixing our broken immigration system. In early 2014, Congressman Garcia introduced the HOME Act – legislation designed to help reform the nation's current flood insurance regulations. [2]
Council for a Livable World
The Council for a Livable World, founded in 1962 by long-time socialist activist and alleged Soviet agent, Leo Szilard, is a non-profit advocacy organization that seeks to "reduce the danger of nuclear weapons and increase national security", primarily through supporting progressive, congressional candidates who support their policies. The Council supported Joe Garcia (D-FL) in his 2010 Congressional election campaign.[3]
2012 CLW House victories
2012 Council for a Livable World House Victories were;
Ron Barber (D-AZ), Ami Bera (D-CA), Tim Bishop (D-NY) Suzanne Bonamici (D-OR), Bruce Braley (D-IA), Cheri Bustos (D-IL), Lois Capps (D-CA), Suzan DelBene (D-WA), Lois Frankel (D-FL), John Garamendi (D-CA), Joe Garcia (D-FL), Raul Grijalva (D-AZ), Colleen Hanabusa (D-HI), Denny Heck (D-WA), Steven Horsford (D-NV), Derek Kilmer (D-WA), Ann McLane Kuster (D-NH), Dave Loebsack (D-IA), Patrick Murphy (D-FL), Rick Nolan (D-MN), Raul Ruiz (D-CA), Brad Schneider(D-IL), Carol Shea-Porter(D–NH), Kyrsten Sinema (D-AZ), Mark Takano(D-CA) and John Tierney(D-MA)..[4]
The Council said of Garcia;
Joe Garcia believes that nuclear weapons post one of the greatest threats to the security of the American people, both in the standing arsenals of nuclear armed countries and potentially in the hands of terrorists. Garcia supports negotiated reductions in nuclear arsenals like the New START treaty. Garcia sees New START as a positive first step, but not the only step, in the effort to achieve a world free of nuclear weapons. Garcia also favors dramatically expanding efforts to secure loose nuclear materials that could be acquired by terrorists.[5]
Kennedy connection
Tomas Kennedy September 3, 2016 ·
With Joe Garcia, Luisana Perez Fernandez and Luisa Coromoto Fernandez Garcia.
Left friends
Rosana Araujo May 28, 2016 ·
With Maria Asuncion Bilbao, Luisana Perez Fernandez, Mauro Kennedy and Tomas Kennedy.
Castro sympathizer?
In 2010, Republican opponent David Rivera called Garcia a sympathizer of Fidel Castro because of Garcia's advocacy in repealing bans on people-to-people humanitarian aid to assist families of dissidents and political prisoners in Cuba.[6]
Congressional Hispanic Caucus
In 2013 Joe Garcia was a member of the Congressional Hispanic Caucus.
Amnesty hunger strikers
On December 5, 2013, Congressman Garcia stood in solidarity with the Fast 4 Families activists as he "received" the immigration fast from Rep. Juan Vargas and the cross of hope from Eliseo Medina.[7]
JStreet endorsement
The socialist infiltrated, anti-Israel "two state solution" JStreet PAC endorsed Joe Garcia in his 2014 Congressional race. [8]
ARA endorsement, 2014
The Alliance for Retired Americans Political Action Fund endorsed Joe Garcia in 2014, also 2012.[9]
"Amnesty" hunger strike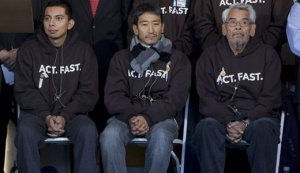 December 4, 2013, saying their 22-day "fast for families" to demand Congress approve comprehensive immigration reform had gotten worldwide attention, former Service Employees Secretary-Treasurer Eliseo Medina and his fasting colleagues ended their D.C. vigil by handing off the fast to a group of successors.
The fast drew continued attention to the issue, and support from Democrats all the way up to President Obama, who visited the fasters in their tent at the foot of Capitol Hill on Dec. 1. But it did not budge the decision-makers it targeted: the anti-immigrant, anti-Hispanic GOP majority in the U.S. House. [10]
Numerous lawmakers stopped by the tent to express their support. Twenty six members of Congress, all Democrats, even joined the fast in solidarity for 24-hour periods, including Joe Garcia, New Jersey Sens. Bob Menendez and Cory Booker and California's Zoe Lofgren, the top Democrat on the House's immigration subcommittee.[11]
External links
References