Joe Baca
Jump to navigation
Jump to search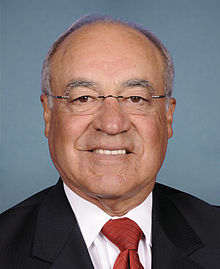 Template:TOCnestleft Joe Baca was a Democratic member of the United States House of Representatives, representing the 43rd district of California.
Joe Baca and his wife Barbara have four children – Joe Baca, Jr., Jeremy Baca, Natalie, and Jennifer, and each of them, including his wife Barbara, have obtained higher education degrees from public institutions or initiated coursework in local community colleges.
Baca lost his bid for re-election in 2012, falling to challenger Gloria McLeod in the general election.[1]
Early life
Born in Belen, New Mexico, in 1947, the youngest of 15 children in a house where little English was spoken, Joe Baca "learned at an early age that education, hard work, and public service are the fundamental building blocks of success and empowerment".
The son of a railroad laborer, Joe and his family moved to Barstow, California when he was a young boy. To support his family and contribute to the household Joe worked shining shoes at age 10, delivered newspapers, and later, like his father, worked as a laborer for the Santa Fe Railroad. After graduating from Barstow High School In 1966, Joe was drafted to the U.S. Army where he served as a paratrooper with both the 101st and the 82nd Airborne Divisions from 1966-68.[2]
Education/career
After he returned from military service he enrolled in the California State University – Los Angeles where he earned a bachelor's degree in sociology. Baca worked with students early in his career as a counselor, mentor, and baseball coach while raising a family with his wife Barbara. Joe also worked as a community relations representative for General Telephone and Electric for more than 15 years, further strengthening his ties to the community and education.
In 1976 he founded the Youth Education and Motivation Program , a program which strives to motivate students to stay in school and to inform them of career and work options. The organization is still operating in the Inland Empire in both Riverside and San Bernardino counties.[3]
Politics
In 1979, Baca's desire to close the higher education gap took him to the San Bernardino Valley College District where Baca served as the first Latino ever elected to the Board of Trustees. While serving as a Board of Trustees member, Baca initiated measures that continue to help students obtain scholarships and government funding while receiving vocational and technical training that has helped many students move into local jobs.
At the state and federal levels, Baca continues to leave his mark on education. He was first elected to the California State Assembly in 1992 and the California State Senate in 1998, and served in Congress from 1999-2013.
Rep. Baca serves on the House Agriculture Committee, and he is the Chair of the Subcommittee on Departmental Operations, Oversight, Nutrition and Forestry. He also is a member of the Subcommittee on Livestock, Dairy and Poultry. He also serves on the House Financial Services Committee where he is a member of the Subcommittee on Capital Markets, Insurance, and Government Sponsored Enterprises, and the Subcommittee on Financial Institutions and Consumer Credit. In addition, Rep. Baca serves on the House Natural Resources Committee and as a member of the Water and Power Subcommittee.[4]
Awards
Rep. Baca has received many honors for his public service. Recent awards include the U.S. Hispanic Chamber of Commerce President's Achievement Award, the National Farmers Union Presidential Award for Leadership, the Walter Kaitz Foundation Diversity Advocate Award, and the U.S. Department of Agriculture Coalition of Minority Employees Award of Excellence. A 2009 report released by Latino Leaders Magazine, listed Rep. Baca as one of the top 100 most influential Hispanic leaders in American. In addition, Rep. Baca ranked twelfth on the list of the top 42 Hispanics on the "Who's Hot" list. He has also had two local parks named after him: the Joe Baca Senior Field at the Empire Center in Fontana and the Joe Baca Field at the Rialto Boys and Girls Club.[5]
Chavez Holiday Bill
In 2001 Baca introduced HR-105 calling for a Federal holiday to mark the birth of United Farm Workers founder Cesar Chavez. over 50 members of congress joined as co-sponsors of the bill.[6]
Woolsey/Sheinbaum fund raiser
Congresswoman Lynn Woolsey, the first Member of Congress to call on the President to bring our troops home, was be in Los Angeles on Saturday February 4th 2006, for a 'very exciting but critical fundraiser against the most well-known, well-financed challenger she's ever faced". woolsey was facing a primary challenge from a termed-out Assemblyman Joe Nation, a moderate Democrat who has been critical of her stand on the war and on bringing home our troops. He is raising money from people who have given money to Tom DeLay and Bush-Cheney and his legislative district covers 60+% of Congresswoman Woolsey's district. Congresswoman Woolsey is a "champion of equal rights, civil liberties, protecting the environment and fighting for single payer healthcare. Congresswoman Woolsey must be re-elected by the same victory margin she has had in the past to send a message to progressives everywhere that's it IS OK to be courageous, and to not back down on issues that matter."
The Host Committee for this fundraiser includes:
Ben Affleck; Ed Asner; Warren Beatty; Jodie Evans; James Cromwell; Matt Damon; Tom Hayden; Wendy Herzog; Mimi Kennedy; Norman Lear; Stephen Rohde; Susie Shannon; Stanley Sheinbaum & Betty Sheinbaum; Lorraine Sheinberg; Kathy Spillar; Gloria A. Totten; Peg Yorkin; Senator Barbara Boxer; Congressman Joe Baca; Congressman Xavier Becerra; Congresswoman Lois Capps; Congresswoman Jane Harman; Congresswoman Juanita Millender-McDonald; Congresswoman Grace Napolitano; Congresswoman; Lucille Roybal-Allard; Congresswoman Linda Sanchez; Congresswoman Loretta Sanchez; Congressman Adam Schiff; Congresswoman Hilda Solis; Congresswoman Maxine Waters; Congresswoman Diane Watson; Senator Sheila Kuehl and Assemblywoman Karen Bass.
The fundraiser was at the Stanley & Betty Sheinbaum residence in Brentwood. Both Sheinbaums have been members of Democratic Socialists of America.[7]
Chavez Holiday Campaign
"We at Cesar E. Chavez National Holiday appreciate the backing of a national holiday for Cesar Chavez from presidential candidate Senator Barack Obama. That support is crucial because it takes the signature of a President to establish the holiday along with the Congress's approval," stated Evelina Alarcon. "It is also encouraging that Senator Hillary Clinton who is a great admirer of Cesar Chavez acknowledged him on his birthday. We hope that she too will soon state her support for a Cesar Chavez national holiday."
Alarcon's remarks were part of a statement made at a press conference at the nation's Capitol on April 1st 2008, called by Chair of the Hispanic Congressional Caucus Rep. Joe Baca (D-CA) in support of HR 76, a resolution he authored with 62 Co-Sponsors that encourages the establishment of a Cesar Chavez national holiday by the Congress.[8]
As the Cesar E. Chavez National Holiday puts it, "When Cesar Chavez demanded union contracts, decent wages and safe working conditions, he extended the possibility for victory to all workers across the nation. He elevated the bar for equality and unity. He gave hope to the poor and under-represented."
Chavez has become a symbol of peaceful resistance and his belief that "si, se puede" even inspired President Obama's campaign assertion "yes, we can." Barack Obama has also supported the coalition and California Representative Joe Baca's movement to make March 31st a national holiday: Cesar Chavez Day.[9]
The upcoming date, which marks Chavez's birthday, is already celebrated in ten states (Arizona, California, Colorado, Illinois, Michigan, New Mexico, Rhode Island, Texas, Utah, and Wisconsin). But educating future generations about Chavez's legacy is challenged by recent moves such as removing mention of him from Texas textbooks. Anti-immigrant forces in the country have fought hard to obscure Chavez's message, and others have simply opted to led it fall by the wayside. When University of Texas-El Paso removed Cesar Chavez Day from its calendar, Change.org members and United Farm Workers supporters working with a student coalition were successful in petitioning the school to reinstate the holiday.
NAKASEC connection
Health Care for America Now (HCAN) National Mobilization: NAKASEC's energizing health policy advocate Joyce Yin helped kick-off a national rally attended by nearly 10,000 people in Washington, D.C. to pressure the Senate and House to provide access to quality, affordable health coverage for all Americans on June 25. Representative Xavier Becerra was one of many who spoke to the importance of the public option in any health reform; he also led HCAN's health equity townhall later that day at the Capitol Visitor's Center, where Korean Resource Center's community health advocate Stella Kim spoke on the importance of immigrant inclusion. That same message was conveyed earlier by Sookyung Oh at the Rhode Island town hall. Together, NAKASEC and KRC met with the offices of Representatives Joe Baca (CA-43) and Doris Matsui (CA-5), and shared key information with Rep. Maxine Waters (CA-35), Diane Watson (CA-33) and Loretta Sanchez (CA-47).[10]
Congressional Hispanic Caucus
In 2011 Joe Baca was a member of the Congressional Hispanic Caucus.
ARA endorsement
Alliance for Retired Americans endorsed Joe Baca in 2012.[11]
Summit for Immigration Reform
National Leadership Summit for Immigration Reform, was held March 16, 2013, at UC Riverside.
Policymakers attending were:
External links
References