Jim Winkler
Jump to navigation
Jump to search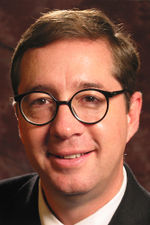 Jim (James) E. Winkler is the General Secretary of the United Methodist General Board of Church and Society, the international public policy and social justice agency of the United Methodist Church. In April 2007 he stated,
"...to seek justice is part of witnessing on behalf of Jesus Christ."[1]
Church-Based Activism
Winkler is the Chief Executive of the United Methodist General Board of Church and Society, leading a staff of 22 seeking to implement the Church's Social Principles through education, witness, and advocacy on a national and global level.[2]
Winkler is a board member of the Churches for the Middle East Peace.
He is a member of the Justice and Advocacy Commission of the National Council of Churches of the United States of America.
Winkler is also a board member of the Faith and Politics Institute.[3]
Christians Against Christian Nationalism Statement
Jim Winkler signed the Christians Against Christian Nationalism statement, which says in part:[4]
"Christian nationalism seeks to merge Christian and American identities, distorting both the Christian faith and America's constitutional democracy. Christian nationalism demands Christianity be privileged by the State and implies that to be a good American, one must be Christian. It often overlaps with and provides cover for white supremacy and racial subjugation. We reject this damaging political ideology and invite our Christian brothers and sisters to join us in opposing this threat to our faith and to our nation."
Circle of Protection
In 2020 Jim Winkler served on the steering committee of the Circle of Protection.
Call for Impeachment of Pres. Bush
In May 2006, Winkler called for Congress to impeach President Bush "to advance the kingdom of God", stating that "there was nothing Christian" in President Bush's response to the 9/11 attacks.
The Methodist church's official Social Principles declare, "War is incompatible with the teachings and example of Christ," and reject war "as an instrument of national foreign policy."[5]
Campaign for a National Health Plan
Winkler was on the steering committee for the Campaign for a National Health Plan.[6]
Healthcare-Now!
In 2009 Jim Winkler, General Secretary, General Board of Church and Society United Methodist Church served as a co-chair on the board of directors of Healthcare-Now![7].
Africa Action involvement
In 2009, Jim Winkler was listed on the Board of Directors for Africa Action.[8]
International Advocacy
Winkler speaks widely across the United Methodist Church and has led delegations to the Middle East, Iraq, Democratic Republic of the Congo and Germany seeking peaceful solutions to global conflict. He has preached and led workshops and training events in Russia, Nigeria, and the Philippines, and is a frequent spokesperson for the justice work of The United Methodist Church to the national and international media.[9]
References