Jim Wallis
Jump to navigation
Jump to search
Jim Wallis is a socialist Christian with a progressive politics and an inclusive stance toward other religions.[1] He has taught faith, politics and society both at Harvard University's Kennedy School of Government as an Institute of Politics Fellow, and at the very liberal Harvard Divinity School. Author of seven other books, he speaks over 200 times a year, writes columns in several newspapers, and appears on radio and TV talk shows. He lined up Christian leaders to meet with President Bush, Prime Minister Tony Blair and the Archbishop of Canterbury, among others, to plead for an alternative to war in response to terrorism.
Married to Joy Carroll.
Early life/radicalization
Raised in a traditional evangelical family, Wallis spent his student years involved in the civil rights and antiwar movements. He cites racial segregation in his church and community as his motivation for becoming involved in these movements. He graduated from Michigan State University, where he was President of Students for a Democratic Society[2]and then went on to attend Trinity Evangelical Divinity School in Illinois where he joined with other young seminarians in establishing the community that eventually became Sojourners. In 1979, Time magazine named Wallis one of the "50 Faces for America's Future."[3]
Time as a Marxist
In a Jan. 21, 2010 interview with Chicago radio station, WBEZ, Jim Wallis recounted his meeting with Dorothy Day, Catholic activist who co-founded the Catholic Worker movement in 1933. In the interview Wallis states that earlier in his life he was a Marxist. Full audio of the interview is here. The audio for the following transcript of the interview is here.
Jim Wallis recounts his meeting with Dorothy Day:
"...In walks the great lady. Dorothy wrote a book about her life called "Love is the Measure". But she wasn't ever soft. Very tough...
Dorothy Day: "So, you're a radical student like me, right?"
Jim Wallis: "Yeah..."
Dorothy Day: "You were a Marxist like me, right?"
Jim Wallis: "Yeah."
Dorothy Day: "And now, you're a Catholic?"
Jim Wallis: "Well uh, I'm a Christian."
Dorothy Day: "You're not a Catholic?"
Jim Wallis: "Some of my best friends are Catholic..."
"But she was kind, and called Sojourners the Protestant [version of the] Catholic Worker, and from then on we became friends..."
In 1979, the journal Mission Tracks published an interview with Wallis, in which the activist evangelical expressed his hope that "more Christians will come to view the world through Marxist eyes".[4]
Leaving Trinity School
In the early 1970's Wallis was under pressure to leave the Trinity Evangelical Divinity School in Illinois because his anti-Vietnam War activism was seen as potentially scaring off the school's benefactors. He left the school and helped establish a commune in which he lived out his "kind of Marxist" beliefs, including living in close vicinity to the poor and pursuing social justice activism full time (Wallis was arrested 22 times for acts of civil disobedience in his early years). The commune disbanded after it moved to Washington to advocate on social justice issues. But the name, Sojourners, lives on in his current organization and its monthly magazine.[5]
Radical Statements
Wallis has stated that he believes the United States is partly responsible for the Soviet attack on Korean Flight 007.Template:Cite
Wallis has stated that the United States has been responsible for seducing the Vietnamese boat people with an addiction to Western consumerism. In his own publication Wallis wrote: "Many of today's [Vietnamese] refugees were inoculated with a taste for a Western lifestyle during the war and are fleeing to support their consumer habit in other lands".[6]
Sojourners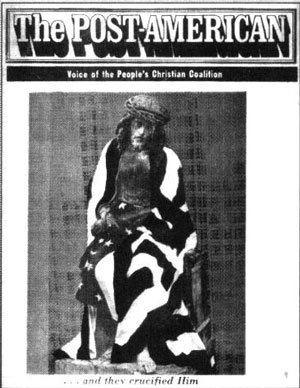 During his time at theological college, Wallis founded an anti-capitalism magazine called the Post-American which identified wealth redistribution and government-managed economies as the keys to achieving "social justice."Template:Cite In 1971 Wallis founded the People's Christian Coalition in Chicago as a network of progressive Christians. In 1975, IPS co-founder Richard Barnet encouraged Wallis to bring the group to Washington, D.C,, at which time the group was renamed to Sojourners. At this time Wallis renamed the Post-American magazine to Sojourners Magazine, a monthly magazine covering faith, politics and culture.[7] Barnet was listed as a contributing editor to the magazine. As at March 15, 2010, Wallis served as Editor-in-Chief/Chief Executive Officer of the organization.[8][9]
Christians Against Christian Nationalism Statement
Jim Wallis signed the Christians Against Christian Nationalism statement, which says in part:[10]
"Christian nationalism seeks to merge Christian and American identities, distorting both the Christian faith and America's constitutional democracy. Christian nationalism demands Christianity be privileged by the State and implies that to be a good American, one must be Christian. It often overlaps with and provides cover for white supremacy and racial subjugation. We reject this damaging political ideology and invite our Christian brothers and sisters to join us in opposing this threat to our faith and to our nation."
Letter to Trump about 'Religious Liberty'
Jim Wallis signed a letter to President Donald Trump[11] dated April 4, 2019 requesting affirmation that religions other than Christianity and Judaism "make outstanding contributions to the United States". The letter was initiated by "three chairmen of U.S. Conference of Catholic Bishops":[12]
White House arrest
Shane Claiborne June 26, 2018 ·
BREAKING... Eleven faith leaders have been arrested at the White House. Here is our statement from today's witness.
Those arrested were: Rev. William Barber, Shane Claiborne, Don Golden, executive director of Red Letter Christians; Rev. Adam Taylor, Executive Director of Sojourners; Jim Wallis, president of Sojourners, Rev. Alex Dyer; Rev. Chaz Howard, UPenn Chaplain; Rev. Doug Pagitt, Vote Common Good; Noel Castellanos, executive director, Christian Community Development Association; Rev. William Gipson; and Jane Saari.
WE WILL NOT COOPERATE WITH POLICIES THAT SEPARATE FAMILIES
As members of the clergy, we have made vows to proclaim the truth of Scripture and lead people of faith in making sound moral choices in their private and public lives. Today we joined together in a prayer of defiance outside the White House to demonstrate that we will not cooperate with policies that separate families. We invite others to join us by taking direct action at places in our communities where the policy violence of this administration is being executed.
Circle of Protection
In 2020 Jim Wallis served on the steering committee of the Circle of Protection.
Committee in Solidarity with the People of El Salvador
It has been alleged that Wallis invited the Communist Committee in Solidarity with the People of El Salvador (CISPES) — the public relations arm of the El Salvadoran terrorist group the FMLN, — to take part in a number of initiatives with Sojourners.[13]
"Witness for Peace" Campaign
Together with the Rev. Jeremiah Wright (Obama's former pastor of 20 years), Jim Wallis "rallied support for the communist Nicaraguan regime and protested actions by the United States which supported the anti-communist Contra rebels"[14]
Jim Wallace/Jim Wallis?
The following four entries refer to Jim Wallace, rather than Jim Wallis. This is possibly a typo. The address given for Jim Wallace of the Democratic Socialists of America Religion and Socialism Commission is 1311 Quincy Street, N.E. Washington D.C.
Quincy Street runs through the tiny Columbia Heights district of Washington DC, where Wallis' Sojourners organization was established in 1977.
DSOC Religious Commission
In 1977, John Cort attended the Democratic Socialist Organizing Committee convention in Chicago. At the convention Cort and others organized a DSOC Religion and Socialism Committee (later Commission). Cort was elected coordinator and editor of the newsletter.
Among early leaders, co-editors and contributors to the newsletter were Peter Steinfels, Sister Mary Emil Penet, Rosemary Ruether, Harvey Cox, Cornel West, Arthur Waskow, Joe Holland, James Luther Adams, Jim Gorman, Maxine Phillips and Jim Wallace. Monsignor George Higgins was also a contributor.[15]
Democratic Agenda
More than 1,200 people attended the Democratic Socialist Organizing Committee initiated Democratic Agenda Conference held November 16-18, 1979, at the International Inn and Metropolitan AM Church in Washington 1 DC. The conference focused on "corporate power'; as the key barrier to "economic and political democracy," concepts many Democratic Agenda participants defined as "socialism.'
The Democratic Agenda meetings attempted to develop anti-corporate alternatives" through influencing the direction of the Democratic Party during the period leading to the July 1980 Democratic National Convention in New York.
Workshops included Disarmament: Is There Life After SALT? - Jim Wallace, moderator; Harry Boyte; Mark Shanahan.[16]
DSOC national officers
Following a convention decision to expand the number of at-large seats on the national board and to elect eight men and eight women to those seats, a serious political campaign to win those seats took place. Harrington termed this development .. a sign of the growing political strength of DSOC. The at-large members of the new board will form its executive committee, which also includes DSOC's national officers.
Elected to at-large seats were: (men) Greg Akili (San Diego), Harry Boyte (Minneapolis), Jim Chapin, Jack Clark and Frank Lugovina (New York City), Roger Robinson (Detroit), Jim Wallace (Washington, D.C.), and George Wood (Champaign-Urbana); (women) Jeanne Kettelson and Mary Roodkowsky (Boston), Nancy Kleniewski (Philadelphia), Nancy Lieber (Sacramento-Davis), Marjorie Phyfe (New York City), Trudy Robideau (San Diego), Nancy Shier (Chicago) and Cynthia Ward (Stony Brook, Long Island) . https://democraticleft.dsausa.org/files/sites/6/2019/01/DL_1979_V007_03_[17]
DSA Religion and Socialism Commission

In 1982, Democratic Socialists of America Religion and Socialism Commission Co-chairs were;[18]
DSA Conference delegate
In 1983 Jim Wallace was a District of Columbia, Maryland delegate to the Democratic Socialists of America conference in New York City, October 14-16, 1983[19]
Congress on Religion and Policies
Theologies of Peace and Justice: A Congress on Religion and Politics. Chicago Theological Seminary May 27-30, 1988.
Plenary Speakers:
For conference information please contact: Religion & Politics Congress Rm 1201, 1608 N. Milwaukee, Chicago, IL 60647
Opposing loans to Chile
In 1987, Joanne Landy, Thomas Harrison and Gail Daneker, Directors, Campaign for Peace and Democracy/East and West, New York, circulated a statement Against Loans to Chile calling upon the Reagan Administration to oppose all loans to Chile.
It has been signed by leading "peace, labor, human rights, religious and cultural figures from the United States, Western Europe and Latin America." They were "joined by a large number of activists and writers from the USSR and Eastern Europe, many of whom have been persecuted in their own countries for work in independent peace and human rights movements."
Jim Wallis endorsed the call.
The majority of signatories were affiliated with Democratic Socialists of America.[20]
Speaking in Melbourne, Australia
On August 27, 1995, Wallis spoke on "Prophetic Spirituality" at Pax Christi's 50th Anniversary. The event was held at St. Mary's College, Melbourne University and ran from 2pm-5pm. He then spoke on "Alternative Vision" at the Baptist Church in Melbourne at 7pm.[21]
Faith in Public Life
In 2004, Rev. Jim Wallis, Rabbi David Saperstein, Melissa Rogers, Rev. James Forbes, Ricken Patel and Sister Catherine Pinkerton were involved with the initiative from which Faith in Public Life was created. Officially launched in 2006, the organization seeks to build the faith movement's media presence and capacity, providing strategic assistance to faith-based coalitions, brokering new partnerships, developing online communities, sponsoring opinion research, and amplifying the voices of emerging religious leaders.[22]
"God's Politics"
According to Chicago Democratic Socialists of America member[23]Rev. Gene Birmingham, "God's Politics", Wallis' 2005 book, is addressed to the progressive religious community.
The religious Right is wrong by trying to use the Republican Party for its private agenda. What the religious Left doesn't get is that the biblical teachings of the Hebrew prophets and Jesus are a political matter as well as a religious one. Denominational leaders are inspired to issue justice statements, with little effect. Rightwing Christianity wants to use public means to enforce its private religious beliefs. Religious Left politicians keep their faith to themselves, as though it did not apply to politics. The only way Wallis sees to make the social justice teachings of the Bible a political force is for the religious Left to make them so. His Call to Renewal campaign is an attempt to make it happen. His example is Martin Luther King's combining biblical justice with the U.S. Constitution in his civil rights campaign.
These days, Jim Wallis' council is sought from Capitol Hill to the World Economic Forum at Davos. He co-hosted a first-ever Democratic forum on faith on CNN with Hillary Clinton, Barack Obama, and John Edwards. So I wanted a deeper sense of who Jim Wallis is and what kind of influence he's bringing to bear on American Christianity and politics. Once a radical student activist, he is now progressive in his politics, moderately conservative on issues of personal morality, and he quotes his Bible like a revival preacher. Now, 59, Jim Wallis was raised in Detroit by parents who, he says, were Eisenhower Republicans.
Network of Spiritual Progressives
In July Rev. Jim Wallis was keynote speaker at a conclave to create a new "Network of Spiritual Progressives." The brainchild of UC Professor Michael Nagler and Berkeley Rabbi Michael Lerner, the conference was sponsored by a variety of faith-based groups, with the cornerstone organization being Lerner's community.
Lerner and Reverend Jim Wallis provided the keynote addresses. "Wallis, whose latest book, God's Politics: Why the Right Gets It Wrong and the Left Doesn't Get It, a bestseller, has become the best-known voice of the religious left. Given this cachet he has joined the elite group of celebrity consultants—another of whom is UC Berkeley's George Lakoff — periodically summoned to Washington to advise Democratic leaders."
Wallis lambasted the religious right, arguing that the time has come for the left to take back American religion.
Remarking that "Religion's job is to pull out our best stuff," Wallis decried the "seduction" of key leaders of the religious right by the Republican Party. He observed that the true function of prophetic religion is to serve "not as a wedge, but as a bridge." He argued that "religion should be the moral center of our public life," and that the reawakening of the religious left would assure that this would again be the case.
Noting that the religious right's moral "agenda" is restricted to abortion and gay marriage, Reverend Wallis observed that while poverty is mentioned 3,000 times in the Old Testament, neither poverty, protection of the environment, nor the "illegal and immoral" war in Iraq has caught the right's attention. Remarking that conservatives have painted a picture of Jesus as "pro-rich, pro-war, and pro-American," Jim lamented, "We need to take our religion back."
Wallis observed that "the biggest mistake progressives made was to cede values and faith to the religious right," implying that many people of faith decided that liberals, and Democrats in general, didn't care about faith, didn't care about their spiritual crisis, and as a result began to vote Republican. Reverend Wallis argued that progressives must have faith, that it "is about changing the big things" such as ending poverty in the world.
Quoting a young activist, who when asked where the new leaders were, was fond of remarking, "We are the ones we have been waiting for," Jim Wallis encouraged attendees to begin a new movement. "American history has been changed by social movements and the best ones have had a spiritual foundation."[24]
At Gamaliel
Wallis spoke alongside Jeremiah Wright and Wade Rathke at the Gamaliel Foundation's tenth anniversary, National Leadership Assembly entitled "The Time is Now", held in St. Louis, Missouri on Dec. 1-3, 2005. Footage from the event is to the right.
Defending Obama
When Barack Obama came under attack during the 2008 election campaign for supposed Muslim ties, Jim Wallis came to his friend's defense.
Wallis wrote an aticle on his blog on February 28, 2008 entitled "Defending the Facts on Obama's Faith".[25]
So let's set the record straight. I have known Barack Obama for more than 10 years, and we have been talking about his Christian faith for a decade. Like me and many other Christians, he agrees with the need to reach out to Muslims around the world, especially if we are ever to defeat Islamic fundamentalism. But he is not a Muslim, never has been, never attended a Muslim madrassa, and does not attend a black "separatist" church. Rather, he has told me the story of his coming from an agnostic household, becoming a community organizer on Chicago's South Side who worked with the churches, and how he began attending one of them. Trinity Church is one of the most prominent and respected churches in Chicago and the nation, and its pastor, Jeremiah Wright, is one of the leading revival preachers in the black church. Ebony magazine once named him one of America's 15 best Black preachers. The church says it is "unashamedly black and unapologetically Christian," like any good black church would, but is decidedly not "separatist," as its white members and friends would attest.
And one Sunday, as Obama has related to me and written in his book The Audacity of Hope, the young community organizer walked down the aisle and gave his life to Christ in a very personal and very real Christian conversion experience. We have talked about our faith and its relationship to politics many times since. And after Obama gave his speech at a Sojourners/Call to Renewal conference in June 2006, E.J. Dionne said that it may have been "the most important pronouncement by a Democrat on faith and politics since John F. Kennedy's Houston speech in 1960 declaring his independence from the Vatican."
Like his politics or not, support his candidacy or not - but don't disparage Barack Obama's faith, his church, his minister, or his credibility as an eloquent Christian layman who feels a vocation in politics. Those falsehoods are simply vicious lies and should be denounced by people of faith from across the political spectrum.
The stated purpose of the Council is found on its page on the White House website:
"The White House Office of Faith-based and Neighborhood Partnerships works to build bridges between the federal government and nonprofit organizations, both secular and faith-based, to better serve Americans in need. The Office advances this work through 11 Agency Centers across government and a Strategic Advisor at the Corporation for National and Community Service."[26]
Mobilization to End Poverty speakers
The Mobilization to End Poverty Conference was held in Washington, D.C. from April 26 - 29, 2009, and was hosted by Sojourners and sponsored by World Vision.
The following were speakers at the conference:[27]
President Barack Obama was also invited to give a major address on poverty at the conference.
Obama's Faith Council
As at March 15, 2010, President Obama's White House Advisory Council on Faith-based and Neighborhood Partnerships included Wallis.[28] He advised the Obama team on launching its Office of Faith-Based and Neighborhood Partnerships and helped expand its mission from the George W. Bush years to include reducing demand for abortion (While Wallis personally opposes abortion, he also opposes criminalizing it).[5]
"Loving God and Neighbor Together"
Christian Response Grows To Muslim Plea For Global Dialogue December 11, 2007.
More than 100 U.S. Christian leaders, mainline and evangelical, have endorsed a favorable response to an unprecedented Muslim call for churches to help initiate international dialogue between the two faiths.
Among the endorsers were three megachurch founders: Rick Warren, author of The Purpose Driven Life; Robert Schuller of the Crystal Cathedral and Bill Hybels of Willow Creek Community Church.
Released in October, the Muslim document, called "A Common Word" and signed by 138 clerics and academics from around the world, declares that "love of the one God and love of neighbor" are core beliefs for both Muslims and Christians and should be the basis for dialogue. Since adherents of the two world religions number more than half the world's population, the Muslim authors say, chances for peace would grow if Muslims and Christians showed together their adherence to those principles.
The Christian response, "Loving God and Neighbor Together" drafted by scholars at the Yale Center for Faith and Culture, which is headed by theologian Miroslav Volf, appeared November 18 as an advertisement in the New York Times along with the names of signatories.
The Christian authors said they were "heartened" by the Muslim appeal and concluded: "It is with humility and hope that we recieve your generous letter and we commit ourselves to labor together in heart, soul, mind and strength for the objectives you so appropriately propose."
Signers included Harvey Cox of Harvard Divinity School; Richard Mouw, president of Fuller Theological Seminary; Joseph Hough, president of Union Theological Seminary; Richard Cizik, vice president of the National Association of Evangelicals; John Buchanan editor/publisher of the Century; and David Neff, editor in chief of Christianity Today.[29]
Other signatories included Jim Wallis Sojourners, John L. Esposito Director Prince Alwaleed Bin Talal Center for Muslim-Christian Understanding, Georgetown University Alexander Negrov, President, St. Petersburg Christian University, Russia.[30]
Fighting Poverty
At a Senate hearing on the Employee Free Choice Act, Wallis testified, making the following comment:
"From 1995 to 2005, average CEO pay increased five times faster than that of average workers. That is not just an economic issue. That is a sin of biblical proportions."[5]
On Voluntary Faith-Based Initiatives
On April 26, 2005, Wallis spoke on a panel at Princeton University, where he made the following statement regarding voluntary faith-based initiatives:
"I think we have to be very clear about this. Voluntary faith-based initiatives with no resources, no resources to make any serious difference in poverty reduction is not adequate. That's a charity that falls far short of Biblical justice."
At ACORN
Wallis spoke at the 2008 ACORN National Conference. A video of his introduction before he spoke is to the right.
Council on Foreign Relations
Wallis serves on the Council on Foreign Relations - Religion Initiative Advisory Committee, as of March 15, 2010:[31]
At Riverside Church
On Jan. 7, 2010, Jim Wallis spoke at the launch for his book, Rediscovering Values: On Wall Street, Main Street, and Your Street held at Riverside Church in New York, and organized by NY Faith and Justice. Also speaking at the event were Pat Purcell, Assistant to the President - UFCW Local 1500; Maya Wiley, Executive Director - Center for Social Inclusion; Tom Rodman; Lisa Sharon Harper and Obery Hendricks, Biblical Ethicist and author of The Politics of Jesus. The event was attended by approximately 300 people.[32][33]
Co-sponsors of the event were: Coalition for Educational Justice, Judson Memorial Church, Federation of Protestant Welfare Agencies, Interfaith Center of New York, Latino Leadership Circle, Marble Collegiate Church, Metro Hope Church, New York Theological Seminary, NY Divinity School, Presbytery of New York City, The Harlem House, The Radical Living Community, Rainbow Push Coalition - 1000, Churches Initiative, Trinity Grace Church, Uth Turn, Voterbook Manhattan and World Vision.[34]
Soros Funding Controversy
On July 17, 2010, blogger Marvin Olasky wrote that on October 22, 2004, George Soros's Open Society Institute had given Jim Wallis's Sojourners group a grant of $200,000 for the purpose of "Supporting the Messaging and Mobilization Project: Engaging Christians on the Importance of Civic Involvement".[35] Since then Sojourners has received at least two more grants from Soros organizations.[36] These include $25,000 in 2006 for the purpose of "helping to determine a new name and visuals for the merger of Sojourners and Call to Renewal",[37] and $100,000 in 2007 "to support the Christians for Comprehensive Immigration Reform campaign".[38]
On August 9, 2010, Wallis stated in an interview that Olasky had lied, and that Sojourners had not received any money from Soros,[39]
"It's not hyperbole or overstatement to say that Glenn Beck lies for a living. I'm sad to see Marvin Olasky doing the same thing. No, we don't receive money from Soros. Given the financial crisis of nonprofits, maybe Marvin should call Soros and ask him to send us money. So, no, we don't receive money from George Soros. Our books are totally open, always have been. Our money comes from Christians who support us and who read Sojourners. That's where it comes from. In fact, we've had funding blocked, this year and last, by liberal foundations who didn't like our stance on abortion. Other liberal groups were happy to point out to them that our stance wasn't kosher on abortion, so our funding was blocked."
On August 18, 2010, Wallis issued another statement, acknowledging funding from Soros:[39]
"Recently, I participated in an interview about the future of Evangelicalism. The interviewer asked about a blog post in which an author made accusations about Sojourners' funding. I should have declined to comment until I was able to review the blog post in question and consulted with our staff on the details of our funding over the past several years. Instead, I answered in the spirit of the accusation and did not recall the details of our funding over the decade in question. The spirit of the accusation was that Sojourners is beholden to funders on the political left, which is false. The allegation concerned three grants received over 10 years from the Open Society Institute that made up the tiniest fraction of Sojourners' funding during that decade -- so small that I hadn't remembered them. Sojourners doesn't belong to the political left or right. Sojourners receives funding from individuals and organizations across a broad spectrum who are committed to our mission of "biblical social justice."
Soros stated that the $325,000 of funding from the OSI had been "so small that I hadn't remembered them". He did not apologise to Olasky in his statement, for calling him a liar.[39]
Stop the War on Prayer
Jim Wallis was a signatory to the Stop the War on Prayer "Open Letter to the Faithful", which reads in part:[40]
"We the undersigned call on believers of all faiths to join us in denouncing the dangerous 'War on Prayer' being waged in America. We believe it is time to shine light on the hypocrisy of politicians and pundits who expound on the freedom of religion for their chosen sects while seeking to tell our Muslim brothers and sisters where they can and cannot worship. Using a political podium to bully a religious community threatens one of our most fundamental freedoms."
Jewish Funds for Justice
On July 16, 2010, Jim Wallis was listed along with other leaders of faith and progressive communities, expressing support for Simon Greer and his organization, Jewish Funds for Justice - following Glenn Beck's May 28 comments. Greer had argued that "we are at our best as a society when we put humankind and the common good first." Beck had responded: "This leads to death camps. A Jew, of all people, should know that. This is exactly the kind of talk that led to the death camps in Germany." The list of supporters was listed in a two-page feature in the Jewish Forward magazine.[41]
Arrests
On Dec. 14, 2005, Jim Wallis organized a protest outside a Congressional office building to oppose a House Republican plan for budget cuts in social programs. After refusing to clear the entrance to the building, Wallis and 114 other religious activists were arrested by U.S. Capitol Police.[42]
Immigration meeting
President Barack Obama, Vice President Joe Biden and eight Christian leaders met in the Oval Office on Nov. 13 2013to discuss the faith community's role in passing immigration reform.
Jim Wallis, president of Sojourners, a progressive Christian social justice group, said that the meeting did not dwell on the specifics of the political challenges facing reform, but rather was the result of the president's curiosity on how the issue had been discussed within the faith community.
"It was a conversation with President Obama about immigration reform and how this has really united the faith community across our boundaries," Wallis told The Christian Post.
According to a White House press release, Obama "and the leaders discussed their shared commitment to raise the moral imperative for immigration reform and said they will continue keeping the pressure on Congress so they can swiftly pass commonsense reform."
Russell Moore, president of the Southern Baptist Ethics and Religious Liberty Commission, who was also present at the meeting, praised Obama for "taking time to listen and dialogue on an issue of concern to many of us" and said that immigration seemed to be one of the few issues that transcended the politically divided United States.
"My message to the president is that there are many things that divide us as a country, but on this issue we have a remarkable consensus that the system is broken and the government isn't doing its job to keep the border secure, to shore up the economic health of the country, and to keep track of who is and isn't legally here," said Moore in a statement from the Evangelical Immigration Table.
Gabriel Salguero, president of the National Latino Evangelical Coalition, was grateful that the president had created space for leaders to "express the urgency the evangelical community feels around immigration reform."
"It was important to express our ongoing commitment to a bipartisan solution. We hope that our legislators continue to hear our prayers and listen to their constituents, who overwhelmingly favor commonsense immigration reform," said Salguero in a statement.
Wallis said he believes that fear is one of the largest impediments keeping legislators from politically supporting immigration reform.
"By 2050 most Americans will come from Africa, Latin America or Asia … which will mean we will not be a majority white culture. We will be a majority minority country. Many white people are afraid of losing their country and they don't want that to happen."
Wallis said that Christians played a critical role in alleviating the country's apprehension by demonstrating that "the body of Christ is intrinsically multi-racial."
Wallis also refuted criticisms that had been levied at Evangelical leaders earlier this year for promoting a political position not held by their congregations, conceding that the criticism may have been valid three to five years ago, but no longer applied.
"If you took a vote of Evangelicals on immigration reform, we would pass it," he said.
Wallis encouraged Christians to pray with their representatives about the issue and consider fasting, adding that it was important that predominantly white constituencies voice these concerns to their representatives on behalf of minority immigrants living in the same community.
He also stressed that it was essential that church leadership articulate their church's position on immigration reform to their representatives.
"[We need to have] pastors calling representatives saying 'I'm from your district. We have a church of 5,000 people. We're watching [immigration reform] carefully," said Wallis.
Other Christian leaders at the meeting were Hyepin Im, president and CEO of the California-based Korean Churches for Community Development, Eusebio Elizondo, auxiliary bishop for the Archdiocese of Seattle, Leith Anderson, president of the National Association of Evangelicals, Joel Hunter, a Florida senior pastor at Northland and an Obama advisor, and Mike McClenahan, a California senior pastor at Solana Beach Presbyterian Church.[43]
Hunger strike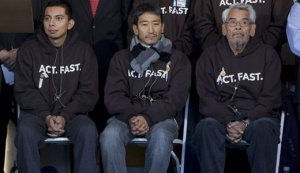 December 4, 2013, saying their 22-day "fast for families" to demand Congress approve comprehensive immigration reform had gotten worldwide attention, former Service Employees Secretary-Treasurer Eliseo Medina and his fasting colleagues ended their D.C. vigil by handing off the fast to a group of successors.
The fast drew continued attention to the issue, and support from Democrats all the way up to President Obama, who visited the fasters in their tent at the foot of Capitol Hill on Dec. 1. But it did not budge the decision-makers it targeted: the anti-immigrant, anti-Hispanic GOP majority in the U.S. House.
Medina "handed over" his fast to Rep. Joe Kennedy III, D-Mass., and the Rev. Jim Wallis of Sojourners. In a joint statement, Medina and his fellow fasters said "we fasted in the shadow of the Capitol to call attention to the human suffering caused by our broken immigration system. We believe we have raised awareness about families being ripped apart by deportations, immigrants dying in the desert and millions of people living in fear every day.
Medina and the other fasters, supported and escorted by their friends and colleagues - including SEIU President Mary Kay Henry - weakly walked to the center carpet behind the mike and sat patiently waiting for the symbolic end of their fast: Bread and liquids offered by two Catholic prelates, including Cardinal Emeritus Theodore McCarrick of D.C. They then left, with their escorts, for a medical checkup.
Cristian Avila of Mi Familia Vota, and Dae Jung Yoon, with the National Korean American Service and Education Consortium also struck.[44]
Ferguson protest
Solidarity Against Racism, October 14, 2015;
With Al Osorio, Jeremy Miller, Christopherj Woods, John Earl Boyd, Jose LaSalle, Derk Brown, La Mesha Irizarry, Osagyefo Sekou, Dr. Cornel West, Efia Nwangaza Renita Marie Green, Susan Talve, Traci Blackmon, Mary Gene Boteler, Starsky Wilson, Waltrina N. Middleton, Jim Wallis, Heather Wilson, Lisa Sharon Harper, and Patrick Soby.
"Confronting Racism In Our Hearts"
John Lewis was the featured speaker at a November 13 2017 symposium at D.C.'s Georgetown University, "Confronting Racism In Our Hearts And In Our Nation". It attempted to confront the rising tide of white supremacist racism in the U.S., manifested by the neo-Nazi, alt-right, KKK fatal riot in Charlottesville, Va., and similar events.
The session, with other progressive Protestant and Catholic religious leaders, played to a standing-room only crowd in the campus' Dahlgren Chapel. All speakers generally agreed that change, however painful, starts from within.
Lewis, Catholic Archbishop Wilton Gregory, the Rev. Jim Wallis of Sojourners and Georgetown History and African-American Studies Professor Marcia Chatelain agreed more legislation is not the whole answer, while emphasizing restoring the powers of the federal Voting Rights Act.[45]
Publications
Rediscovering Values: On Wall Street, Main Street, and Your Street — A Moral Compass for the New Economy
The Great Awakening: Reviving Faith & Politics in a Post–Religious Right America
God's Politics: Why the Right Gets It Wrong and the Left Doesn't Get It
Faith Works: The Soul of Politics: A Practical and Prophetic Vision for Change
Who Speaks for God? A New Politics of Compassion, Community, and Civility
The Call to Conversion
References