Jim Sleeper
From KeyWiki
Jim Sleeper , was, in the early 1990s, an editorial writer for New York Newsday. He is the author of "The Closest of Strangers:Liberalism and the Politics of Race in New York".[1]
Socialist Scholars Conferences
In 1991, Democratic Socialists of America 0rganized a panel, Multiculturalism and the Lefft at that year's Socialist Scholars Conference. Panellists were Barbara Ehrenreich, Jim Sleeper and Cornel West.[2]
Sleeper spoke alongside Ray Franklin, Jerry Watts and Frances Fox Piven on the Racial Politics and the Democrats: '92 panel sponsored by the Michael Harrington Center at the Tenth Annual Socialist Scholars Conference. The conference was held April 24-26, 1992 at the Borough of Manhattan Community College, New York City.[3]
"The Closest of Strangers"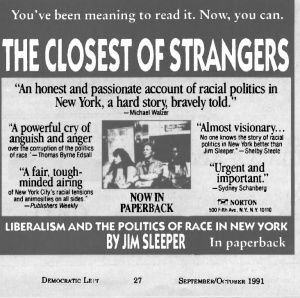 "Dissent" magazine
In 2009 the Democratic Socialists of America aligned Dissent Magazine masthead[4] Editorial Board members were;
Bernard Avishai, Joanne Barkan, David Bensman, Marshall Berman, Paul Berman , H Brand, David Bromwich, Luther Carpenter , Jean L Cohen, Mitchell Cohen, Bogdan Denitch , Jeff Faux, Cynthia Fuchs Epstein, Todd Gitlin, Murray Hausknecht, Agnes Heller, Jeffrey Isaac, Michael Kazin , Martin Kilson, Erazim Kohak, William Kornblum, Jeremy Larner, Susie Linfield, Kevin Mattson, Deborah Meier, Harold Meyerson, Nicolaus Mills , Jo-Ann Mort, Brian Morton, Carol O'Cleireacain, George Packer, Martin Peretz, Anson Rabinbach, Ruth Rosen, James Rule, Alan Ryan, Patricia Cayo Sexton, Jim Sleeper, Ann Snitow, Cornel West, Sean Wilentz, Dennis Wrong.
References