Jim Oberstar
From KeyWiki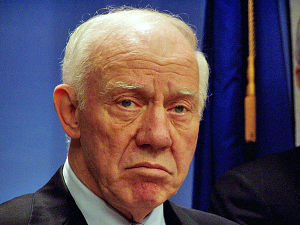 James "Jim" Oberstar was a Democratic member of the United States House of Representatives, representing the 8th district of Minnesota.
Communist inspired letter to defund Colombian military
Sam Farr had been a Peace Corps volunteer in Colombia, and was contacted by the communist dominated Colombia Support Network in 1997. Efforts by Colombia Support Network were instrumental in getting a letter sent to Secretary of State Madeleine Albright, with the 19 other members signing on. The January 30, 1998 letter called for the continued suspension of funding to the Colombian military then engaged in a bloody civil war against communist guerillas.
Dear Secretary Albright :
We are writing to express our concern with the worsening human rights situation in Colombia and urge you to take steps to address this matter.
News reports and first-hand accounts indicate that violence in Colombia is escalating, particularly in the country's northern most regions and the southern coca growing regions. Many different groups and individuals have been implicated in the violence, but an increasing number of human rights abuses are being instigated by paramilitary groups --armed civilians who torture, evict, kidnap and murder Colombian civilians.
There is also evidence of links between paramilitaries and local drug lords, who rely on paramilitary groups to undertake violent activities on their behalf. The Peasant Self-Defense Group of Cordoba and Uraba, a paramilitary group lead by Carlos Castano, is considered one of the most powerful paramilitary groups in Colombia. Reports indicate that last yeqar Castano's group killed hundreds, if not more than a thousand, peasants it accused of helping rebels.
As concerned Members of Congress, we urge you to place the issue of human rights and the problem of paramilitary groups in the forefront of your priority list in your dealings with Colombia. We understand that aid to the Colombian army is currently on hold because of human rights concerns and urge you to continue to withhold funding.
Signatories were;Sam Farr, John Porter, Ron Dellums, David Bonior, Marty Meehan, Marcy Kaptur, Scott Klug, James McGovern, Elizabeth Furse, Jim Oberstar, Peter DeFazio, Maurice Hinchey, Gerald Kleczka,John Conyers, Pete Stark, Robert Wexler, Lucille Roybal-Allard, Lane Evans, David Price, Sherrod Brown, [1]
Colombia Support Network letter
In 2002, the Colombia Support Network organized a :dear colleague" letter to President Andres Pastrana Arango, of Colombia, through Ned Steiner, a staffer in Rep. Sam Farr's office.
The letter called on President Pastrana to end a military blockade on the Colombian town of San Jose de Apartado, a sister community of Madison Wisconsin, where the Colombia Support Network is based.
We write to you to bring your attention to the humanitarian crisis facing the civilian population of the Peace Community San Jose de Apartadó and its outlying settlements.
We urge the appropriate authorities of your government to dismantle the paramilitary checkpoint on the road between San Jose and Apartadó, ensure the continued safety of the road, and fully investigate recent threats and attacks on the Peace Community.
The Peace Community San Jose de Apartadó and its settlements, including the village of La Union, receive the permanent accompaniment of international organizations.
These include Peace Brigades International (PBI), as well as the U.S. Fellowship of Reconciliation (FOR), which currently has two US citizens in La Union. We support the work of these two respected organizations as well as the Peace Community in its effort to build a non-violent alternative to the conflict.
Representatives who signed the Colombia Support Network inspired letter in 2001 included Jim Oberstar. [2]
2006 letter to Condoleezza Rice on Colombia
Alleged Colombian Army killings prompted Fellowship of Reconciliation to work with Representative Sam Farr to forge a response that would impact the 17th Brigade, the unit allegedly responsible for the violence against San José de Apartadó and communities throughout northwestern Colombia.
As a result, Reps. Sam Farr and Jim McGovern, wrote a letter to their colleagues in Congress urging them to join in calling on Secretary Condoleezza Rice to cut funding for the Colombian military.
Letter to Secretary of State Condoleezza Rice
(Deadline for Congressional representatives to sign: February 22)
We applaud the decision, noted in your certification letter of August 2005, that the US "will not consider providing assistance to the 17th Brigade until all significant human rights allegations involving the unit have been credibly addressed." Because the Brigade is a component of the Colombian Armed Forces' command structure and has been implicated in the above referenced human rights violations, we implore you to abide by both the letter of the law and the spirit of the law by withholding human rights certification for Colombia until the following conditions are met:
Signatories included Jim Oberstar.[3]
2009 letter on Colombia
From November 6th through December 7th 2009, a letter calling for change in U.S. policy towards Colombia was circulated through the House of Representatives. This letter called for a decrease in U.S. aid for Colombia's military and an increase in support for human rights and humanitarian efforts. The initiators of this letter were —Representatives James McGovern, Jan Schakowsky, Donald Payne, and Mike Honda.
Dear Secretary of State Clinton,
The FY 2011 budget will contain the twelfth year of a major aid package to Colombia—an aid package originally slated to phase out after six years.
After eleven years, it is time to scale down assistance for Colombia's military and more systematically "Colombianize" such programs, within both the State Department and Defense Department budgets.
Signatories included Jim Oberstar.[4]
Supported by Council for a Livable World
The Council for a Livable World, founded in 1962 by long-time socialist activist and alleged Soviet agent, Leo Szilard, is a non-profit advocacy organization that seeks to "reduce the danger of nuclear weapons and increase national security", primarily through supporting progressive, congressional candidates who support their policies. The Council supported Jim Oberstar in his successful House of Representatives run as candidate for Minnesota.[5]
JStreet/communist lobbying
On 26–29 October 2009, Erwin Marquit traveled to Washington DC to attend the first national conference of JStreet, the nonprofit advocacy organization founded in 2008 to promote a resolution of the Israel- Palestine conflict through a two-state solution based on the 1967 borders.
I attended the conference on 26-28 October and participated in lobbying members of the Congress on 29 October...
The guidelines for the lobby stressed Congressional support of Obama. With two other Minnesotans, I met with the two Senators from Minnesota, Franken and Klobachar , and Rep. Oberstar, the DFL member of the House from northeastern district of Minnesota...[6]
Supported Lifting the Gaza Blockade
On Jan. 27, 2010, U.S. Representatives Keith Ellison and Jim McDermott led 52 other members of Congress in signing a letter addressed to President Barack Obama, calling for him to use diplomatic pressure to resolve the blockade affecting Gaza. Jim Oberstar was one of the signatories of the letter. [7] The entire letter together with a complete list of signatories can be read by clicking here.
External links
References