Jerry Watts
From KeyWiki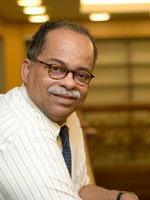 Jerry G. Watts is Professor of American studies at Trinity College, Hartford, Connecticut. He is editor most recently of The Black Intellectual in Crisis: A Retrospective (Routledge, 1999).[1]
DSA member
In 1990, Jerry Watts, an Associate professor of American Studies at Trinity College was a member of Democratic Socialists of America.[2]
Socialist Scholars Conference
Ray Franklin, Author, Shadows of Race and Class, Jerry Watts, Trinity College and William Kornblum were speakers on the Author Meets the Critics panel sponsored by the Michael Harrington Center at the Tenth Annual Socialist Scholars Conference. The conference was held April 24-26, 1992 at the Borough of Manhattan Community College, New York City.
He spoke alongside Jim Sleeper, Ray Franklin and Frances Fox Piven on the Racial Politics and the Democrats: '92 panel sponsored by the Michael Harrington Center.[3]
Left Forum
Alyson Cole, Walter Benn Michaels, Roxanne Dunbar-Ortiz and Jerry Watts were speakers on the The Trouble With Diversity: Challenging Multiculturalism panel at the Left Forum. The forum was held March 9 - 11, 2007 at Cooper Union College, New York City.[4]
Left Forum 2011
Transforming Public Higher Education in NYC
Dr. Basil Wilson—John Jay College, CUNY Graduate Center
Jerry Watts—UNY Graduate Center, Institute for African Diaspora in America & the Caribbean (IRADAC)
Martha Biondi—Northwestern University
Noliwe Rooks—Princeton University, Center for African American Studies
Rod Bush—St. John's University
Ydanis Rodriguez—Chair of City Council's Higher Education Committee
Vesely-Flad connection
Ethan Vesely-Flad with Jerry G. Watts, May 29, 1989, at Wesleyan University.
References