Jerry Moran
From KeyWiki
Jerry Moran
Cuba Trip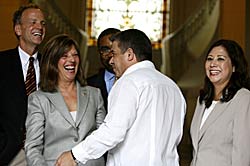 From Dec. 15 - Dec. 18, 2006, a Congressional Delegation of ten congressmen and women from the U.S. House of Representatives visited Havana, Cuba. Leading the delegation were Jeff Flake and Bill Delahunt. The other participants were Hilda Solis, Jo Ann Emerson, Jerry Moran, Michael Conaway, Jane Harman, Lincoln Davis, Gregory Meeks and Jim McGovern. The delegation met with Cuban Foreign Minister, Felipe Perez Roque and other communist officials. The delegation asked to meet with Raul Castro during their weekend visit to Cuba, but there was no word on whether such a meeting would take place.[1]
Staffer's 2010 trip to Cuba
Rep. Moran sent Aaron Popelka, to Cuba for 3 days in March/April 2010. The trip was courtesy of a $$2,127.40 grant from the Institute for Policy Studies connected Center for Democracy in the Americas... "Fact-finding mission to understand the importance and culture of U.S. policy toward Cuba" .[2]
Freedom to Travel to Cuba Act of 2015
S 299, the Freedom to Travel to Cuba Act of 2015, principal sponsors are Sens. Jeff Flake, R-Ariz., and Patrick Leahy, D-Vt.[3]
By May 20, it had accumulated 33 co-sponsors, mostly Democrats, but including two Independents, and 5 Republicans - Jerry Moran, Mike Enzi, John Boozman, Susan Collins, and Rand Paul. [4]
References