Jeremy Scahill
Jump to navigation
Jump to search
Jeremy Scahill
RadFest 2003
Friday, May 30 2003, at RadFest 2003, "The Iraq War and the Anti-War Movement", Aurora University.
Max Elbaum will speak at the opening plenary panel along with Betita Martínez (Institute for Multiracial Justice), Rania Masri (Iraq Action Coalition), and Jeremy Scahill (Democracy Now).
The plenary is part of RadFest 2003, an annual weekend conference for progressive activists and academics organized by the A. E. Havens Center for the Study of Social Structure and Social Change at the University of Wisconsin-Madison. The central goal of the conference is to provide an opportunity for progressive activists, organizers, and intellectuals to come together to discuss issues of mutual interest and concern, strengthen networks, and devise strategies for progressive social, economic, and political change.[1]
In conversation with Ackerman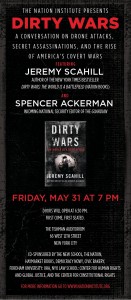 On May 31, 2013, 7:00pm - 9:00pm Tishman Auditorium, The New School 66 West 12th Street New York, a discussion between investigative journalist and Nation Books author Jeremy Scahill and Spencer Ackerman, a national security reporter and blogger for Wired magazine and incoming national security editor for the Guardian US.
Jeremy Scahill's debut book Blackwater—about the world's most secretive and powerful mercenary firm—exposed the dark side of the war on terror and became a New York Times bestseller. For his much anticipated second book, Dirty Wars: The World Is a Battlefield, Scahill reports from Afghanistan, Yemen, Somalia, and beyond, and explores the depths of America's global killing machine. What he uncovers is the most important foreign policy story of our time — the truth about America's secret wars. The foot soldiers in these battles operate globally and inside the US with orders from the White House to do whatever is necessary to hunt down, capture, or kill individuals designated by the president as enemies.
Co-sponsors for the event: The Nation, Haymarket Books, Democracy Now, Civic Bakery, Center for Constitutional Rights, and The Institute of International Humanitarian Affairs at Fordham University.[2]
References