Jeff Johnson
Jump to navigation
Jump to search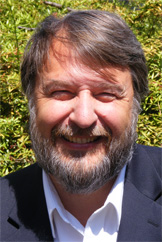 Jeff Johnson was elected President of the Washington State Labor Council, AFL-CIO, in December 2010 and was sworn into office on Jan. 5, 2011. Prior to that, since joining the WSLC staff in 1986, Johnson had served as special assistant to the president, lead lobbyist, research and organizing director, and as shop steward for his staff unit, which is part of Office and Professional Employees International Union Local 8.[1]
Background
Jeff Johnson earned his B.A. in Political Science from Georgetown University and his M.A. and A.B.D. in Political Economy from the Graduate Faculty at the New School for Social Research. He is married to Rebecca Smith, a member of the UAW and an attorney with the National Employment Law Project. They live in Olympia
Union career
Jeff Johnson began his union life with Local 2190 of the American Federation of Teachers, AFL-CIO in 1979, teaching Labor Economics and Labor Studies to apprentices of IBEW Local 3 in New York City. Through the mid-1980s, he taught union and community members at the International Ladies Garment Workers Union, ACTWU (which later became UNITE), the National Congress of Neighborhood Women, and the Harry Van Arsdale Center for Labor Studies, which is a division of Empire State College, SUNY. The Labor College, as the school is known, is the largest college for trade unionists in the United States.
Johnson's work at the Washington State Labor Council has "focused on legislation that improves the lives of working people through increasing collective bargaining and organizing rights; economic justice and anti-poverty measures; strengthening our workers' compensation, unemployment insurance and employment standards; improving our health care system; and protecting the rights of farm workers and immigrant workers". He has represented labor on a number of committees, both internal (WSLC Diversity Committee; Workers' Comp. Labor Caucus; UI Labor Caucus; Affordable Housing and Homeless Task Force) and external (Retro Advisory Committee; SBCTC Mission Task Force; L&I Independent Medical Exam Committee; L&I Vocational Rehabilitation Committee).[2]
Approximately 75 spirited protesters celebrated the 57th anniversary of the enactment of Medicare in Seattle on Friday, July 29 2022, with a picket line and rally outside the Columbia Center chanting, "Whose Medicare? Our Medicare!" and "Medicare is not for profit! Keep your corporate hands off it!"
The Seattle rally and picket line was initiated by Puget Sound Advocates for Retirement Action and co-sponsored by Health Care is a Human Right Washington, Voices for Health and Healing, and Physicians for a National Health Program WA. Most of the crowd were from King County, reinforced by members from Clallam County, Everett, San Juan Island, Whidbey Island, Bainbridge Island, Vashon Island, and Kitsap Peninsula.
PSARA Co-President Jeff Johnson, retired president of the Washington State Labor Council, chaired the rally, leading the crowd in chanting, "Hey, hey, ho, ho, ACO REACH has got to go!"
PSARA Executive Board member Rick Timmins of Whidbey Island told the rally that it took seven months for his for-profit Medicare Advantage provider to approve treatment of a tumor on his earlobe.
PSARA Education Fund President Robby Stern pointed out that Seattle-based Amazon has dived into the ACO REACH feeding frenzy, purchasing "One Medical" and its subsidiary "Iora" in a $3.9 billion cash buyout.
Faye Guenther, president of United Food and Commercial Workers Local 3000 representing 50,000 grocery store workers in Washington State, charged that Wall Street banks and corporations "are getting their greedy fingers into health care. Greed does not help."
Rachel Berkson, an aide to Rep. Pramila Jayapal, thanked the crowd for supporting Jayapal, who has recruited 54 of her House colleagues to sign a letter to Biden and HHS Secretary Xavier Becerra demanding ACO REACH termination.
Seattle City Councilwoman Theresa Mosqueda thundered, "How many times do we have to stand here and say: 'Don't privatize Medicare?'" She led the crowd in a chant, "Hands off Medicare! Medicare, Medicaid, Social Security are here to stay."
Other speakers included Katie Garrow, Executive Secretary-Treasurer of MLK Labor, a central council with 150 unions representing over 100,000 workers, and Dr. Hugh Foy, retired surgeon from Harborview Hospital and the UW Medical system. Both strongly defended Medicare, denouncing privatization and calling for a single-payer Medicare for All system.
A delegation of three—PSARA Co-President Karen Richter, Health Care Is A Human Right WA leader David Loud, and Timmins—went up for a meeting with Regional Director Ulrey and the Division Director of CMS. The group delivered a demand to Ulrey's boss, Becerra, that the Biden administration terminate ACO REACH and all other schemes to privatize Medicare. Ulrey agreed to share our concerns with Becerra.[3]
Washington State CP
In May 1995 The Communist Party USA newspaper Peoples Weekly World published a May Day supplement. Included was a page of greetings to Will Parry, sending "warmest greetings" for his 75th Birthday. Almost all of the more than 100 endorsers listed, were identified members or supporters of the Washington State Communist Party USA.
The list included Jeff Johnson[4].
Will Parry's 90th birthday
On April 24, 2010 the Puget Sound Alliance for Retired Americans, where Washington State Communist Party USA member Will Parry has spent the past 16 years writing newsletter articles on everything from saving Social Security to passing health care reform, threw a 90th birthday party that drew "half of progressive Seattle to sing his praises and served to remind Parry just how much times have changed."
At his birthday party, Will Parry picked up his guitar and led 400 union brothers and sisters, family, comrades, and friends in singing "Carry It On" ending, "No more tears, for we're still singing."
Sponsored by the Puget Sound Alliance of Retired Americans, the celebration resounded with songs, poetry, and heartfelt tributes. Parry together with his late wife, Louise, helped build the labor movement and the senior citizen movement in the Pacific Northwest. A Phi Beta Kappa graduate of the University of Washington, he worked as a factory worker at Longview Fiber, a box factory organized by the Association of Western Pulp and Paper Workers.
Jeff Johnson, assistant to the president of the Washington State Labor Council spoke of Parry's affiliation with the Communist Party USA of Washington State, the Pension Union and the Washington Commonwealth Federation that "became so strong they elected a Communist to the legislature" during the 1940s.
Parry was targeted in the Red Scare of the 1950s, Johnson continued. "The Taft Hartley Act was passed and radicals were being purged from the labor movement. As Will said, 'They drove the radicals out and it took the starch out of the labor movement.'"
In recent years, the Washington Labor Council "honored him as a hero of the Washington State labor movement," Johnson concluded.
Bill Farris, president of AWPPW Local 817 at the corrugated box plant where Parry worked for many years, said, "He's an advocate for people who needed help, an advocate for the union. I've lost count of the number of picketlines I've walked with Will."[5]
AFL-CIO official
In 2011, ILWU workers were put out of their jobs at the $200 million EGT terminal in Seattle, which "is under contract to hire them, because the company is filling their positions with scabs from another union. The ILWU had refused to go along with company rules that allow EGT to ship jobs overseas at will. 200 have been arrested in protests against the company over the past several months".
Jeff Johnson, president of the Washington State Labor Council, AFL-CIO, said, "The labor movement in this state has a proud history of being aggressive when it comes to workers' rights. We have almost 20 percent of the workforce in unions, the fourth highest state for union density in the nation and there are powerful forces out there that want to change that."[6]
8th Annual Public Meeting of PNHPWW
Gerald Friedman, Ph.D, Professor of Economics at the University of Massachusetts, Amherst, delivers keynote presentation on the economics of health care reform at the 8th Annual Public Meeting of Physicians for a National Health Program, Western Washington Chapter, at the University of Washington Kane Hall, Seattle, WA, May 4th, 2013. Other speakers were Andy Coates, MD, President of PNHP and Jeff Johnson, President of the Washington State Labor Council.[7]
"Beyond Resistance: Reclaiming our Progressive Future"
Beyond Resistance: Reclaiming our Progressive Future was a November 15, 2017 gathering of the Democracy Alliance. How to Make Climate Progress In the Age of Denial
Climate change is not a problem for the future-it is here now. taking lives and devastating communities, as evidenced by this year's series of extreme weather disasters. Even with the facts of climate science on our side. the climate movement has struggled to break the vice grip of industry and entrenched interests blocking climate progress. but more frequent climate·driven disasters have raised the stakes and urgency of climate change to a broader public. With action on climate obstructed at the national level. building a powerful and diverse grassroots climate movement and bold political leadership at the state and local level are more important than ever, and there are clear signs of progress.
Democracy Alliance Senior Strategy & Planning Officer and Climate and Clean Energy Equity Fund Director Roger Kim will lead a discussion with Florida State Senator Annette Taddeo (FL-5040), Washington State Labor Council President Jeff Johnson, New Florida Majority Executive Director Andrea Mercado, and University of California, Santa Barbara Professor Hahrle Han on groundbreaking strategies to strengthen the movement by addressing social and racial justice, new opportunities to build political power and leadership, and innovative climate and clean energy campaigns that improve people's everyday lives.[8]
References