Jeff Adachi
Jump to navigation
Jump to search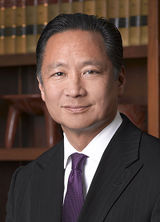 Template:TOCnestleft Jeff Adachi, died 2019, was San Francisco public defender.
Background
Jeff Adachi suffered a medical emergency on Feb. 22 2019 and was pronounced dead at California Pacific Medical Center's Pacific Campus.
Catherine Ceniza Choy, professor and chair of Berkeley's Department of Ethnic Studies, said Adachi "embodied the best of what we try to do here — excel in your arena, but do it in a way that is good for the public, for the common good."
At Berkeley, Adachi, a third-generation Japanese-American, majored in Asian American studies in the Department of Ethnic Studies. After receiving his B.A. on Dec. 12, 1981, he went on to earn his law degree in 1985 from Hastings College of the Law.
Last month, Adachi was sworn in for a fifth term as the only elected public defender in California. According to the public defender's website, Adachi ran an office of more than 100 attorneys and 80 support staff — 40 percent of his staff were people of color, 20 percent were LGBTQ and 50 percent were women — that annually provided legal representation to more than 25,000 indigent people charged with crimes.
His office was recently awarded the Champions Public Defense Award from the National Association of Criminal Defense Lawyers for its work on bail reform. Among Adachi's other innovative programs is an immigration unit launched in 2017 to represent undocumented immigrants locked in detention facilities and facing deportation.
The incarceration of his grandparents during World War II, because of their Japanese ancestry, gave Adachi "his deep sense of justice. Particularly defending those accused wrongly fueled his passion, and it's not at all surprising that at Cal he found an environment that helped to encourage and center his foundational beliefs in social justice and engagement," said Berkeley alumnus Stephen Gong, executive director of the nonprofit, San Francisco-based Center for Asian American Media.
"That marks almost all Cal grads, especially from those years," he added, referring to the years of turbulent student protests that led to the founding in 1969 of the Department of Ethnic Studies and that accompanied the civil rights movement and the Vietnam War.
Ling-chi Wang, emeritus professor of ethnic studies, said his former pupil "was an activist student, including being a critic of Asian American studies, during the years he was here at Berkeley as an undergraduate. And even though he was always busy, he never hesitated to support causes I brought to his attention."
"A warrior for social justice and criminal reform" is how Aarti Kohli will remember Adachi. Kohli, a 1993 graduate of Berkeley, is executive director of the San Francisco-based, nonprofit Asian Americans Advancing Justice-Asian Law Caucus. Adachi was on the leadership team for her group, the nation's first legal and civil rights organization for low-income Asian Pacific Americans.
"We worked with Jeff on the intersection of criminal justice and immigration, and also on sanctuary policies, for our Cambodian and Southeast Asian clients with criminal records," she said. "Jeff was an ally in advocating for police accountability."
She said Adachi started a project in which public defenders go to immigration court to help immigrants who face deportation, including Cambodian- and Vietnamese-Americans who came to the United States as youngsters. There aren't enough lawyers in the nonprofit sector who can help, she added, and most clients are low-income and can't pay private attorneys.
"He stepped up and said his office would help, and we supported that idea," said Kohli. "It's great to have a government office supporting immigrants' rights."
Although Kohli and Adachi attended Berkeley at different times, she said she developed on campus "my own political analysis to help me understand the fight for social justice, and I feel it was the same for Jeff, particularly in the Asian American studies program. There are so few places where you can get that level of insight into the Asian-American story, and how it fits into the fight for civil rights."
"It was at Berkeley that I learned about the Chinese Exclusion Act, about Japanese internment. Things you're never taught in high school," she added. "Jeff learned from his family story, but Berkeley helps you connect your personal family story to a broader political and social context, and you make the changes you need to become a leader, to shape society, and it becomes your passion for your career. That's what Jeff was trying to do in his role as public defender. He wanted to help create and reform the criminal justice system."[1]
Asian Americans and the New Racial Justice Movement
Join Asian American and African American leaders, thinkers, and organizers in a conversation focused on the current Civil Rights crisis; placing #BlackLivesMatter within historic context, and articulating connections between the experience of Asian Americans and African Americans in the United States. Moderated by journalist William Gee Wong; panelists include Alex Tom, Executive Director, Chinese Progressive Association (San Francisco); Nadia Khastagir, Design Action Collective & Asian Americans for Black Lives; Jeff Adachi, San Francisco Public Defender's Office; and, Karissa Lewis, #BlackLivesMatter. [2]
A filmmaker focused on injustice
Adachi made three feature-length documentaries and two short films. The feature films were "The Slanted Screen" (2006), "You Don't Know Jack: The Jack Soo Story" (2009) and "The Defender." All examined racial inequities; the first two particularly focused on discrimination faced by Asian-American actors. Gong added that Adachi also started an Asian-American artists' foundation and instituted an awards program for Asian-American media artists.
Gong's Center for Asian American Media commissioned Adachi to do a short, one-hour documentary, which was called "The Ride," about Adachi's work defending an African-American man charged with assault on an officer.
"Jeff consciously knew that this whole work of a public defender's office deserved and needed to be supported," Gong said. "He was active in a national network of public defenders and believed their calling was so important. He was non-stop in his passion for life and used every minute of the day to do good, to help."[3]
Alma mater
Adachi also never stopped pitching in to support his alma mater. Among his many contributions was his service, in recent years, on the advisory board at Berkeley for the Asian American and Asian Diasporas Studies program's 50th anniversary fundraising campaign.
"At our 2017 reception, he gave an inspiring keynote to a room packed with students, faculty, staff, administrators, alumni and community supporters," said Lok Siu, Berkeley associate professor of ethnic studies and program coordinator for Asian American and Asian Diaspora Studies. "He spoke forcefully about the importance of sustaining our collective struggle for social justice" and showed his documentary "Racial Facial."
Choy said she met him briefly at a fundraising event to support Berkeley's Asian American and Asian Diaspora Studies program.
"Even though I didn't get to know him as a student," she said, "I have an admiration for him, and how he always stood up for the most marginalized, disenfranchised people."
"It's a tremendous loss for our campus, but his work will live on," Choy added. "That's the power of the creative spirit."[4]
Committee to Free Choi Soo Lee activists
Committee to Free Choi Soo Lee activists Jeff Adachi, Peggy Saika, Warren Furutani, Jeff Mori, David Kakishiba, and Mike Suzuki, all Sansei whose families had spent the World War II years in the desolate concentration camps; Grant Din, Peggy Saika's husband Dr. Art Chen, Susan Lew, Chris Chow, Esther Leong, Derrick Liem, and Sandra Gin, Chinese Americans; and Tom Surh, Gail Whang, Sook Nam Cho, Jai Lee Wong, Min Paek, and Han Yun, Korean Americans.[5]
Harris relationship
As a scandal rocked the city's crime lab in 2010, District Attorney Kamala Harris was increasingly at odds with the city's elected public defender, Jeff Adachi. He accused her of being "unethical," and she said he was "playing politics with public safety," according to media reports at the time.
The fight was, on one level, an example of a prosecutor and defense attorney playing their respective roles. But it was all the more extraordinary because the two had been friends for years.
Adachi had been Harris's tutor when they were at the University of California's Hastings College of the Law in San Francisco. Their relationship continued as their careers intersected at crucial moments, often on opposite sides in high-profile criminal cases, until it recently reached an unexpected conclusion just when she may have most needed his help.
They were children of the Bay Area. Adachi developed his fervent sense of justice from Japanese American parents who had been sent to an internment camp by the U.S. government during World War II. Harris, whose father came from Jamaica and whose mother is from India, grew up attending civil rights rallies in Berkeley.
Both decided that the way to address injustice was to work within the system — he as a public defender and she as a prosecutor. Both experienced disillusionment in their early jobs that led them to seek political office. Adachi was elected as the city's chief public defender in 2002, and Harris ran the following year to be district attorney.
One day, Adachi ran into Harris and asked her why she wanted to focus on the prosecutorial side of the law.
"And she said, 'That's how I'm going to change the world,' " Adachi said in a recent interview. "My perception is that she saw law enforcement as the place she would have the greatest amount of influence because you know as D.A., she would be the one making the decisions" on whether to prosecute individuals. "People saw the system as the enemy, so joining the system was a tightrope walk."
Harris won in 2003, and for all seven years that she served as district attorney, Adachi was on the opposite side. They continued as adversaries and friends, often talking to each other about cases, and seeking support from the same set of voters.
"We grew up together as professionals," Harris, 54, said in an interview. Given his status as one of the few elected public defenders in the country, Adachi was "a real national leader" with "a bully pulpit," she said. Adachi also wrote and directed a documentary called "The Slanted Screen," which was critical of the way Asians have been stereotyped on television and in movies.
Adachi, a fit-looking man with an even-keeled but forceful tone, sometimes questioned whether Harris was going far enough in her promise to look out for the rights of defendants as well as prosecuting them. He urged her to speak more about the need for changes in sentencing, bail and prisons.
"Could she have been more progressive given that she was a prosecutor of color? Yeah," Adachi said. "Did I hope that? Yeah, at times. Was I disappointed? Yeah, but at the same time, you know, I saw her as somebody who was in a position to make a difference." He recalled discussing cases with Harris in which she agreed to go more lightly on deserving defendants.
After six years in which their offices faced off, the relationship hit perhaps its roughest moments when it was revealed in March 2010 that Harris and her staff had not informed defense lawyers that evidence from the police-run crime lab might have been tainted. A judge ruled in May 2010 that Harris had failed to inform defendants as required by law. Harris said in the interview she took responsibility and made "no excuses" for the failure.
It was during that time that Adachi told the San Francisco Chronicle that Harris was being "unethical" for not disclosing to defense attorneys that police officers who were essential to certain cases had been convicted of crimes or been investigated for misconduct. He said Harris "is putting the privacy interests of police officers who have misconduct records and who have been convicted of crimes above the rights of citizens to a fair and honest trial."
Harris fired back that Adachi was "playing politics" and said records were overseen by the police and protected by state privacy rules.
Adachi, after running unsuccessfully for mayor in 2011, continued as public defender. Harris had greater ambition and broader success, winning election as California attorney general and U.S. senator. But as she declared her candidacy for the presidency, critics on her left raised concerns about her record on criminal-justice reform and questioned whether her characterization of being a "progressive prosecutor" was inherently contradictory.
As a result, Harris wanted support from Adachi, whose endorsement would have been an ideal response to such concerns. But Adachi wasn't quite ready.
On Feb. 13, as he sat for an interview in his spacious second-floor office, he spoke carefully, saying he admired Harris but had questions about how committed she was to instituting changes to help defendants.
"The big question that I have now, which I'm trying to get answered — and I actually have a call in to her, I don't even know if I'll hear back — is . . . I want to know what you're going to do in the future. She says that one of her planks of her platform is going to be criminal-justice reform. What does that mean?"
The following day, Harris said, Adachi told her on the phone that reporters were asking him questions about her record. She said she told Adachi that she was committed to ensuring that defendants receive their constitutional rights, and she asked him to be an adviser on the issue for her campaign.
It was an emotional call, she said. They discussed their three decades of friendship, going back to law school and their respective roles in San Francisco's tumultuous criminal-justice system.
"I had a great conversation with him, and he was very supportive," Harris said, while saying she didn't ask for a formal endorsement. She said he agreed to have a subsequent talk with the campaign about formalizing his role as an adviser.
Eight days later, Adachi, 59, died after having dinner with a friend. An official report has not been released, but local media reported the cause of death as a heart attack.
Harris still seemed in disbelief. "I was very sad that he died, and I still am," she said, her voice trailing off. No longer could she count on the plan that Adachi would again counsel her, just as he had 30 years ago.[6]
Eric Mar supporters
Eric Mar April 21, 2012.
With Raymond Fong, Chris Jackson, Myrna Melgar, Gabriel Haaland, Michael Tong, David Campos, John Avalos, Amy Bacharach, Ken Wang, Conny Ford, Robynn Takayama, Jane Kim, John Rizzo, Chris Gembinski, Steve Ngo, Evan Brown, Pam Tau Lee, Jeff Adachi, Rafael Mandelman, Wendolyn Aragon, Nicole Derse, Hene Kelly, Alex T. Tom, Sasha Cuttler, Myron Lee, Richard Rothman, Shaw San Liu, Jen Kwart, Mike Alonso, Nick Pagoulatos, Leah Taylor Pimentel, Alex Walker, Viva Mogi, Yvonne Liu, Linshao Chin, Dan Nguyen-Tan, Wyatt Lim-Tepper and Kelly Welsh Dwyer.
San Francisco People's Organization
The political left in San Francisco, which lost its footing after progressive torchbearer Matt Gonzalez lost the 2003 mayor's race to more centrist Gavin Newsom, hoped to find solid ground with the the San Francisco People's Organization convention Saturday, June 11, 2005, at the St. Mary's Cathedral conference center, 1111 Gough St, when tenant activists, environmentalists, labor organizers and other crusaders for the underdog inaugurated a new coalition.
Organizers said they expect to draw 400 to 500 attendees.
Among the groups involved were the health care workers union, Senior Action Network, the San Francisco Day Labor Program, the Tenants Network, the San Francisco Child Care Providers Association, the Sex Workers Outreach Project and the Coalition for Transit Justice.
The new alliance's goal, according to its mission statement, is to "transform San Francisco into a city that places human needs and the common good above everything else."
In more practical terms, the organization was looking to build a political majority that carries clout at the ballot box and can set a successful agenda at City Hall, now dominated by Newsom.
"It's about creating strength in numbers, finding common ground and supporting each other," said Jane Kim, a Chinatown youth organizer who had been active in forming the new coalition.
"Progressives have found themselves in more of a reactive role," said Corey Cook, a political scientist at San Francisco State University.
Now, however, some political leaders on the left are trying to reclaim a bigger stake, and the San Francisco People's Organization is being viewed by some of its backers as the vehicle to achieve more power.
Among those expected to attend Saturday's convention were Gonzalez, Supervisors Ross Mirkarimi and Chris Daly and Public Defender Jeff Adachi.
"This is an attempt to draw people together from various progressive causes and issues throughout the city to examine what issues matter most to folks and to figure out how we an continue to work together on a consistent platform," Adachi said.[7]
Phillip Burton Awards Committee
In 2013, the Honorary Phillip Burton Awards Committee, of the Immigrant Legal Resource Center, consisted of;
Jeff Adachi, San Francisco Public Defender
The Honorable David Campos, San Francisco Board of Supervisors
The Honorable David Chiu, President of the San Francisco Board of Supervisors
Carmen Chu, San Francisco Assessor-Recorder
The Honorable Malia Cohen, San Francisco Board of Supervisors
The Honorable Anna Eshoo, US Representative for California
The Honorable Mark Farrell, San Francisco Board of Supervisors
The Honorable Dianne Feinstein, US Senator for California
The Honorable Barbara Lee, US Representative for California
The Honorable Zoe Lofgren, US Representative for California
The Honorable Eric Mar, San Francisco Board of Supervisors
The Honorable George Miller, US Representative for California
The Honorable Nancy Pelosi, Democratic Leader of the US House of Representatives
The Honorable Jackie Speier, US Representative for California
The Honorable Katy Tang, San Francisco Board of Supervisors
The Honorable Scott Wiener, San Francisco Board of Supervisors
The Honorable Norman Yee, San Francisco Board of Supervisors[8]
China
Charlotte Shultz organized the largest welcome ceremony in the history of SF Airport for Rose Pak in 2016 after she received a kidney transplant surgery in China."[9]
Verbatim:
"The 300 greeters who took the drive out to the airport Monday for Pak's welcome–home from China, where she underwent months of kidney treatment, included former Mayors Gavin Newsom and Willie Brown, Supervisors Aaron Peskin, Jane Kim, Norman Yee and David Campos, Public Defender Jeff Adachi and City Attorney Dennis Herrera.
"Also there was Academy of Art University President Elisa Stephens — whom Herrera just sued, claiming the school has illegally converted 22 buildings in the city into student housing and other uses.
"Even acting Police Chief Toney Chaplin made the pilgrimage.
"Pak wasted little time tossing out barbs as she emerged from customs, with Herrera being the first target.
""Are you going to serve me papers?" Pak mockingly asked, referring to the scrutiny she and her Chinatown allies have received in the past mostly from the district attorney's office over their campaign tactics. "Or are you here to serve the mayor papers?"
"Pak also publicly chided Herrera for suing her pal Stephens. After such pleasantries, she joined Brown and Public Works chief Mohammed Nuru in a burgundy Rolls-Royce from the Academy of Art's classic-car collection and headed to a Chinatown luncheon — escorted by SFPD motorcycle officers.
""It was a Fellini movie — if it had been filmed for reality TV, nobody would have believed it," said San Francisco PR agent Lee Houskeeper, who was among the spectators.
""Every year, tens of millions come and go from San Francisco International, but this is the first time I've seen a civic event of these proportions at the airport," Peskin said. "It was actually quite entertaining."
"The entertainment continued at the Far East Cafe, where Pak was flanked at a luncheon banquet by Brown, Chaplin and police Deputy Chief Garret Tom, a longtime Pak protege who has been mentioned as a candidate for the chief's job.
"Also at the head table were Campos, Kim and Peskin — who defeated Lee's hand-picked candidate for his supervisor's seat last year, with Pak's help.
"As for the mayor, he missed the banquet — instead catching a flight to D.C. for a gun-safety conference at the White House. In doing so, he missed Pak's expletive-laden remarks at the luncheon, laying in to Brown for persuading her to push Lee to run for mayor back in 2011.
"Pak got a new kidney as part of her treatment in China, and said her doctor told her she could expect to live another 40 years. She said she needed only 15 years, including 10 to get the Ping Yuen public housing complex in Chinatown rebuilt.
"And the other five years?
""To get even with the people who wished me dead."
Japanese American comrades
Eric Mar June 5 2018.
Still thinking about the sudden passing of Pete (Peter Kenichi Yamamoto), his last poems and the joy he got from experiencing Asian American and community arts, his reflections on dialysis and the natural process of aging, his embrace of Thich Nhat Hahn, Marxism, revolutionary struggle and Jtown. Here, Pete was one of the handful of men to support our 'Comfort Women' Justice Coalition. He was steadfast as a Japanese American (along with Grace Shimizu, John Ota, Grace Morizawa, Tomomi Kinukawa, Jeff Adachi, Kenji Taguma, Kathy Masaoka & David Monkawa) working to build solidarity within the JA communities and broader Pan-Asian Unity as well!
Rose Pak Democratic Club 2018 endorsements
Rose Pak Democratic Club 白蘭民主黨協會 August 8, 2018:
Phil Ting for Assembly D19, Jeff Adachi for Public Defender, Carmen Chu for Assessor/Recorder, Janice Li for BART Board.
References
References