Jaribu Hill
Jump to navigation
Jump to search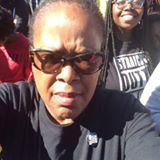 Jaribu Hill is a Mississippi activist. Former musician and partner of Ngoma Hill.
Background/#MeToo movement
Jaribu Hill didn't opt for law school until her early 40s. She'd been a singer, actress, teacher and labor organizer before learning a college classmate had become head of a group for black female judges. "I can do that, too," she thought.
Hill has since become a leading civil rights and workers' rights lawyer in Mississippi and now, at 70, she's part of a nationwide network of attorneys helping women without much money pursue often-costly sexual misconduct cases.
"We're looking for opportunities to lift up women who've never been lifted up," Hill said.
She is among 721 attorneys inspired by the #MeToo movement who have signed up with the Times Up Legal Defense Fund since it launched last year. While the movement burst into the spotlight in October 2017 with celebrities and others accusing powerful men of sexual misconduct, the fund is reaching everyday working women who otherwise wouldn't be able to afford to take their complaints to court.
The Times Up fund, administered by the National Women's Law Center, has received more than 3,670 requests for assistance and has funded 160 cases thanks to $24 million in donations.
The lawyers in its network hail from big law firms and small practices in 45 states. One is a Harvard Law School graduate who has represented truck drivers and laundry workers. Another is a Washington, D.C., attorney whose approach to discrimination cases evolved after losing his vision a decade ago.
The law center's president, Fatima Goss Graves, praised their commitment.
"Workers who experience sexual harassment and retaliation across all industries now know there are attorneys who have their back," she said.
Hill was the first lawyer in Mississippi to receive support from the Times Up fund. The money helped her with a lawsuit from a black woman in her mid-50s who says she was sexually harassed by a co-worker at a regional bus line, then fired after complaining to her superiors.
Hill said the case will go to trial in February unless the bus company offers a "meaningful settlement."
The plaintiff, Sandra Norman, "has always been a victim of the system," Hill said. "But we should never assume just because someone's been beaten down, they don't have the courage to tell their story."
Hill grew up in Ohio and chose the City University of New York for law school before founding the Mississippi Worker's Center for Human Rights to advocate for low-wage workers.
The fund has enabled Hill to recruit investigators and law students to help her.
"We're telling young lawyers: 'If you're brave enough and skilled enough to take these cases, there's help out there,'" she said.[1]
Legal Guardians Hall of Fame
Mark Thompson March 2 2019· Selma, AL
Faya Toure‪ inducts Attys Nkechi Taifa & Jaribu Hill into the Legal Guardians Hall of Fame At the National Voting Rights Museum & Institute.
Comrades
Dara Cooper February 8, 2019 ·
❤️❤️❤️🙌🏾🙌🏾🙌🏾🙌🏾🙌🏾🙌🏾
moveblack2019 — with Colette Pichon Battle, Morathi Adams and Jaribu Hill.
A Call to the Black Left
Back in June 2007 at the U.S. Social Forum, over 50 brothers and sisters gathered in Atlanta to discuss the state of the Black liberation movement and role of the Black Left. Most agreed that the Gulf Coast/Katrina disaster is a defining moment that requires that Black revolutionaries unite and work to build a National Black United Front. It's initial focus being the development and support of a Gulf Coast Reconstruction Movement. This movement would be a part of a strategic flank of the wider National Black Liberation Movement.
We are inviting you to join this effort and would like to include your name on the Call as an official endorser and participant of a National Gathering of Black Leftist to be sent out to others inviting their participation. The Gathering will be held at the Sonja Hayes Stone Center for Black Culture and History on the UNC Campus in Chapel Hill, NC on May 30 – June 1, 2008. This became the Black Left Unity Network.
Endorsers included:
Black Left Unity
On the weekend of May 31-Jun 1,2008, dozens of African American organizers, artists and activists convened the first Black Left Unity Meeting at the Sonia Hayes Center in Chapel Hill, NC.The gathering was a continuation of the Black Left Unity caucus that meet in Atlanta during the US Social Forum.
Those who attended the conference included Saladin Muhammad, Black Workers for Justice and the Black Workers League; ILWU Local 10 leader Clarence Thomas; activist and poet, Amiri Baraka; Million Worker March leader, Brenda Stokely; Ana Edwards, Defenders for Freedom, Justice & Equality; Ajamu Baraka, U.S. Human Rights Network; Patrisse Cullors, Labor Strategy Center; Efia Nwangaza; Theresa El-Amin; Kali Akuno from the Malcolm X Grassroots Movement; Jaribu Hill, Mississippi Workers for Human Rights; Vickie White, People's Organization for Progress; labor organizer, Angaza Laughinghouse; Larry Adams, New York City Labor Against the War (NYCLAW); cultural artist, Luci Murphy; educators Muntu Matsimela, T. Menelik Van Der Meer and Sam Anderson; Yvette Modestin, Afrocaribenas y de la Diaspora; Colia Clark; and activists representing Fight Imperialism-Stand Together (FIST) and the Troops Out Now Coalition.[3]
MIRA Board
Board of Directors Mississippi Immigrants Rights Alliance 2011-2012;[4]
Louis E. Burnham Award
The Louis E. Burnham Award is granted each year to an individual whose work reflects the interests and values of Louis Burnham's life. Those interests included:
racial justice in urban areas and the U.S. South, human rights, socially engaged journalism, African-American politics, youth leadership.
Commemorating Burnham's lifelong engagement with progressive causes, the award recognizes the work of journalists, social justice activists and scholars who have amply demonstrated their commitment to racial justice and the advancement of the African-American community. The Award consists of a grant of $5,000 to be used to support the work of the recipient.
The Louis E. Burnham Fund is proud of the work of previous award recipients, including Erik McDuffie, Jaribu Hill, Osagie Obasagie, Monifa Bandele, Latosha Brown, Kai Barrow, Alvin Sykes, Alfonzo White, Sendolo Diaminah, Denise Perry and Kazembe Balagun. [5]
Law4BlackLives
Human Rights Project at the Urban Justice Center August 4, 2015 ·
A snapshot from the incredible #Law4BlackLives conference, featuring HRP Director Shani Jamila, Ajamu Baraka, Lisa Crooms, Jaribu Hill and Rev. Osagyefo Sekou.
Southern Human Rights Organizing Conference
The Southern Human Rights Organizing Conference celebrated 20 years of convergences Dec. 9-11 2016, in Jackson, Miss. Organized by Jaribu Hill from the Mississippi Workers Center for Human Rights, and held at Tougaloo College, this SHROC was dedicated to "Local Human Rights and Social Justice Activists and Martyrs" such as Mayor Chokwe Lumumba, Fannie Lou Hamer, Medgar Evers, Annie Devine, Nubia Lumumba, Victoria Gray Adams, Dr. L.C. Dorsey and other freedom fighters from the South, and those from beyond such as Fidel Castro.
The conference theme, "Forward Ever, Backward Never: 20 Years of Advancing a Global South Agenda for Human Rights," focused on many struggles across the Southern region including panels on "Smashing Patriarchy: From Black Power to Black Lives Matter and Beyond" and "Strike Back Against Empire: Building International Solidarity."
"In 2016, SHROC continues to be uncompromising in its values and its commitment in uplifting a radical, multi-generational human rights agenda that is rooted in anti-capitalism, anti-colonialism, anti-imperialism and anti-white supremacy," stated Atlanta-based conference organizing committee member, Yolande Tomlinson.
She continued, "The need is not just to lift up needs of women, but to explicitly name patriarchy, the system of the male supremacy and domination that sits at the root of gender domination."[6]
#freedom50
Makani Themba June 26, 2014
My sistars at #freedom50! #sistalove <3 — with Jotaka Eaddy and Jaribu Hill.
Bennie Thompson connection
Errick D. Simmons October 7, 2016:
With Latrice Westbrooks, Jaribu Hill, Bailey Willie, Congressman Bennie G. Thompson and Lois Hawkins.
Comrades
Cazembe Jackson September 24, 2017:
Makani Themba I am so grateful to God and the ancestors for your birth. You are the grounding energy that I never knew I needed in my life. So encouraging and loving. Your food is always delicious and your conversation intriguing. Thank you for loving me as well as you do. Our movement is better daily because of your contributions to it. You are not just a wonderful mother to your own children but to all of us. I can't wait to continue building our tender friendship. Happy birthday! I love you with my whole heart. ❤️🖤💚 — with Jaribu Hill, Makani Themba and Efia Nwangaza.
Dara Cooper with Cazembe Jackson, Jaribu Hill and Ajamu Baraka.
Food Chain Workers Alliance
Food Chain Workers Alliance June 21, 2017 ·
With Candy Jimenez, Jose Oliva, Celene Perez, Maritag Canedo, Rose Bookbinder, Kike Intuitivo Balcazar, Jaribu Hill, Jose Antonio Tovar, Joann Lo, Diana Robinson and Javier Rodriguez.
Discussion with Sekou Odinga
Discussion with former political prisoner Sekou Odinga and his wife Dequi Kioni-Sadiki.
Iya'Falola H. Omobola August 24, 2017 ·
Looking forward to seeing you tomorrow at this event. — with Rukia Lumumba, Chevon Chatman, Baba Ifalowo Asante Nalls, Frank Figgers, Evelyn Reed, Amalya Yasmine Livingston, Bashiri Meterti, Erick Ellis El, DeKeither Stamps, Hd Lathon, Asinia Lukata Chikuyu, Samuel X. Clark, Adib Sabir, Fa'seye Sunny Indigo Gonzalez, Ivory Phillips, Jaribu Hill, Hollis Watkins, Kourtney Witha K. Bell, Kali Akuno, Angela Stewart, Cynthia Newhall, Joshua Quinn, Dominique Walker, Felicia King, Charles Brown, Halima Olufemi and Stanley Wesley.
Coordinating Committee
Coordinating Committee The Black Alliance for Peace, as of May 10 2018.
Southern sisters
Jamala Rogers February 4, 2017 ·
In case you missed the good news obscured by trump's unending racist foolishness, criminal charges were dropped against our sista-warrior Efia Nwangaza for organizing a mass blockage of traffic in Greenville, SC back in Dec 2014. Photo shows Efia (purple scarf) at SHROC with her southern sistas, Sarah White, me, Jaribu Hill.
References