Jared Huffman
From KeyWiki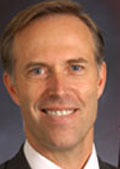 Jared Huffman , entered Congress with the 2012 elections, as an (California Democrat, District 2).
The district spans from the Golden Gate Bridge north to the Oregon border, covering six counties including all of Marin, Mendocino, Humboldt, Trinity, and Del Norte, and much of Sonoma Counties.
Huffman is a member of the Committee on Natural Resources and the House Budget Committee.
Prior to his election to public office, Huffman was a Senior Attorney for the Natural Resources Defense Council. One of his proudest accomplishments at NRDC was helping forge an agreement to restore a 153-mile stretch of the San Joaquin River in California's Central Valley. [1]
Colleagues
When he is not in Texas, Beto O'Rourke lives a five-minute walk from his Capitol Hill office, in a row house he shares with two Democratic colleagues, Jared Huffman and Salud Carbajal, both from California. Huffman is the landlord.
Restoring Constitutional Secularism
"Restoring Constitutional Secularism and Patriotic Pluralism in the White House."
Prepared exclusively by Secular Democrats of America PAC for President-elect Joe Biden and Vice President-elect Kamala Harris Transition Team.
Presented by Representatives Jamie Raskin and Jared Huffman. Endorsed by Representative Jerry McNerney.[2]
Congressional Freethought Caucus
Background
Before he joined NRDC, Huffman was a successful public interest attorney whose victories included several major jury verdicts in gender discrimination and race discrimination trials. He also served 12 years in local government as a Director of Marin County's largest special district, the Marin Municipal Water District, from 1994 to 2006.
Huffman graduated magna cum laude from the University of California at Santa Barbara, before attending and graduating cum laude from Boston College Law School.[3]
Support for the Council on American Islamic Relations
Jared Huffman wrote a letter of support to the Council on American-Islamic Relations (CAIR) on the occasion of their 24th anniversary in September 2018.[4]
Defense spending cuts letter
May 19, 2020.
Dear Chairman Smith and Ranking Member Thornberry:
We write to request a reduction in defense spending during the coronavirus pandemic. As you draft this year's National Defense Authorization Act (NDAA), we encourage you to authorize a level of spending below last year's authorized level. Congress must remain focused on responding to the coronavirus pandemic and distributing needed aid domestically. In order to do so, appropriators must have access to increased levels of non-defense spending which could be constrained by any increase to defense spending.
Initiated by Mark Pocan and Barbara Lee.[5]
Co-signatories included Jared Huffman .
Peace Action
Peace Action endorsed Jared Huffman in the 2018 election cycle.[6]
Radical staffer
In 2020 Kristen Armellini was a Communications & Media Fellow at Rep. Terri Sewell since August 2020. Formerly worked for Jared Huffman.
Relief of Iran sanctions letter
According to the NIAC website, in March 2020 a team of prominent members of Congress urged their colleagues to sign a letter to the White House calling for immediate relief of sanctions to help ordinary Iranians combat the Coronavirus pandemic.
This is a critically important effort coming amid the Iranian people's hour of need. We need to make sure that Iranians have all the support they need to get medicine and respirators, food and basic goods and services to weather the pandemic. By supporting AOC's letter, we can send a powerful message to the Trump administration: now is not the time to kick the Iranian people when they are down. The U.S. must ease sanctions and send aid to help combat the spread of Coronavirus.
Take action today: urge your Representative to sign AOC's letter calling for urgent humanitarian relief for Iran.
Original signers of the letter include: Reps. Alexandria Ocasio-Cortez (D-NY), Ilhan Omar (D-MN), Jared Huffman (D-CA), Joaquin Castro (D-TX), Ayanna Pressley (D-MA) and Barbara Lee (D-CA), and Sens. Bernie Sanders (D-VT), Elizabeth Warren (D-MA) and Ed Markey (D-MA).[7]
NIAC Leadership conference
National Iranian American Council September 23, 2016
We're ready for you! Looking forward to an amazing Leadership Conference this weekend in Washington, D.C. - you can get your last minute tickets here: leadership.niacouncil.org
NIAC2016 #CreatingAMorePerfectUnion — with Mehdi Hasan, Ben Rhodes, Joe Cirincione, Tyler Cullis, Rula Jebreal, Trita Parsi, Sanam Anderlini, Suzanne DiMaggio, Maz Jobrani, Tara Kamangar, Celinda Lake, Farideh Farhi, Cyrus Habib, Negin Farsad, Congressman Jared Huffman, Mana Kharrazi, Yahya Alkhansa, Ilan Goldenberg, Congressman Dan Kildee, James Dobbins, Philip Gordon and Office of Foreign Assets .
Letter with NIAC
Washington, D.C. – December 208, National Iranian American Council worked with Rep. Jared Huffman and a group of 13 lawmakers who sent a letter to the the State Department regarding the dire humanitarian impact of U.S. sanctions on the Iranian people. On February 15, the State Department sent its response to the lawmakers. Rep. Huffman's letter requested responses on the following questions:
Is it a deliberate strategy of the Trump administration to starve the Iranian people or deprive them of basic medicines? If not, what substantive steps has the administration taken to ensure the Iranian people have continued access to life-saving medicines?
Which foreign nations have expressed concern about the humanitarian impact of U.S. sanctions on Iran, and what have they asked the administration to do to ensure the free flow of humanitarian goods to Iran?
According to a report in The Guardian, the United Kingdom, France and Germany have pushed both the State and Treasury Departments to produce a "white list" that would "give clear guidelines about what channels European banks and companies should follow to conduct legitimate transactions with Iran without fear of future penalties." Has the State or Treasury Departments acted upon this proposal to establish a white channel to ensure the flow of humanitarian goods? If not, why not?
What additional measures have been contemplated to ensure the free flow of humanitarian goods to the Iranian people? If these were rejected, why were they rejected?
Are broader license authorizations or exemptions necessary to ensure the flow of humanitarian goods to Iran? If not, what is the evidence for this assessment?[8]
Other signatories included Reps Barbara Lee, Mark Pocan, Bobby Rush, Ro Khanna, Jim McGovern, Tulsi Gabbard, Zoe Lofgren, Don Beyer, Mark DeSaulnier, Jan Schakowsky, Matt Cartwright, Earl Blumenauer, Anna Eshoo.[9]
"Green New Deal"
From the Sunrise Movement:[10]
Alexandria Ocasio-Cortez has released a proposal for a Select Committee on a Green New Deal, a plan that would transform our economy and society at the scale needed to stop the climate crisis.
We have the momentum to make a Green New Deal real, but we need a critical mass of Congresspeople to support the proposal.
Take action on Dec. 10 to show Congress the Green New Deal is a top priority.
Congressional supporters by December 1 2018:
HR 109 endorser
By February 20 2019 endorsers of Alexandria Ocasio-Cortez's HR 109 (Green New Deal) included Jared Huffman.
State Representative
Huffman served six years in the California State Assembly where he authored more than 60 pieces of successful legislation and received numerous awards for his legislative leadership. Huffman chaired the Water, Parks, and Wildlife Committee, served on the Budget Committee and was co-chair of the Legislative Environmental Caucus.[11]
Supported Progressive Health Care Reform
In late 2009, Jared Huffman was one of more than 1,000 state legislators to sign a letter entitled "State Legislators for Progressive Health Care Reform". The letter was a project of the Progressive States Network and was developed in consultation with national health care reform advocates, including the AFL-CIO, AFSCME, Community Catalyst, Families USA, Herndon Alliance, National Women's Law Center, Northeast Action, SEIU, and Universal Health Care Action Network. The letter reads in part,[12]
"Failure to pass national comprehensive health reform now will further jeopardize state and local budgets, undermining public services like education, public safety, and transportation infrastructure... We, the undersigned, call on President Obama and the Congress to enact bold and comprehensive health care reform this year – based on these principles and a strong federal-state collaboration – and pledge our support as state legislators and allies in pursuit of guaranteed, high quality, affordable health care for all."
Anti-Fracking legislation endorser
On March 14, 2013, Rep. Jared Polis (D-CO) and Rep. Matt Cartwright (D-PA) have introduced the Bringing Reductions to Energy's Airborne Toxic Health Effect (BREATHE) Act, and the Focused Reduction of Effluence and Stormwater runoff through Hydraulic Environmental Regulation (FRESHER) Act, in order to ensure that the hydraulic fracking industry follows the same rules that other industries do in preserving our natural resources. This legislation is focused on ensuring the safety and the health of the communities where the hydraulic fracturing, or fracking, process is already taking place.
The BREATHE Act would ensure that we close the oil and gas industry's loophole to the Clean Air Act's aggregation provision, in addition to adding hydrogen sulfide—a chemical associated with nausea, vomiting, headaches, and irritation of the eyes, nose, and throat—to the Clean Air Act's federal list of hazardous air pollutants.
The BREATHE Act has the following original co-sponsors including: Reps. Rush Holt, Jr., Raul Grijalva, John Sarbanes, James Moran, Michael Quigley, Earl Blumenauer, Gerry Connolly, Zoe Lofgren, Michael Honda, Paul Tonko, Barbara Lee, David Price, Carolyn Maloney, Michael Capuano, Mark Pocan, Jim McDermott, Eleanor Holmes Norton, Alcee Hastings, Keith Ellison, Niki Tsongas, William Keating, Adam Smith, Jim Langevin, Chellie Pingree, Judy Chu, Louise Slaughter, Jerrold Nadler, Grace Meng, Jan Schakowsky, Nita Lowey, Jared Huffman, Gary Peters and Alan Lowenthal.
The following organizations have endorsed this legislation and are actively working to garner support within Congress and throughout the country: Physicians for Social Responsibility, Natural Resources Defense Council, Earthjustice, Alliance of Nurses for Healthy Environments, Sierra Club, Earthworks, Breast Cancer Action, Clean Water Action, Environment America, Greenpeace, Nature Abounds, Oil Change International, Citizens for a Healthy Community, Citizens for Huerfano County, Clean Water Action Colorado, Erie Rising, Grassroots Energy Activist Network, Holy Terror Farm, San Luis Valley Ecosystem Council, SOS Foundation, Western Colorado Congress of Mesa County, Western Slope Conservation Center and Wilderness Workshop.[13]
Fred Ross award campaign
In early 2013, mainly Democratic Socialists of America aligned activists, together with many elected officials across the United States came together to urge President Barack Obama to award posthumously the Presidential Medal of Freedom to the legendary organizer, Fred Ross, Sr.. The Saul Alinsky trained radical was the first to organize people through house meetings, a mentor to both Cesar Chavez and DSAer Dolores Huerta, and a pioneer in Latino voter outreach since 1949 when he helped elect Communist Party USA affiliate Ed Roybal as Los Angeles's first Latino council member, "Ross' influence on social change movements remains strong two decades after his death in 1992".
Congressional endorsers of the proposal included Jared Huffman.[14]
Congressional Progressive Caucus
In January 2013, Jared Huffman was listed as a new member of the Congressional Progressive Caucus.[15]
PDA contact
In 2013 Progressive Democrats of America assigned activists to deliver their material to almost every US Congressman and Senator, Ruth Carter, and Stan Gold were assigned as the contact for Rep. Huffman.[16]
Lifting travel ban on Cuba
A May 03, 2013 Press release from the radical controlled and Institute for Policy Studies affiliated Latin America Working Group's Cuba Team stated:
Due to your action/emails/phone calls we have 59 signatures from House representatives urging President Obama to support travel to Cuba by granting general licenses for ALL current categories of travel.
By eliminating the laborious license application process, especially for people-to-people groups, that is managed by the Office of Foreign Assets Control (OFAC), the majority of the bureaucratic red tape that holds up licensable travel to Cuba would disappear and actually facilitate what the President wanted to see in 2011, liberalized travel regulations.
Signatories included Rep. Huffman .[17]
Congressional Letter for Neutrality, 2014 Salvadoran Elections
On Monday December 16, 2014 Reps. Juan Vargas (D-CA), Mike Honda (D-CA) and Mark Pocan (D-WI) sent a letter to Sec. of State John Kerry – signed by 51 Members of Congress – calling for a public statement of neutrality by the State Department before the first round of El Salvador's presidential elections on February 2, 2014.
The letter, , highlighted several "important steps" that the current government has taken to "strengthen its democratic system and expand the right to vote to all citizens," including those living outside of the country, who will be voting by absentee ballot for the first time in February. Since the election of Mauricio Funes, the first President from the Marxist Farabundo Martí National Liberation Front (FMLN) party, the government has increased the number of polling places four-fold to increase accessibility, especially in rural areas.
"We're glad to see so many Members of Congress expressing respect for the right of the Salvadoran people to determine their own future. That's an attitude that's sorely lacking in much of the US' policy in Central America, especially with regard to economic policy," said Alexis Stoumbelis, Executive Director for the pro-communist Committee in Solidarity with the People of El Salvador (CISPES), in Washington, DC, which has observed every post-war election in El Salvador, starting in 1994.
Signatories included Rep. Jared Huffman.[18].
JStreet endorsement
The socialist infiltrated, anti-Israel "two state solution" JStreet PAC endorsed Jared Huffman in his 2014 Congressional race. [19]
JStreet endorsed him again in 2016.
Huffman, who has family in Israel, is a strong supporter of Israel and a two-state solution. JStreetPAC was proud to support him in 2012 and 2014 and proudly endorses his 2016 campaign for reelection.[20]
CPC
In 2018 Jared Huffman was a member of the Congressional Progressive Caucus.
Medicare For All Congressional Caucus founders
In August 2018 Medicare For All Congressional Caucus founding members included Representative Jared Huffman.
Medicare for All Act
In February 2019 Rep. Pramila Jayapal introduced H.R.1384 - Medicare for All Act of 2019. By May 29 she had 110 co-sponsors including Rep. Jared Huffman.
References