Janvieve Williams Comrie
From KeyWiki
Janvieve Williams Comrie is an Adjunct Professor at Eugene Lang College The New School for Liberal Arts.
Lives in The Bronx, New York. From Panama City, Panama.
Education
Activism
The Black Alliance for Peace
Advisory Committee The Black Alliance for Peace, as of October 28 2020.
Activist and scholar Mireille Fanon, Black Agenda Report executive editor Glen Ford, Colombian gender-rights activist Charo Mina-Rojas, Black Lives Matter co-founder Opal Tometi, public intellectual Cornel West, human-rights activist Janvieve Williams Comrie, and internationally known filmmaker and sociologist Tukufu Zuberi.[1]
Right to the City connection
Right to the City Alliance January 25, 2013 ·
The city never sleeps. — with Marvin Mitchell, Jessica Klonsky, Ilana Berger, Sofia Quintero, Monse Santana, Max Uhlenbeck, Carmen Pineiro, Luz Schreiber, Carlos J. Serrano, Stuart Ewen, Priscilla Grim, Kelly Anderson, Anna Ortega-Williams, Sonny Singh Brooklynwala, Doyle Canning, Laurie Davidson, Kassia Ringell, Janvieve Williams Comrie, Sasa Garcia, Hank Williams, Rachel LaForest, Yasmeen Perez, Amaka Okechukwu, Christopher Gunderson, Valery Jean, Alexandra Lopez Reitzes, Doug Cunningham, Imani Henry, Kazembe Balagun, Irini Neofotistos, Evan Siegel, Mark Swier, Karen Oh, Heidi Easton Chua Schwa, Lisa Asedillo Pratt, Gilda Haas, Chepe Nangara, Maribel Cordero-Garcia, Crecensio Morales, Taleigh Bicicleta, Jatnna Ramirez, Orlando Morales, Ismael Nunez, Tania Romero, Vicente Alba-Panama and Fanshen Wong.
Rent Freeze Now!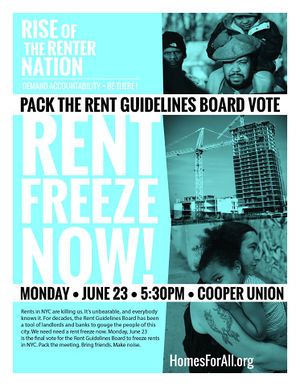 Lenina Nadal June 17, 2014;
Let's do this. Please share. — with George Ciccariello-Maher, Kate Cavanagh, Claudia Copeland, Maria Elena Perez, Maribel Cordero-Garcia, En Bey, Estevan Lee Roman, Beka Economopoulos, Ejima Baker-Morales, Crecensio Morales, Eulan Atkinson, Heidi Schwa, Stuart Ewen, Teresa Basilio, Jed Brandt, Eric Odell, Brian Hernandez, Christopher Gunderson, Janvieve Williams Comrie, Laurie Davidson, Mark Swier, Ramiro Campos, El Lopex, Jesse Ehrensaft-Hawley, Elisha Miranda, Prof. Antonio Nadal, Digna Sanchez, Elizabeth Walsh, Blandon Casenave, Kazembe Balagun, Dasha Munoz, Caridad De La Luz, Yasmeen Perez, Yvonne Enid Rodriguez-MacDonald, Lilo Carr Rivera, Esther Wang, Stomp Box, Dee PoeticalGenius, Esperanza Martell, Eddy Nelson Rivera, Tamara Czyzyk, Jessica Klonsky, Luz Schreiber, Carlos J. Serrano and Roger Bonair-Agard.
Revolutionary Strategies to Beat the Rising Right Wing
Revolutionary Strategies to Beat the Rising Right Wing, was a nationwide conference call organized by Freedom Road Socialist Organization, Sunday October 30, 2016.
What's the nature of this right-wing threat? What has this election cycle changed about the political terrain we're fighting on? How do we need to prepare for whats coming after the election? Hear about these crucial questions from our panel of top political strategists, including Nelini Stamp, Bill Fletcher, Jr., Linda Burnham, and Sendolo Diaminah.
Those indicating interest in attending, on Facebook included Janvieve Williams Comrie.[2]
References