Janis Breidenbach
Jump to navigation
Jump to search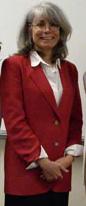 Template:TOCnestleft Janis (Jan) Breidenbach is Adjunct Associate Professor at University of Southern California, Greater Los Angeles Area.
She is the director of Housing LA. She is the mother of Jesse Breidenbach.
New American Movement
In 1981, David Crippen (Executive Director), David Aroner (Northern Director), Janis Breidenbach (Field Representative), Sherry Hayes (Senior Field Representative), Jerry Fillinjim (Field Representative) and Jonathan Lepie (Senior Field Representative) of the California Social Services Union congratulated NAM on the occasion of its 10th anniversary.[1]
Tribute to Ben Dobbs
On Sunday, June 7, 1981, the Los Angeles Chapter of the New American Movement sponsored a Tribute to Ben Dobbs for "His lifelong commitment to socialism". The event was held at the Miramar-Sheraton Hotel, Santa Monica, California. At the event Dorothy Healey and Jan Breidenbach performed a song entitled "As We Know Him". Breidenbach was also on the Dinner Committee and was listed as a sponsor of the event.[2]
Los Angeles DSA
In the early 1980's Jan Breidenbach was a leading member of Los Angeles Democratic Socialists of America[3].
In 1983 Jan Breidenbach was a Los Angeles, California delegate to the Democratic Socialists of America conference in New York City, October 14-16, 1983[4]
In 1985, Janis Breidenbach was Co-Chair of Los Angeles Democratic Socialists of America[5]
DSA Feminist Commission
In 1985, Jan Breidenbach of California, Angie Fa, Nancy Kleniewski, Josephine Martinez, Lillie McLaughlin, Penny Schantz and Glenn Scott were listed on the National Executive of the Feminist Commission of the Democratic Socialists of America.[6]
In 1986 she was listed as a member of the Commission.[7]
DSA potential donors list
On January 21, 1992 Steve Tarzynski, National Political Committee of Democratic Socialists of America, wrote a letter to "Harold" (probably Harold Meyerson).
"Following is the list of possible major donors I can think of to pledge support for Trish and our program in southern California. Additions and comments sorely needed."
Question marks in original list.[8]
Los Angeles DSA potential donors list
On July 26 1992 California Democratic Socialists of America leader Steve Tarzynski wrote a draft "major donor letter" for Southern California DSA, inviting donors to join the Upton Sinclair Club of DSA[9]
We know you have been generous in supporting DSA's important work in the past. We'd like to develop a core of at least twelve people who will pledge 1,000 annually to keep our Organization working for Southern California DSA. We invite you to be one of those people. This select group of members and friends would have a key role in rebuilding a democratic left opposition in California.
This unique group of individuals would form the "Upton Sinclair Club" which will act in an advisory role meeting with the Southern California DSA leadership at an annual brunch. Sinclair Club members will receive a quarterly bulletin reporting on Southern California DSA's progress, and will have an opportunity to meet international DSA spokespeople and international guest speakers in more intimate small group settings. Admission to all local, statewide, and national DSA events in the Southern California would be complimentary with membership in the Sinclair Club.
The draft was accompanied by a "List of Potential major donors to DSA"
Upton Sinclair Club
In the early 1990s, Jan Breidenbach of Los Angeles was a member of the Upton Sinclair Club, of Democratic Socialists of America. The club consisted of wealthy Californians able to contribute significant donations to DSA.[10]
Housing position
In 1992 Janis Breidenbach was Executive Director of the Southern California Association of Non Profit Housing. She was also member of Democratic Socialists of America.[11]
Progressive Los Angeles Network
Circa 2002 ,Jan Breidenbach, Southern California Association for Non-Profit Housing, served on the Advisory board of the Democratic Socialists of America dominated Progressive Los Angeles Network.[12]
Villaraigosa "talent pool"
According to Harold Meyerson of the LA Weekly, newly elected Mayor Antonio Villaraigosa can call on a "locally based progressive talent pool" that includes such policy activists as Occidental government professor Peter Dreier and nonprofit housing advocate Jan Breidenbach (in housing), Roxana Tynan of the Los Angeles Alliance for a New Economy (in development), Larry Frank of UCLA's Labor Center (in work-related issues), and the Liberty Hill Foundation's Torie Osborn (for general administrative genius).[13]
Housing LA victory
Jan Breidenbach, the executive director of the Southern California Association of Non-Profit Housing and Housing LA told the National Housing Institute's Shelterforce Online, March/April 2002, how her organization had campaigned to set up a $100 million Housing Trust Fund in Los Angeles.[14]
January 2002 was not an auspicious time for launching expensive social initiatives in California's largest city. Still reeling from September 11, Los Angeles faced a $200 million deficit. Mayor James Hahn had imposed a hiring freeze and 10 percent budget cutbacks.
And yet, there was Hahn, on January 17, announcing the establishment of the nation's largest housing trust fund – $100 million. Despite the city's fiscal straits, the trust fund had garnered unanimous support. How could such a huge initiative, offered at such a time, generate no opposition? The answer is Housing LA, a three-year campaign so broad and inclusive that opposing its demand for a trust fund of this magnitude was simply not an option.
Housing LA was conceived in 1998 when leaders of the Southern California Association of Non-Profit Housing realized that only a dedicated trust fund – a substantial dedicated trust fund – could jumpstart production of affordable housing for the people of Los Angeles.
First, we couldn't win alone. We knew that a campaign built entirely (or even mostly) on SCANPH's community development corporation base was too narrow – CDCs would be at the campaign's core, but the strategy was to bring together different constituencies, with different interests, around the common goal. Our leadership had to come from three major constituencies: labor, the religious community, and tenants.
Second, timing was everything. Los Angeles has term limits, and a new mayor and city council would be elected in July 2001. We wanted to win within the first six months of the new administration, so we planned each phase backwards from December 2001.
Third, we would focus on the fund itself, not its sources. We proposed a number of sources and were open to more, but kept our sights on the amount – $100 million a year.
Fourth, we had an "outside/inside" strategy. The coalition would be built "outside" City Hall before and during the election. When the new administration was sworn in, the campaign would go "inside" and focus on getting the actual votes.
Ultimately, Housing LA held together because the partners recognized the common good – and their own interests. Religious leaders believed in the morality of our goal, unions wanted jobs and housing for their members, and tenants wanted to get their children out of the slums.
Our first task was to ask the cardinal of the Archdiocese of Los Angeles and the head of LA Federation of Labor to be our honorary chairs. We used existing relationships, both professional and personal. One of our active members had a long relationship with the director of the Archdiocese's Justice and Peace Commission, and asked him to take our request directly to Cardinal Roger Mahony. The cardinal, known for his commitment to the poor, agreed immediately. He not only chaired the campaign, but spoke at our press conferences, made calls, and wrote letters. Other CDC leaders with religious connections met with the Board of Rabbis, individual temple leaders, and pastors from most of the African-American churches. Thorough research, quality materials and – most importantly – a personal visit to each prelate resulted in positive commitments.
We also drew on various contacts and connections to personally invite participation by key labor leaders. Miguel Contreras, executive secretary of the LA Federation of Labor, not only agreed to be an honorary chair, but spoke at our events, made calls, and used his influence in City Hall to garner support. Other unions signed on: a number of locals from the Service Employees International Union, including the all-important city workers, Justice for Janitors, health care workers, and even the state council. We obtained commitments from the United Food & Commercial Workers, Hotel & Restaurant Employees, the American Federation of State, County and Municipal Employees, the building trades council, and the teachers' and firefighters' unions.
Other constituencies recruited to the leadership included activists from our own developer base, environmentalists, disability rights advocates, social service agencies, and social justice organizations such as the living wage and the immigrants' rights coalitions. Several foundations and a few far-sighted financial institutions also came on board. But tenants were at the heart of it all.
We knew that without the tenants, we would have breadth but no depth. Organized tenants were vital because only they can articulate the suffering that lack of good housing creates – and they were the troops that would swell our numbers when it came time for public actions. Virtually all of the tenant organizing groups in Los Angeles – ACORN, Inquilinos Unidos (Tenants United), the Coalition for Economic Survival, Coalition LA, POWER, LA Metro (an Industrial Areas Foundation affiliate), and Hollywood CAN (Community Action Network) – provided both leadership and troops for the entire campaign.
Tenants did not blindly accept our invitation, however. In the first meetings, they demanded funding for immediate tenant needs, and asked that the entire fund be dedicated to rental assistance. Developers resisted at first; the impetus for the campaign was production need. But an agreement was reached to set aside a small portion of the fund for emergency tenant needs, such as security deposit loans. In exchange, tenants came on board and never faltered. This agreement solidified a working relationship between the developers and tenants that continues: At present, we are working on a Los Angeles-based anti-slum campaign and a statewide effort to revive rent control.
Trust fund campaigns in California face tremendous political obstacles created by both Propositions 13 and 218 – which, combined, require a two-thirds vote on all taxes and a vote of the affected homeowners on property-based fees. Triggering either of these votes meant losing.
We researched a number of sources, including two fee increases that didn't require public votes: a commercial linkage fee and an in-lieu fee from an inclusionary zoning ordinance, as well as pots of money that could be re-directed and dedicated to the fund. All of our literature incorporated these proposals, but never emphasized any of them.
Targeting the amount rather than the sources proved to be even smarter than we thought. During the campaign's final months, we came face to face with potential defeat when the softening economy went into a nosedive after September 11. Because the campaign was about $100 million for housing, rather than about a specific fee or tax whose projected revenue might have declined, at the end of the day it was simply too late for anyone to suggest the fund be anything less than the full $100 million.
In the two months between the primary and the general election, we gathered our forces for the final push. The mayoral finalists – Hahn, a former City Attorney, and former Speaker of the State Assembly Antonio Villaraigosa – both endorsed the trust fund, as did all mayoral and city council primary candidates. Two city council finalists agreed to be our legislative champions. Nonetheless, we used these weeks to solicit more than 150 organizational endorsements, expanding our "outside" support.
On July 1, Mayor Hahn delivered an 11-minute inaugural speech highlighting three priorities. The first was a $100 million trust fund, to be enacted within six months – exactly our deadline. It was time to go "inside."
In the last months of the three-year campaign, the candidates we had educated were now elected officials engaged in the day-to-day process of political horse-trading. We had to stick to our strategic game plan but also remain flexible in our tactics to make sure our horse came out the winner.
Starting in late August and continuing for almost three months, Housing LA partners committed to weekly lobbying visits in City Hall. Each visit to the mayor or a council member was led by a different constituency with its own theme: One week it was tenants, the following week academics, another week religious leaders, then labor. We were ubiquitous, and a number of staffers asked us not to bother them anymore, they'd vote on whatever we wanted. We came back anyway. When September 11 threatened everything, we accommodated the changed economic reality by proposing a phased-in approach. But we never let up on the full $100 million.
All was going well, but December was approaching and momentum would likely fade after the new year. We had to turn out our troops.
ACORN had earlier planned a housing march for its own members in November, and they brought the idea to Housing LA , which joined more than 400 people who marched, rallied, and packed the City Council chambers. Between Thanksgiving and Christmas, Housing LA partners organized a flurry of activities, including a City Council address by a supportive delegation of state legislators, who also met with the mayor.
In the first week of the new year, the mayor's deputy called the campaign office and asked us to review their list of sources. After three years, it took about 24 hours and several long conference calls to realize that we had won exactly what we had fought for, and only a couple of weeks after our deadline.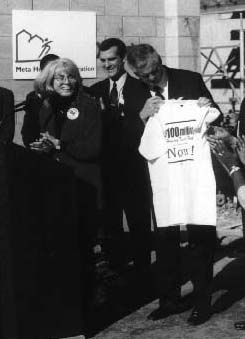 January 17, the day of the Mayor Hahn's press conference, was also the anniversary of the devastating North-ridge earthquake that destroyed more than 25,000 low-income apartments and killed almost 60 people in 1994. The two dates bracketed the worst of the city's housing crisis and the best of what we could do about it. Acknowledging both, the mayor invited campaign leaders to be with him at the podium and gave full credit to Housing LA.
On March 1, the City Council unanimously endorsed the mayor's proposal, with many stating it was their "finest hour" and thanking the advocates for their work. Through the spring, an advisory committee will meet to draft the guidelines for the fund.
At some point, Housing LA will meet and determine what comes next. There are more housing issues to be addressed, but only the partners can decide if these require that Housing LA continue and, if so, in what form. But whatever the decision, we have established solid working relationships through this campaign, there will be new housing every year to come, and Los Angeles is a better place to call home.
Housing LAs three Co-Chairs were Jan Breidenbach, Peter Dreier, and Miguel Contreras.[15]
References