Jane Slaughter
Jump to navigation
Jump to search
Template:TOCnestleft Jane Slaughter is a Detroit based activist. Married to Peter Landon.
Local members
Key Metro Detroit Democratic Socialists of America members in 2020 included Regina Weiss, Abraham Aiyash, Jess Newman, Lauren Trendler, Nada Daher, Landis Spencer, Jason Krzyslak, John Zettner, Melissa Luberti, Gavin Buckley, Gary Walker, Adam Ezell, Susan Steigerwalt, Ryan Riske, Peter Landon, Greg Sollish, Jane Slaughter, Lisa Worley, Sam Stark, Caleb Lalinsky, Arv Reddy, Liam McCormick, Michael Stepaniak, Jonathan Flatley, Dana Martinez-Ocker, Amanda Matyas, Nicolas Tedesco .[1]
Early NAM leadership
In 1971, the New American Movement National Interim Committee was composed of:
NAM first national conference
The first national meeting of the New American Movement was held in Chicago October 9-11. Up to 75 delegates and observers from 25 cities participated. The meeting laid the basis for a Thanksgiving conference on program in Chicago. The politiçal principles, program, and structure of the organization were discussed;
At the conference, a body mandated a committee to write a shorter version of the original NAM document in a style, adapted to mass distribution. People elected to this committee were:[3]
The committee was mandated to have the basic document written by October 23.1971
ISO
Jane Slaughter is a former member of the International Socialist Organization.
History of Labor Notes
Labor Notes was founded in 1979, just as the attack on the American working class was about to shift into high gear. The three founders – Jane Slaughter, Kim Moody and Jim West – were members of the International Socialists.[4]
Socialist Scholars 1997
In March 28-30 1997 Democratic Socialists of America convened their annual Socialist Scholars Conference at Borough of Manhattan Community College, New York.
The conference was themed "Radical alternatives on the eve of the millenium".
Invitees were asked to join Doug Henwood, Robert Heilbroner, Paul Sweezy, Harry Magdoff, Bill Tabb, Frances Fox Piven, Robert Fitch, Jane Slaughter and Ellen Meiksins Wood "as they debate changes in the labor movement, Marxist theory, the state of the economy, market socialism, and other areas where theory and practice meet".
Or "listen to the United States' only independent and socialist congressman", Rep. Bernie Sanders, "dialogue with" Joel Rogers of the New Party and In These Times' ....Salim Muwakkil on independent politics..[5].
Center for Labor Renewal
In 2009 Jane Slaughter was listed as an endorser of the Center for Labor Renewal[6].
Against the Current
In 2009 Jane Slaughter was listed as an advisory editor of Against the Current, bi-monthly analytical journal of U.S. Trotskyite organization Solidarity .[7]
Labor Notes
In 2009 Jane Slaughter, Co-founder of Labor Notes, editor of A Troublemaker's Handbook 2, Detroit was a member of the Labor Notes policy committee[8].
"Real World Labor"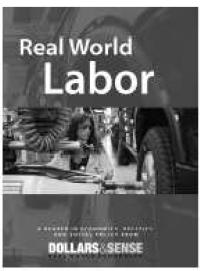 In August 2009 Dollars & Sense, produced an anthology entitled "Real World Labor", edited by Immanuel Ness, Amy Offner and Chris Sturr and the Dollars & Sense Collective.
Contributors included David Bacon, Kim Bobo, Aviva Chomsky, Steve Early, Bill Fletcher, Jr., Staughton Lynd, Arthur MacEwan, John Miller, Frances Fox Piven, Robert Pollin, Jane Slaughter.[9]
USSF
At the United States Social Forum in Detroit , a forum was held "Presente! Left Movement Veterans Discuss the Path to Power and the Role of the Left in the US" June 24th from 3:00pm to 5:00pm at Cobo Hall.
Description: Long-time activists Bill Gallegos, Lian Hurst Mann, Chokwe Lumumba, Jane Slaughter, Linda Burnham, and Pam Tau Lee join other Leftists that have plied their trade for over 30 years in an urgent discussion on the role of the left in today's social movements. [10]
It was sponsored by the Freedom Road Socialist Organization/OSCL.[11]
Philly DSA/Solidarity Day School 2018
Solidarity x DSA Day School Program
Working Class & Labor History
Why should socialists focus on the working class? Are unions a vessel for political power, or are they bloated bureaucracies? What are the successes and failures of the rank & file strategy in labor movement since the 1970s? Stephanie Luce (CUNY, Murphy Institute for Worker Education and Labor Studies), Jane Slaughter (Labor Notes, Solidarity, Greater Detroit Democratic Socialists of America), and Dan La Botz (NYC – DSA, Solidarity, Founding Member for Teamsters for a Democratic Union).[12]
Troublemakers School
On Saturday April 13 2019 100 union members, labor activists, and allies met on the Wayne State campus for a Troublemakers School sponsored by the national publication Labor Notes: a day of skill-sharing and strategizing about workplace organizing. Detroit DSA-ers helped with the planning for the day, which drew participants from as far as Kalamazoo and Lansing. Sixteen DSA members were in the mix.
Though it was gray and drizzling outside, the energy at Troublemakers School was strong all day, closing out with a call from Rashida Tlaib to continue fighting alongside her. Detroit DSA co-chair Natasha Fernandez-Silber spoke about how the Green New Deal could be enacted in the Rust Belt: "We need light rail, we need electric buses, we need electric vehicles. Let's do it here."
Green New Deal panelists and Labor Notes workshop leaders pose with Rashida Tlaib. Left to right: Natasha Fernandez-Silber, Joe Demanuelle-Hall, Jane Slaughter, Sean Crawford, Bianca Cunningham, Chris Brooks, Rashida Tlaib, Rebecca Keetch.[13]
References
Template:Reflist Template:Center for Labor Renewal endorsers