Jane Martin (San Francisco)
Jump to navigation
Jump to search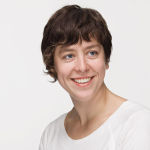 Template:TOCnestleft Jane Martin has been a community organizer in the Bay Area since 2001 working with low-income people of color fighting for transit justice, affordable housing, and workers' rights.
Jane served as the director for the successful campaign to win free Muni passes for low-income youth in San Francisco. In her role as political director at POWER (now Causa Justa/Just Cause) she collaborated with the SF MTA and SF Bike Coalition to conduct policy outreach and workshops with bike riders in Bayview-Hunters Point on bicycle safety improvements as well drafting transportation equity policy for the city. Jane has also worked directly with the Bike Coalition, helping coordinate SFBC volunteers on political campaigns.
Jane is on the executive board of Jobs with Justice San Francisco and has served on the organization's committee for over four years. She served on the board of San Francisco Pride at Work for over six years. She has years of experience doing grant reporting, grant writing, and throwing creative grassroots fundraising events.
In 2010 she won the Bay Guardian Local Hero award for her work championing LGBT and worker rights. Biking is Jane's primary mode of transportation. She is passionate about climate change, transportation justice and grassroots democracy.[1]
Standing for AD 17
In 2019 Jane Martin stood from AD 17 for the California Democratic Party Central Committee.
I am running as a member of the Reform Democrats for Labor and Equity slate. To face the current political crisis we need a progressive Democratic Party that fights for both racial and economic justice. Our resistance must be grounded in a bold, progressive vision that includes single payer healthcare, free higher education, the green new deal, stronger rent control, and access to good union jobs. One job should be enough for anyone to afford to live here and raise a family.
I am a queer woman who has been organizing and fighting alongside low-income workers in the Bay Area for the past 18 years. I am a long-time board member of Jobs with Justice, and I've worked for various unions and community organizations in the Mission, Bayview and Bernal Heights. When low-income youth were being harassed and ticketed on their way to school, I was the lead organizer of the successful grassroots campaign to win free Muni passes for youth. When Sutter Heath planned to eliminate the only charity care hospital in the southeastern part of the city, I organized with nurses and seniors to save St. Luke's. I have consistently driven labor to fight for stronger protections for low wage workers and tenants.
I am currently the political coordinator for SEIU-USWW, the union representing janitors, security guards, and airport workers in California. I worked with our members to pass California's sanctuary workplace law and protections for janitors against rape on the night shift. Our movement for progressive reform within the Democratic Party needs to be driven by low income people of color who are organizing on the front lines every day, facing increasing immigration enforcement, and the rising tide of racism and inequality. Si se puede![2]
POWER Leaders
From Steve Williams: Over the years hundreds of people who have served on POWER's staff, membership, leadership bodies, and Board of Directors. They are too many to mention by name, but I do want to extend special appreciations to Alicia Garza, Jaron Browne, Jason Negron-Gonzales, Marisa Franco, Aspen Dominguez, Cindy Wiesner, Ilana Berger, Nora Calderon, Larry Lattimore, Emma Harris, Gloria Esteva, Manuela Esteva, Donaji Lona, Juana Tello, Ernest Stokes, Beatriz Herrera, Karen Gibson, Lorren Dangerfield, Jesse Tello, Regina Douglas, Garth Ferguson, Brian Russell, Patty Snitzler, Thabiti Hayes, Khalil Abdul Samad, Jane Martin.[3]
POWER people
Gabriel Strachota April 12, 2013:
With Kitzia Esteva, Jaron Browne, Juana Teresa Tello, Jane Martin and POWER (People Organized to Win Employment Rights).
Caring Across Generations flashmob
Gordon Mar May 10, 2013.
Caring Across Generations flashmob action at Senator Feinstein's office - Build the World That We Want! With good jobs, fully funded services and quality and affordable care for all! — with La Colectiva de Mujeres, Chyanne Chen, Tony Robles, Maria Guillen, Ken Wang, Guillermina Castellanos, Maria Hernandez, Claudia Reyes, Jane Martin, Lisa Adler, Michael Lyon, Bjorn Toulouse, Sascha Bittner, Nikki Brown Booker, Hene Kelly, Sarah Jarmon, Steph St. Clair, Pete Woiwode and Jobs with Justice San Francisco at One Post Plaza.
Old comrades
Chelsea Boilard May 12, 2016 ·
With Don Misumi and Jane Martin.
Birthday comrades
Chelsea Boilard May 12, 2016 ·
With Rosario Cervantes, Don Misumi, Neva Walker, Jane Martin and Mei-ying Williams.
San Francisco Jobs with Justice
Executive board members, 2015 of Jobs with Justice San Francisco included Jane Martin, SEIU United Service Workers West.[4]
Ear to the Ground Project
We would like to express our deep respect and appreciation for everyone who took the time to talk with us, and the organizations that generously hosted us during our travels. Interviews were confidential, but the following people have agreed to have their names listed for this publication:
Most of those listed were connected to Freedom Road Socialist Organization.
Jane Martin was among those on the list. [5]
Anti-Trump
Mabel Tsang wrote :Tomorrow I will be heading to DC with a #ItTakesRoots to Grow Resistance Delegation convened by Grassroots Global Justice Alliance / Climate Justice Alliance / Indigenous Environmental Network / Right To The City Alliance because I believe we can create an alternative to Trump's Terror. He stands for racist violence; aggression against women; criminalizing queer, gender non-conforming and transfolks; and detention of and war against immigrants and refugees - in the name of our future and our values.
I believe the alternative exists today. I believe it already exists in my organizing work at Asian Pacific Environmental Network (APEN) and I believe it exists in our dreams for our collective future. This moment scares me and this moment emboldens me. This moment shows me the need and the proof for powerful actions and bold experimentation. It calls on all of us to act.
With Jane Martin, Vivian Yi Huang, Rachel Lee Holstein, Laiseng Saechao, Malcolm Amado Uono, Hyejin Shim, Sydney Fang, Amee Raval, JingJing He, Alex Tom, Annelisa Luong, Chiravann Uch, Alvina Wong, Miya Yoshitani, Ed Scott, Shina Riane, Eric Mar, Russell Wynne, Nick Mitchell, Saa'un P. Bell, Mee Jung Tsang,, Jin-kyung Kim, Megan Zapanta, Orlie Kapitulnik, Aiko Pandorf, Mei-ying Williams, Nancy Kab Xyooj, Erika Lenhart, Jonathan Ronald Tran, Jen-Mei Wu, Emily Ja-ming Lee, Nadia Khastagir, Shaw San Liu, Stacy Kono, Steve Lew, Sophia Arredondo, Cynthia Fong, Tracey Corder, Salima Hamirani, Jennifer Lee, Lu Lin, Ellen Choy, Shannon Garth-Rhodes, Kasi Farrar, Joshua Fisher Lee, Feng Kung, N'Tanya Lee, Kenneth Tang, Geordee Mae, Maya Tanaka, Timmy Lu
References