Jan Pierce
From KeyWiki
Jan D. Pierce ...
DSA Tribute to Ruth Messinger
Jan Pierce was amongst the endorsers of a March 1983 New York City Democratic Socialists of America tribute to DSA member Ruth Messinger.
DSA supporter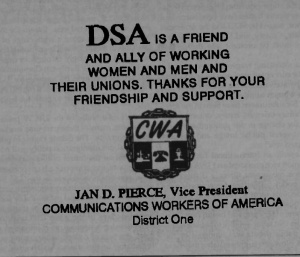 Jan Pierce was a supporter of Democratic Socialists of America
1987 Rainbow conference/Board
At the 1987 National Rainbow convention in Raleigh North Carolina, a new board was elected, which included Jan Pierce.
Rainbow Labor Commission
In 1989 Jan Pearce and Clark Johnson were co-chairs of the Rainbow Coalition Labor Commission.
New Party builder
New Party News Fall 1994 listed over 100 New Party activists-"some of the community leaders, organizers, retirees,, scholars, artists, parents, students, doctors, writers and other activists who are building the NP" the list included Jan Pierce, Communications Workers of America
References