Jan Logie
From KeyWiki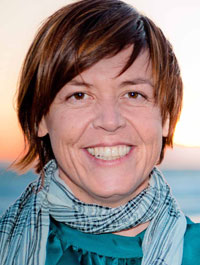 Jan Logie is a New Zealand Member of Parliament.
Background
Born in Invercargill , Logie was a member of the Drag Kings, NZ's premier queer drag troupe. She has been actively involved in campaigns for Treaty rights; peace; Gaye Oakes; Free Education; Paid Parental Leave; Prostitution Law Reform; and the elimination of violence.
Education
Logie has a BA from Otago University.[1]
Previous occupations
Sue Bradford's EA 2007 - 2008, Executive Director YWCA Aotearoa NZ 1999-2003, Manager Hutt Valley Youth Health Service 1996-1999, Women's Coordinator NZUSA 1993-96, Wellington Women's Refuge Coordinator 1990-93.[2]
Other work experience
(inc. voluntary/unpaid) Youthline Dunedin 1988-1990, HELP Sexual Abuse Crisis Line 1991, Wellington Rape Crisis Board Wellington 2008, Women's Refuge Employment and Training Committees 2007-present; Out in the Square Board 2007, Teacher, Akanksha 2007.[3]
Grant Brookes connection
Jan Logie with Grant Brookes.
FIRST Union connection
FIRST Union September 20 2021.
FIRSTUnion President Robert Reid (left) and Assistant General Secretary Louisa Jones (right) had a catch up with Jan Logie MP (centre) today in our Onehunga office, to talk about Green Party of Aotearoa New Zealand industrial relations policies! 💚
We left-wingers
Elliot Crossan March 1, 2017 ·
I was the returning officer for Jan Logie's selection meeting last Thursday and got to hear her inspiring speech about her journey and the issues she cares about. It stood out to me when she highlighted that if we as left-wingers try to talk in the language of money, it undermines our cause as people think in the frame of an economy based on scarcity. If we talk in the language of values, of cooperation and of sharing, people realise that we have enough resources in the world to go around for everybody- and they realise that this is the only moral direction for Aotearoa, and other societies around the world, to go in.
Photo cred Ricardo — with Max Tweedie, Jan Logie and Catherine Delahunty in Wellington, New Zealand.
March for reproductive rights
A march for reproductive rights is being held 5 December 2018 at 12:30pm. The march is being organised by Organise Aotearoa, ALRANZ, the Victoria University Feminist Organisation, and the Feminist Law Society.
Speakers will include Jan Logie from the Green Party, Priyanca Radhakrishnan from the Labour Party, long time women's-rights advocate Sue Bradford, and sex workers rights advocate Dame Catherine Healy.
"The state of abortion rights in New Zealand is embarrassing," says Organise Aotearoa spokesperson Kate McIntyre. "The law has been stuck in a state of unacceptable compromise since 1977, and has caused significant stress and grief for those seeking abortions."[4]
Socialist nurses
Grant Brookes March 28 2015.
Same love. Same care. Wellington nurses proud to celebrate the diversity in our profession and in the people we care for. — with Pixie Bigelow, Marama Mayrick, Rian McGann, Jan Logie, Erin Kennedy, Huia Welton.
Community Connections
NZUSA, Women's Information Network, Peace Movement Aotearoa, Council for International Development, ANGOA, NZFVWO, COGS, NZ Prostitutes' Collective, Drag Kings, NZAAHD, YWCA Aotearoa-NZ, Kotare Trust, SFWU, UNITE, TEU, Local Government and academic connections.[5]
NZUSA
In late 1993 Logie was appointed NZUSA National Women's Coordinator.
In 1994 she set up the NZUSA University Women's Information Network. [6]
In 1995 the University Women's Information Network (UWIN) evolved into WECA, the Women's Education Coalition Aotearoa. The change was a result of discussions at the first Women's Conference of the year, held in February at Victoria University. It was hoped that from the base of women involved in student executives, WECA could grow to encompass all women involved in education.
Under the stewardship of NZUSA Women's Co-ordinator, Jan Logie, WECA held two further conferences during the year, the day proceeding the full NZUSA Conferences in June and September.
The highlights of the year for WECA included work on a report on the Status of Young Women in Aotearoa. This project was done in consort with the YWCA, and was aimed as an alternative contribution to the United Nations Conference on Women being held in Beijing. As part of the project WECA employed Angela Howell to coordinate the publication. Angela and Jan toured the country as part of a consultation exercise. The resulting publication is a very thorough appraisal of the status of young women in Aotearoa/lNew Zealand.[7]
National Peace Workshops
In 1994 Logie was a proposed speaker on Feminism as a Peace Issue for Political Revival-National Peace Workshops to be held at Wellingtn, QB Weekend.
Redistance conference
On 16.7.94 Logie spoke at the Resistance (youth wing DSP) Campus Activist Forum in Sydney on NZ Student activism. She promoted the Next Step Democracy Movement. [8]
NION
In 1995 Logie was spokesman for Not In Our Name. [9]
Beijing conference
In 2000 Logie was in the NZ government delegation to the UN Beijing +5 Conference.
YWMCA
In 2001 Logie was Exec director YWCA.
Ritchie email
In 2002 Logie was sent Ian Ritchie's email to list ex WCL and neo Maoists opposing sanctions on Iraq "Oppose the sanctions!"
It is time to send a letter to Helen Clarke to oppose the sanctions which are attached to the Working Towards Employment Plan for people on the DPB. If you missed the submission date then this is your opportunity to persuade the Government to remove the sanctions. Please find a moment in your day to send a letter to Helen Clarke.
Asylum Seeker Policy meeting
Saturday, October 12, 2013, Grey Lynn Community Centre, 510 Richmond Rd, Auckland.
Public Meeting "Where is New Zealand's Asylum Seeker Policy Headed?" Panel of speakers: Green MP Jan Logie, Labour MP Phil Twyford, Lawyer Deborah Manning and Journalist Tracey Barnett. Hosted by the Auckland Refugee Council and to be followed by their AGM.[10]
Detained in Sri Lanka
Australian senator Lee Rhiannon was released from custody in Sri Lanka and allowed to leave the country, November 11, 2013.
She was not charged, or formally deported, though the Sri Lankan government maintains she and New Zealand MP Jan Logie broke visa laws, a charge Senator Rhiannon denies.
They did not require a statement from us and we were given back our passports after about three hours in detention, she told Fairfax Media by phone.
The only condition they put on us was that we were not allowed to talk to the media without approval from [Sri Lanka's] external affairs department. Advertisement
Senator Rhiannon was in the country on a Special Projects class tourist visa, which she says, as a visiting parliamentarian, she was advised to obtain.
They said that we had broken the law, and I challenged them on that, she said. We obtained the correct visa, we followed their advice on which visa to obtain, the Australian government alerted the Sri Lankan government to our visit and about what we'd be doing. We followed the rules at all times.
Immigration chief Chulananda Perera said Senator Rhiannon and Ms Logie had broken visa laws. Both were in Sri Lanka on tourist visas, and holding a press conference is a violation of visa regulations, he said.
Senator Rhiannon said she did not fear for her safety, but was most worried for the people she had met during her fact-finding mission, which included visits to the heavily-militarised north.
These people who we were with when we were detained by immigration officials, they were very fearful, very distressed, she said. They were uncertain about what would happen to them.
Sri Lanka's human rights record was under intense scrutiny as it prepares to host CHOGM this week. Britain, Canada, the US and Australia have criticised the Sri Lankan government for abuses, such as kidnappings, torture and alleged killings, by government forces and allied paramilitaries.
A spokeswoman for the Department of Foreign Affairs and Trade said the department was aware Senator Rhiannon had been questioned at her Colombo hotel by Sri Lankan immigration authorities.[11]
The women were detained for more than two hours and prevented from holding their scheduled press conference that would have highlighted the human rights abuses that they have found on their trip to Sri Lanka ahead of the Commonwealth Heads of Government Meeting (CHOGM).
They have since been released, their passports have been returned and they are travelling back to Australia and New Zealand.
"Our fact-finding trip to Sri Lanka has found that the human rights abuses that we have been hearing about are well-founded," Logie said.
"This country should never have been given the chance to chair the CHOGM meeting while those in power at the time of gross human rights violations have been able to avoid justice, and that is more apparent to me than ever. "The ongoing abuses of human and legal rights are so serious that there is no way that the Commonwealth meeting should go ahead in Sri Lanka.
"During the time we were detained I felt the huge injustice of being protected because I am a foreigner and it only highlighted the experience and danger of local people trying to fight human rights abuses every day.[12]
References