Jan Goodman
From KeyWiki
Jan Goodman is the wife of Jerry Manpearl, and the daughter of the late Adele Cannon.
National Fight Back Conference
Jan Goodman was a Florida delegate to the October League's December 1975 "National Fight Back Conference" in Chicago.
"Westside Friends of Jackie Goldberg"
Signatories to a letter from Westside Friends of Jackie Goldberg, dated January 15, 1993 were;
Meiklejohn Civil Liberties Institute
As of January 2013, Advisory Board members of the Meiklejohn Civil Liberties Institute, were listed as:[1]
Zipporah Collins, Editor
Aileen C. Hernandez, Urban Consultant
Nancy Hormachea, Immigration Attorney
Wes McGee, Minneapolis Black Trade Unionist
Colleen Rohan, International Criminal Court Attorney
Bill Quigley, Legal Director, Center for Constitutional Rights
Lindsley Smith, Arkansas Legislator
Marc Van Der Hout, Immigration Attorney
Barbara Blong, Peace/Human Rights Activist
Howard Watkins, Fresno Family Law Attorney
Jim Syfers, Editor, Prof. Emeritus, SFSU
Jan Goodman, Attorney
Susan Scott, Human Rights Attorney
Faye Hinze, Retired Teacher and Community Activist
Steve Bingham, Legal Service Attorney
California Grayson return to Congress supporters
Saturday, 12 November, 2011, a fundraiser was held for Alan Grayson, at 939 San Vicente Boulevard, Santa Monica.
Advertised attendees were Congressman Alan Grayson & AFL –CIO President Richard Trumka, Ed Asner, Michelle Phillips, John Heard, Elliot Gould, Ed Begley, Jr., Mike Farrell, Joan Smith and Kurtwood Smith, Jon Bauman, Eric Roberts, Earl Katz, Mimi Kennedy, Frances Fisher, Peter Coyote, Sara Nichols. Producers Norman Lear, Jeff Wald and Jordan Sommers, Stephen Nemeth , Naren Shankar and Cheri Shankar, Joel Diamond, Michael Butler, Jan Goodman and Jerry Manpearl, Lili Haydn, Vivek Maddela, Lila Garrett, Nina Merson, Jodie Evans, Teray Stephens, and educator Paul Cummins.[2]
Progressive Democrats of the Santa Monica Mountains, 10th Anniversary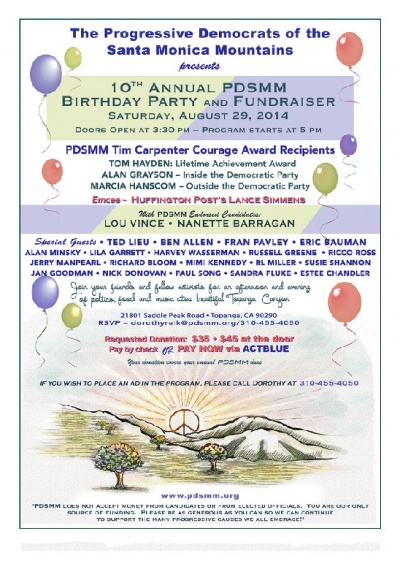 Attendees;
Progressive Democrats of the Santa Monica Mountains Tim Carpenter Courage Award Recipients
MC - Huffington Post's Lance Simmens
PDSSM endorsed candidates - Lou Vince, Nanette Barragan
Special guests - Ted Lieu, Ben Allen, Fran Pavley, Eric Bauman, Alan Minsky, Lila Garrett, Harvey Wasserman, Russell Greene, Ricco Ross, Jerry Manpearl, Richard Bloom, Mimi Kennedy, R.L. Miller, Susie Shannon, Jan Goodman, Nick Donovan, Paul Song, Sandra Fluke, Estee Chandler.
California Grayson Senate campaign supporters
Aris Anagnos, John Amato, Cindy Asner, Ed Begley, Jr., Tom Coleman, Frances Fisher, Lindsay Gardner, Jan Goodman, Lila Garrett, Howie Klein, Jerry Manpearl, Scott Mayers, Sara Nichols, Rick Overton, Dorothy Reik, Frank Reyes and Eloise Reyes, Paul Song, Ron Stone, Patric Verrone, Marianne Williamson, Roger Wolfson.
(Host Committee in Formation) - In Support Of Congressman Alan Grayson for U.S. Senate 2016.
Sunday August 30, 2015, The Lantern House Venice, CA.
References