Jamie Henn
Jump to navigation
Jump to search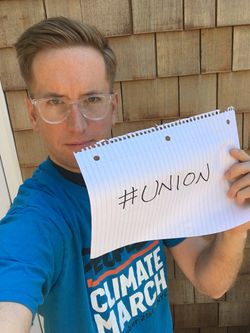 Jamie Campbell Henn is director of Fossil Free Media. He co-founded 350.org. He is the son of Catherine E. C. Henn, who is retired as vice president for corporate and legal affairs at The Boston Globe and John H. Henn of Cambridge, Mass, an arbitrator in private practice in Boston. He is married to Morissa Sobelson. People vs. Fossil Fuels, a project of Fossil Free Media "is organized by Build Back Fossil Free."[1]
Biography
From Jamie Henn's personal website:[2],[3]
I'm a climate activist, strategist, and communicator.
I'm the director of Fossil Free Media, a nonprofit communications lab that supports the movement to end fossil fuels. We provide direct communications support to grassroots organizations, produce videos & other multimedia, run digital campaigns, fund investigative journalism, and lead our own, hard-hitting campaigns, like Clean Creatives, an effort to get PR and Advertising agencies to stop working with the fossil fuel industry.
Before starting Fossil Free Media, I co-founded 350.org, the largest grassroots climate organization in the world. I wore many hats at 350, including East Asia Director, Development Director, US Program Director, Communications Director, and Strategic Communications Director.
Over my 12 years with 350.org, I helped grow the organization from a group of seven college friends and writer Bill McKibben to over 150 staff in more than 20 countries and hundreds of thousands of supporters around the world.
During that time I was a driving force behind some of the most successful climate campaigns of the last decade, including the fight against the Keystone XL pipeline, the People's Climate March, the fossil fuel divestment movement, the ExxonKnew campaign, the Global Climate Strikes, and more.
In 2020, along with launching Fossil Free Media, I helped start Stop the Money Pipeline, a coalition of over 150 organizations working to end the financing of fossil fuels.
Marriage
From the wedding announcement at the New York Times dated Sept. 30, 2018.[4]
Morissa Gayle Sobelson and Jamie Campbell Henn were married Sept. 29 on Thompson Island in Boston. Bill McKibben, who received a one-day marriage designation from Massachusetts, officiated, with Sue Halpern assisting with the Jewish elements of the ceremony.
The bride, 31, is a doctoral candidate in public health at Harvard and an administrative fellow at Intermountain Healthcare, a nonprofit medical group that provides health services and clinics in Salt Lake City. She graduated summa cum laude from Tufts and received a master's degree in public health from Columbia.
She is a daughter of Carol Sobelson and Dr. Gary Sobelson of Concord, N.H. The bride's father is a family physician at Concord Family Medicine and the treasurer of the American Civil Liberties Union of New Hampshire, both in Concord. Her mother is a family therapist at Capital Valley Counseling Associates in Concord.
The groom, 34, works remotely from Salt Lake City as the strategic communications director for 350.org, an international climate campaign he co-founded that is focused on decreasing the use of fossil fuels, in New York. He graduated magna cum laude from Middlebury College.
People vs. Fossil Fuels
Jamie Henn's Fossil Free Media is organizing "civil disobedience" at the White House October 11-15 to convince Joe Biden to take executive action to stop fossil fuels through their People vs. Fossil Fuels coalition of far left environmental activists.[5]
"JOIN US in Washington, D.C. To Demand a Fossil Free Future: From October 11 to 15, thousands of people will take action at the White House, participate in civil disobedience, and demand that President Biden choose a side: People vs. Fossil Fuels. Join us!
Climate Change Politics
Jamie Henn of (350.org) took part in a Panel at Harvard Kennedy School about Climate Change Politics in 2014, with Tracy Raczek (United Nations), Brendan Guy (Natural Resources Defense Council) and Naomi Oreskes (Harvard University).
"For the first time in history we witnessed massive public mobilization asking for climate action when 600,000 people participated in the People's Climate March a month ago. What impact did it have on climate change negotiations? What could be done to mobilize millions for the 2015 COP summit in Paris? How could their influence be maximized to incentivize world leaders to sign a meaningful deal in Paris?
Speakers:
Moderator:
Co-Sponsor: Environment & Energy Professional Interest Council (EEPIC)[6]
Netroots Nation
Jamie Henn was a speaker at the Netroots Nation 2010 Conference along with Brad Johnson,[7],[8] the Netroots Nation 2011 Conference:[9]
3 pm: The U.S. Chamber of Commerce: How Corporate Front Groups are Corrupting our Democracy. L100 FG How the climate and labor movement and progressive allies can fight back against this corporate polluter juggernaut. Jamie Henn (350.org), Brad Johnson (ThinkProgress Green), Per Olstad (Change to Win Investment Group), Phil Radford (Greenpeace), Richard Eidlin (American Sustainable Business Council)
Resisting Trump Action Camp
Jamie Henn was invited to the Resisting Trump Action Camp, which was organized by ResistJ20, described as a meeting "for anyone who is wanting to organize a blockade of a check points on the Day of Trumps Inauguration."
References