James Forest
From KeyWiki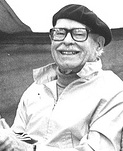 James (Jim) Frederick Forest was a leading Communist Party USA functionary.
Early life
James Frederick Forest, was born August 8, 1910, in Boston, Massachusetts the was the son of Rose Murray, an Irish immigrant who worked as a maid and artist's model. It was only as an adult that he learned his mother's name; the source was Catherine Smith, a social worker who had been a vital source of encouragement during his childhood. She also told him that his father was a Jewish wool merchant from Texas, name unknown, who had immigrated to the United States from Russia.
His early memories included rescue from a tenement fire in Boston at a place where his mother boarded him while she worked. He also recalled his mother taking him to the seaside where he sensed she was saying goodbye. He never saw her again. She died by drowning. Later in life he succeeded in finding her death certificate.
Following her death in 1915, he became a ward of the state of Massachusetts. Initially he was put into an orphanage where, he said, "the soup was so thin that he said it had been flavored only by the shadow of pigeons." The institution was later closed for mistreating and starving the children in its care.
Thanks to the special interest in him taken by social worker Catherine Smith, in 1916 he was taken into foster care by the Drown family living on Franklin Street in East Pepperell, Massachusetts. He describes his foster-father, Fred Allen Drown, as a Yankee, his foster-mother, Margaret Loretta Drown, as an Irish Catholic. He was fully adopted by the Drowns in 1925.[1]
I did a lot of reading, including books on utopian societies and about the revolution in Russia. I knew about the social protests going on and had read about the Communist Party in the newspapers.
Tree surgeon
Instead, in the fall of 1928, he began a course at the Bartlett School of Tree Surgery. Help offered by Jay Walter, a journalist he had known in Pepperell, led to employment as a tree surgeon on wealthy properties on Long Island, among them the Phipps estate. "One of my fellow tree surgeons," he recalled, "taught me about Thoreau and Emerson." While on Long Island, he lived at Old Westbury. In his spare time he was Assistant Scoutmaster of Boy Scout Troop 113 in Westbury.
In 1929 he went to New York City to pick up credits at Columbia University in anticipation of entering the New York Forestry School–plans that went down the drain with the Wall Street Crash. During these months he supported himself as a bouncer-usher at a movie house in the Bronx.[2]
Great Depression
With the Depression underway, he returned to his foster parents' home in Pepperell where he got a job as foreman of the shipping crew at a paper mill.
In 1930 he started his own tree surgery company, working around Pepperell during the winter and in other seasons in for the State of Rhode Island. "It was while in Rhode Island, through my girl friend's family, that I became acquainted with the terrible conditions of the factory workers."
He went to New York City where he hoped to make contact with "the revolutionary movement." Since the time that he had worked on Long Island, he felt as if the US was approaching a revolutionary situation. "Revolution was in the air," he recalled.
He reached the city the eve of the first Hunger March from New York to Washington.[3]
Communist Party
In late November he saw a poster in Battery Park advertising a talk by a woman who had just returned from a trip to the Soviet Union. He attended and afterward talked to her about joining the Communist Party USA. By this time he was convinced that the solution to America's economic and social problems was socialism with the people owning the means of production. "I saw in the Communist Party a party that took up the challenge of Depression and fought for the immediate improvement of the needs of the people." As a result he quickly got involved with the Party-supported Unemployed Councils.
In the spring of 1932 he was asked to join the leading body of the City Unemployed Council and became editor of the Council publication, The Hunger Fighter.[4]
Army/full time party work
The same year, longing to see the world and having heard that military recruiters were looking for volunteers to take part in a band going to China, he joined the Army. The band opportunity never materialized, nor the overseas travel.
He spent two years in the Signal Corps, stationed at Fort Monmouth, New Jersey. It was during this period that he severed relations with the Drown family. While at Fort Monmouth he met his first wife, Marguerite Hendrickson of Red Bank, recently graduated from Smith College. They were married in November of 1934, when he was discharged from the Army and returned to political work and tree surgery in New York City. Marguerite worked for the Municipal Employees Union. They lived in various apartments in lower Manhattan, including one of 14th Street and another on Sullivan Street in Greenwich Village. In 1935, the same year that he began full-time Party work, he adopted the name Forest. "I hadn't yet discovered my mother's name," he explained. "I was also aware that in the old days names were based on what you did. I was a tree surgeon, and more than that someone who always felt at home in the forest. It seemed just the right name for me."
Transfer West
In 1936, after six months training at the National Party School, he was assigned to work in the Party's Western Section, and, after a period in Colorado, in 1937 became state organizer of Utah, based in Salt Lake City. The work included operation of the Jefferson Book Shop. He continued as a self-employed tree surgeon. His first child, James Hendrickson Forest, was born in Salt Lake November 2, 1941.
In December 1941, just after the US entered into the Second World War, Forest attended the Communist Party USA's National Convention in New York. The following August he was assigned as the Party's Mid-West Educational Director, based in Chicago. In 1943 he and Marguerite moved to Denver, where he was District Secretary for the Party's Western Region. On January 24, 1943, his second child was born, Richard Douglas Forest. In the summer of 1944 he was assigned to Party work in St. Louis, Missouri.
In 1944 he was "swept off his feet" by Dorothy Baskin, a co-worker in Denver, who became his second wife. Dorothy gave birth to his third child, Rosanne, on November 30, 1944.[5]
Back to the Army
Drafted in January 1944, he was initially stationed in Texas, then sent to Hawaii where he was a radio operator for the 238th Military Police Company.
Back to the Party
He remained in service until demobilization in December, after which he returned to Party work, first as Educational Director in Los Angeles. Objecting to the lack of collective leadership in the local Party, he resigned his educational responsibility in April, 1948.
Re-assigned to St. Louis, he was elected Chairman of the Missouri Communist Party. Local Party work at that time was concentrated on a campaign to end the war in Korea and on various projects to promote racial justice. Party members in St. Louis were opposing police brutality, most of which had a racial dimension, and campaigning for the integration of public swimming pools.
With the Cold War and McCarthy Era moving into high gear, he was one of five Missouri Communists (another was his wife, Dorothy) arrested in September 1952 under the Smith Act, charged with conspiring to advocate the overthrow of the US government by force and violence. (Note that they were not charged with acts of violence or with advocating the use of violence but with conspiring to advocate.) Initially the court set $40,000 bail for him, the highest figure for the group. He was in the city jail from the end of September 1952 until early February 1953. He insisted on being the last to be bailed out.[6]
Trial
The trial in Federal District Court, St. Louis, began in January 1954. He made the unusual decision of acting as his own lawyer. In his opening statement he told the jurors that he wanted to speak for himself in court so that he could personally explain what he believed and what the Communist Party stood for. Describing his youth, he said, "The ideals of the American Revolution were my ideals and still are and will remain so — the ideals of fighting for freedom, fighting for the liberation of a people from oppression, of having the courage to stand up for one's ideas, the ideas of the Constitution and the Declaration of Independence with their forthright words about how a person should believe and act toward his fellow man…" The immediate concern of the Party, he said, was to work to end racism, to hasten the end the war in Korea, to improve the condition of workers, and to prevent the emergence of an American form of fascism. The Communist Party, he emphasized, was opposed to violence as a method of achieving change in America. "In our country, as I and my co-defendants see it, [socialism] should be achieved by peaceful transition and we will continue to strive to bring that about…"
On June 4, 1954, the "St. Louis Five" were convicted. Dorothy got a three-year sentence, shorter because of her maternal responsibilities; the others were sentenced to five years.
"I'm happy to have been placed in this rather peculiar circumstance of history," he told the court before sentencing. "Though a relatively inconsequential person, I was able to stand up for what I believe. Maybe some other people will get the idea of standing up for what they believe." Again he insisted that neither he nor any of his co-defendants sought the violent overthrow of the government. He pointed out that the Communist Party Constitution, which had been read into the court record, expressly opposed the use of violence to achieve political aims.
The judge refused to allow the defendants to remain free while their conviction was appealed. Jim remained in prison from June to mid-August, until freed on bail. He again insisted on being the last one out. (In April 1958, the Yates Smith Act case was reversed by the Federal Court of Appeals. In October 1958 the US Department of Justice moved to dismiss more than a hundred similar convictions, including those in the Missouri Smith Act case. The District Court granted the motion.)[7]
California
After his release, he moved to Los Angeles and began to work in the building trades, while working part-time as the Educational Director for the Communist Party in Southern California.
The marriage with Dorothy ended in 1960. In 1963, he moved to San Francisco where he supported himself through independent building and repair work. In 1964 he married Carla Altman. Tragically, in 1966 she was killed by a sniper as she stepped off the bus one evening.
On February 9, 1969, he married Lucy Cushing Brooks, a longtime friend. It was a marriage that proved happy and enduring. Despite the demands of full-time work, he was active in the San Francisco Communist Party and was intensely involved in the local peace movement and its many activities opposing the war in Vietnam. In 1968, he became Educational Director for the Communist Party USA in Northern California.[8]
World Peace Council
In 1969, Forest was appointed a Secretary of the Soviet controlled World Peace Council, based in Helsinki, Finland. During his five years with the WPC, he traveled (often with Lucy) in the Soviet Union, Vietnam, Egypt and other countries. World Peace Council activities in that period focused mainly on the Vietnam war and setting up East-West conferences. While in North Vietnam, Prime Minister Pham Van Dong's first question to Forest was a request for information about his son, Jim Forest, at the time serving a two-year sentence for being one of the Milwaukee Fourteen, a group that burned draft records in Milwaukee in 1968 as a protest against the Vietnam War. Meeting with Salvador Allende in Chile, Allende talked with Jim about the military coup he anticipated would bring about the downfall of Chile's democratic government, and result in his own murder — events which soon followed.
In the late 1970s, the Information Centre of the Soviet front World Peace Council, Helsinki Finland, published a booklet naming members of the organization, worldwide.[9]
We publish in this booklet a list of members of the World Peace Council elected at the Council's Session in Warsaw in 1977.
U.S. members listed, included; Jim Forest, Former Secretary, World Council; Leader, Sonoma County, California Peace Council.[10]
Back to San Francisco
Returning to San Francisco in 1974, for the next five years he was manager of Saint Francis Square, a low to middle-income housing project with 298 units, a project funded by the ILWU and the Pacific Maritime Association. Saint Francis Square was a highly successful cooperative as well as a model for building integrated neighborhoods.
In 1977 he and Lucy moved to Santa Rosa where they were among the founders of a low and middle-income housing cooperative. "His contribution to the planning, development, construction and occupancy of Santa Rosa Creek Commons," comments Calvin Simons, "goes back to the time he was manager of Saint Francis Square. Through friends in Santa Rosa Jim and Lucy learned about a group of people planning to start a housing cooperative. Beginning in 1978 or so, they associated with this group and began coming to coop meetings. Jim's supportive presence and his extensive experience in construction, management, and housing cooperatives was invaluable.[11]
Universalist Church
In 1980 both he and Lucy joined the Unitarian Universalist Fellowship of Sonoma County in Santa Rosa.
Housing committees
He was a member of the Advisory Council of Area Agency on Housing in Sonoma County and active with the Burbank Housing Development Corporation. On October 31, 1989, the Board of Supervisors of Sonoma County, California, presented him with a resolution commending him for nearly ten years of "exemplary service" with the Burbank Housing Development Corporation, a program for low and middle-income housing. The citation noted his involvement in nearly every aspect of the Burbank Corporation's work, as a member of the Administration Committee, Education and Training Committee, Project Committee and Community Relations and Media Committee.[12]
Quiet communist
In his later years, he rarely confided his membership in the Communist Party USA. "What I did for housing would hardly have been possible if I had been labeled in that way," he explained. "The stigma of the word 'Communist' still remains, even in these days of Gorbachev! Of course it isn't easy to explain it. The sad thing is that most people know much more about the wrongs committed by Communists — and they were numerous! — and not very much about our good qualities, but these are numerous too. For me the Party was the best ball game in town."[13]
Death and aftermath
James Forest died peacefully mid-morning May 7, 1990, at home in Santa Rosa.
It was only after his death that it became apparent that sometime late in his life he had quietly resigned from the Communist Party. There was only a short death notice in The People's World, the West Coast newspaper of The Communist Party. Had he still been a member, given all that he had done as a Communist in earlier years, it would have been a major obituary. It was also noteworthy that only a few Communists attended his memorial service.[14]
References