James Forbes
Jump to navigation
Jump to search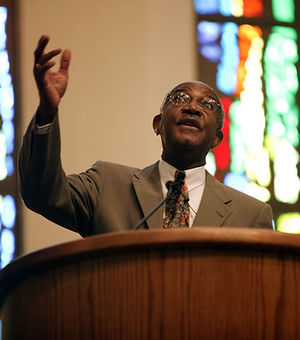 Template:TOCnestleft Rev. Dr. James "Jim" Forbes is a contributing editor of Sojourners.[1]
Long a powerful voice for "progressive Protestants", Forbes draws on a record of political commitment ranging from the civil rights movement to his stirring address at the 2004 Democratic National Convention, in addition to his eighteen years at the helm of New York City's historic Riverside Church. Reflecting the insights of his years as a pastor, a teacher, and an adviser to political leaders, this inspiring manifesto "for the healing of the nations" epitomizes the best thinking of one of the country's foremost religious leaders.
IPS/PPC connection
The Institute for Policy Studies produced a report "in support of the Poor People's Campaign: A National Call for Moral Revival:"
"This campaign, marking the 50th anniversary of the Poor People's Campaign led by the Rev. Dr. Martin Luther King, Jr. and other leaders, aims to build a broad and deep national movement rooted in the leadership of the poor and dispossessed as moral agents and reflecting the great moral teachings to unite our country around a transformative agenda to combat poverty, racism, militarism, and ecological devastation. We worked in collaboration with the Co-Chairs of the Poor People's Campaign, Rev. Dr. William J. Barber II and Rev. Dr. Liz Theoharis, and the Tri-Chairs of the Campaign's Audit Committee, Rev. Dr. James Forbes, Dr. Timothy Tyson, and Shailly Gupta Barnes.[2]
Faith in Public Life
In 2004, Rev. Jim Wallis, Rabbi David Saperstein, Melissa Rogers, Rev. James Forbes, Ricken Patel and Sister Catherine Pinkerton were involved with the initiative from which Faith in Public Life was created. Officially launched in 2006, the organization seeks to build the faith movement's media presence and capacity, providing strategic assistance to faith-based coalitions, brokering new partnerships, developing online communities, sponsoring opinion research, and amplifying the voices of emerging religious leaders.[3]
Whose Gospel?
Published with a foreword by longtime Riverside Church member Bill Moyers, Whose Gospel? is a pithy and insightful introduction to Forbes's thought and a welcome source of inspiration in this era of hope and change.[4]
In Whose Gospel?, one of America's greatest living preachers offers a compellingvision of progressive social change. Known as "the preacher's preacher," Dr. James A. Forbes Jr. has tirelessly advocated progressive views on the crucial issues of our time—from poverty, war, and women's equality to racial justice, sexuality, and the environment.
Drum Major Institute
In 2009 James Forbes of Healing of the Nations Foundation was listed as a member of the Drum Major Institute Board of Directors[5].
Stop the War on Prayer
James Forbes was a signatory to the Stop the War on Prayer "Open Letter to the Faithful", which reads in part:[6]
"We the undersigned call on believers of all faiths to join us in denouncing the dangerous 'War on Prayer' being waged in America. We believe it is time to shine light on the hypocrisy of politicians and pundits who expound on the freedom of religion for their chosen sects while seeking to tell our Muslim brothers and sisters where they can and cannot worship. Using a political podium to bully a religious community threatens one of our most fundamental freedoms."
Associates for Religion & Intellectual Life
In the 1980s Associates for Religion & Intellectual Life Advisory Board members included Robert Bellah, Robert Coles M.D., Harvey Cox, James Forbes, Arthur Green, Ronald Sider, Rosemary Radford Ruether, Peter Steinfels, Arthur Waskow.
External links
References