James Farmer
From KeyWiki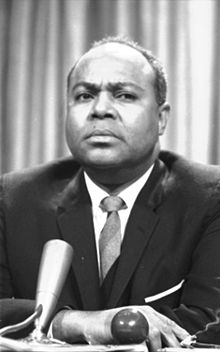 James Farmer (born 1920) helped organize the 1960s "freedom rides" which led to the desegregation of interstate buses and bus terminals. He also played a major role in the activities of the Congress of Racial Equality.
Socialists in the White House
Socialist Party activism
Farmer's mentor, critic and historian V. F. Calverton, introduced him to the socialism of Eugene V. Debs and Norman Thomas. Farmer worked for Thomas's campaign when he ran for president on the Socialist Party USA ticket in 1940 on an antiwar, prolabor, antisegregation platform.[1]
DSOC
Among~ the prominent figures; who joined Democratic Socialist Organizing Committee around late 1976, early 1977 were; James Farmer; Georgia State Representative Julian Bond; New York State Assemblyman Seymour Posner; Zolton Ferency, ,former head of the Michigan Human Rights Party; and Gloria Steinem.[2]
Some 150 delegates and 100 observers met at Houston's Airport Holiday Inn, February 16-19, 1979, for the fourth national convention of the Democratic Socialist Organizing Committee (DSOC).
DSOC's advertised convention participants were listed as including Rep. Ron Dellums (D-CA), Joyce Miller-president, Coalition of Labor Union Women, City Councillor Hilda Mason-DC Statehood Party, Maury Maverick Jr., San Antonio, Texas, James Farmer executive director, Coalition American Public Employees, William Holayter-political action director, International Association of Machinists, Jose Angel Gutierrez-La Raza Unida Party, Crystal City, Texas, Ruben Berrios-head of the Puerto Rican Independence Party and Kris Muller-Osten, a representative of the Willy Brandt led West German Social Democratic Party[3].
Democratic Agenda
More than 1,200 people attended the Democratic Socialist Organizing Committee initiated Democratic Agenda Conference held November 16-18, 1979, at the International Inn and Metropolitan AM Church in Washington 1 DC. The conference focused on "corporate power'; as the key barrier to "economic and political democracy," concepts many Democratic Agenda participants defined as "socialism.'
The Democratic Agenda meetings attempted to develop anti-corporate alternatives" through influencing the direction of the Democratic Party during the period leading to the July 1980 Democratic National Convention in New York.
Workshops included "Fighting the New Right" - James Farmer, CAPE; Midge Miller, InterChange; Mary Jean Collins, moderator; Dr. Michael Lerner, Institute of Labor and Mental Health.[4]
DSA
In 1987 James Farmer was a vice chair of Democratic Socialists of America[5].
References