James Early
From KeyWiki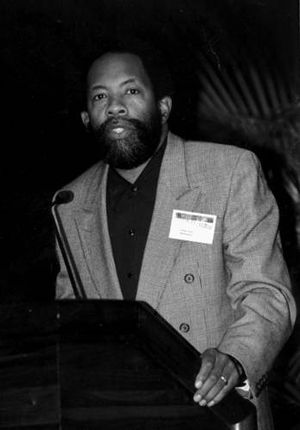 James Counts Early is a Washington DC based activist.
Early life/education
James Counts Early was born in Ocala, Florida, on January 12, 1947. Early studied Spanish at Morehouse College in Atlanta, earning his B.A. in 1969. He also spent a year studying in Panama at the Canal Zone College. After graduation, Early attended Howard University, where he studied for a doctoral degree, although he did not complete the program. While there, he also attended Georgetown University, where he studied Portuguese at the Advanced Portuguese Institute.
Early is fluent in Spanish, can converse in Portuguese, reads French and has some knowledge of Mandarin Chinese.
Activism/career
During his years as a student, early worked[1]on the Martin Luther King Documentation Project, which later evolved into the Martin Luther King Center, and then from 1970 to 1971 as an administrative and research assistant to the director of the Institute of the Black World.
In 1973, Early went to work at the Smithsonian Institution as a folklore consultant and researcher. He was promoted in 1974 to the acting administrator of the African Diaspora Folklife Festival Program, a position he held until 1976. That year, he became an associate professor at Antioch College in Washington, D.C., while working in research at Howard University's Institute for the Arts and Humanities.
In 1978, Early became the producer, writer and host of Ten Minutes Left, a weekly radio show on WHUR-FM. Early hosted this program for five years while working at the National Endowment for the Humanities as a humanist administrator. Early stayed at NEH until 1984 when he returned to the Smithsonian Institution to work as the executive assistant to the assistant secretary for public service. Since then, he has held a variety of positions including working as the assistant provost for educational and cultural programs; director of cultural studies and communication at the Center for Folklife and Cultural Studies and director of cultural heritage policy at the Center for Folklife and Cultural Heritage.
Early served on the founding steering committee[2] of the International Network for Cultural Diversity and was the humanities coordinator of the TransAfrica Forum Afro Americans and Cuba Cultural Conversation Project in 2000. He has served on the board of directors of the Children's Studio School since 1993, and served for several years on the National Black Consortium, a program that funds independent black filmmakers.
Line of March
In the 1980s James Early was involved in the Maoist leaning Line of March organization.
Call for a Conference on Racism and National Oppression
Call for a Conference on Racism and National Oppression was a 1980 call by Marxist-Leninists of The Trend, most of whom were Line of March activists, for a national conference on "Racism and National Oppression" to be held in the summer of 1981 in New York or the Bay Area.
Signers from Washington DC were;
Contributing editor
In 1980, contributing editors to Line of March were Tom Angotti, Fran Beal, Ralph Beitel, William Bollinger, Dale Borgeson, Jim Dann, Michael Downing, Cam Duncan, James Early, Phil Gardiner, Steve Hamilton, Fred Lass, Dan Lund, Jan Newton, Tim Patterson, Mel Rothenberg, Ann Schwartz, Albert Szymanski.[3]
Frontline staffer
Line of March's new biweekly formatted Frontline, Volume 1, No. 1, June 27, 1983, listed correspondents included James Early Washington DC.
Frontline
As at Nov. 13, 1989, the listed editorial staff of Line of March's Frontline included James Early.
CrossRoads
In the mid 1990s James Early was[4]a contributing editor to Oakland based Institute for Social and Economic Studies- sponsor of CrossRoads magazine, which sought to promote dialogue and building new alliances among progressives and leftists... and to bring diverse Marxist and socialist traditions to bear while exploring new strategies and directions for the progressive political movements.
Forward Motion
In 1991 James Early, a cultural administrator, and Desmond M. Desmond, an activist and attorney with the DC City Council, and an editor of the publication of the National Rainbow Coalition, contributed an article "The meaning of the Marion Barry case"to Freedom Road Socialist Organization's Forward Motion. Clarence Lusane also helped with the article.[5]
Black Radical Congress
In March 1998 "Endorsers of the Call" to found a Black Radical Congress included James Early, Cultural Worker and Political Activist, Washington, DC[6].
Delegation to Cuba
In 1998 James Early led a Smithsonian delegation to Cuba to identify colleagues and collegial institutions with whom future projects might be developed in the arts and humanities. The delegation also included the director of special programs at the Kennedy Center for the Performing Arts, the president of the Levine School of Music in Washington, D.C., and a journalist for Jazz Times[7].
Institute for Policy Studies
James Early is a member[8]of the Board of Trustees of the Institute for Policy Studies. Director, Cultural Studies and Communication, Center for Folklife Programs and Cultural Heritage, Smithsonian Institution.
"Friend of Cuba"
AfroCubaWeb describes James Early as a friend of Cuba and a member of the Board of Directors of the TransAfrica Forum and of the US-Cuba Cultural Exchange. It also explains that Early has used his position at the Smithsonian to promote Cuban cultur[9];
James Early has long been a friend of Cuba. He was among the folks at the Smithsonian who brought Afrocuba de Matanzas up to Washington for the 1987 Smithsonian Folkways Festival on the Mall, despite direct opposition from Vice President Bush's office, who at one point threatened to fire the Festival management if they proceeded with their plan. Early was responsible for bringing out the CD recording of that concert.
James Early is a member of the Board of Directors of the TransAfrica Forum and of the US-Cuba Cultural Exchange. He serves as Director of Cultural Heritage Policy at the Center for Folklife and Cultural Heritage at the Smithsonian Institution where he specializes in cultural democracy policy and state-craft and works with Cuban cultural institutions, artists and intellectuals primarily on grassroots cultural heritage.
War Times
In January 2002, a group of San Francisco leftists, mainly involved with STORM or Committees of Correspondence, founded a national anti-Iraq War newspaper[10] War Times.
Endorsers of the project included James Early.
Letter to Obama on Cuba
In March 2009 Early and several others wrote to president Barack Obama, urging him to lift restrictions on Cuba;
Dear President Obama:
We are artists, arts presenters, arts educators, cultural entrepreneurs and scholars, and cultural heritage and policy professionals from diverse political persuasions. We have been adversely affected by the cultural embargo imposed by the U.S. government against both Cuban and American artists and cultural institutions. We are writing to request that you make concrete changes in U.S. policy towards Cuba that will allow for the uninhibited flow of art, culture, information, ideas and debates, as well as travel by artists, cultural workers and professionals, and arts and cultural aficionados between the two countries. U.S. policies towards Cuba worsened many times over by the previous administration and criticized throughout the world have prevented us from engaging in critical communication and collaboration with our Cuban counterparts, compromising our nation s cherished ideals of freedom of expression and preventing cultural interchange between two societies that share a historic relationship lasting over two centuries.
One year ago, we requested policy changes from the Bush Administration so that respectful, critical dialogue and principled exchange could take place between the peoples of Cuba and the U.S. and our respective governments. Our petition fell on deaf ears. As citizens, artists, scholars, educators and cultural workers from all artistic practices and from advocacy and service organizations in the arts, we now call upon your Administration to:
1. open a respectful dialogue with the government and people of Cuba in accord with established protocols supported by the community of nations;
2. end the travel ban that prevents U.S. citizens from visiting Cuba, and allow for Cuban artists and scholars to visit the United States, thus eliminating the censorship of art and ideas, and
3. initiate, by working with the U.S. Congress, a process that can result in the development of normal, respectful bilateral relations between our countries. The artistic and cultural communities in the U.S. and in Cuba are catalysts of imagination and creativity. We are committed to serve as bridges for our fellow citizens. Now, we need our government to take leadership and re-open the pathways of exchange.
We look forward to working with you to advance the interests of the U.S. and of Cuba.
Signatories were[11];
Amy Goodman interview
In July 2015, Amy Goodman interviewed several commentators on the resumption of US-Cuba diplomatic relations.
Hundreds of dignitaries from Cuba and the United States gathered in Washington on Monday to mark the reopening of the Cuban Embassy after being closed for more than five decades. We speak to Congressmembers Raúl Grijalva and Barbara Lee; actor Danny Glover; former U.S. diplomat Wayne Smith; attorneys Michael Smith and Michael Ratner, who co-authored "Who Killed Che?: How the CIA Got Away with Murder"; Phyllis Bennis and James Early of the Institute for Policy Studies; and others.
JAMES EARLY: My name is James Early. I'm a member of the board of the Institute for Policy Studies.
AMY GOODMAN: You're here on this day, a historic day at the Cuban Embassy. In fact, you're about to drive Danny Glover away, so you're in your car, but you're sitting in front of a now-open Cuban Embassy with a flag flying high. Talk about the significance of this.
JAMES EARLY: Well, my first thought is Operation Truth, which was the word of Fidel Castro when he was here in 1959. He said, "This is an operation of truth. We carry the weight of the Cuban revolution." This flag is a manifestation of the achievements of the Cuban revolution, and, in that context, its failures and its errors, which it is self-determined to deal with, now with hopefully less interference externally from the United States, so that they can get on with their internal negotiations of a democracy inside Cuban socialism. I say that because when I listened to the foreign minister, Bruno, today, he was very clear, he was very precise, that this is an achievement of the Cuban socialist revolution.[12]
Cuban Embassy soiree
It was remarkable how many non-Cubans knew the Cuban national anthem well enough to sing along July 2015 as the flag was raised over the newly re-established embassy on 16th Street NW. Then they joined in the delirious shouts of "Viva Cuba!"
"It's an amazing moment," said Phyllis Bennis, a fellow with the progressive think-tank, Institute for Policy Studies. "In the decades-long effort to normalise relations with Cuba, to stop the US attacks and hostility toward Cuba, we have not had so many victories. Suddenly we have a victory. The flag going up - that's huge."
"For those of us who were committed to the values and the aspirations of the Cuban revolution, the flag, as Fidel said in April 1959 when he was in this building, was a reflection of Operation Truth," said James Early, a Cuba specialist who recently retired from the Smithsonian. Raising that flag again "is a recognition of Cuba's right to sovereignty and self-determination... and to more freely deal with its own internal self-criticism, its failures, its errors, in the context of its extraordinary achievements."
Peter Kornbluh, who runs the Cuba Documentation Project at the National Security Archive, was carrying around a book he co-authored, Back Channel to Cuba, about the twisted secret history of outreach between the nations. "I wouldn't miss this for the world," he said. "It's a flag flying in the winds of change."
Not that there wasn't plenty of unfiltered emotion. Standing near Bennis was Valerie Landau, daughter of the late documentary film-maker and activist Saul Landau. The elder Landau spent the better part of his life working towards this moment, before cancer cut his work short in the middle of another documentary on Cuba, in 2013. Travelling with Castro through Cuba in the late 1960s, he memorably filmed the revolutionary leader shedding his uniform and playing baseball, shirtless, with peasants.
"We're continuing his work in our own way," said Valerie Landau, who leads tours to Cuba and also works with the Cuban Health Ministry on education programmes. "I think this is a real crossroads, and there's going to be a lot of change in Cuba. Some of it at their own speed and choice, and some of it as a result of an avalanche of interest on the part of Americans who're hungry to know and see Cuba."
The limestone and marble mansion opened as the Cuban Embassy in 1919 and quickly established itself as a delightful society-party venue. Diplomatic relations were broken in 1961, two years after Castro took power. The mansion was shuttered. It reopened in 1977 as the Cuban Interests Section, parallel with a US Interests Section in Havana. The move to have fully fledged embassies again came after President Barack Obama and President Raul Castro resolved in December to normalise relations.
Code Pink provided entertainment|with chants and signs that said "Salsa se­! Embargo no!"
"I didn't know if I'd live to see this day," said Code Pink organiser Medea Benjamin, who lived in Cuba from 1979 to 1983. She said she was deported for being so outspoken - hence her "love-hate relationship" with Cuba. Lately it has been more love. She leads large tours of activists to the island and is planning an upcoming teach-in in the city of Guantanamo against continued US control of the Guantanamo Bay Naval Base.
Inside the embassy, actor Danny Glover drifted from room to room. A regular visitor, his ties to Cuba run so deep that when the remaining Cuban Five prisoners were released by the US in December, one of the first phone calls made by their informal leader, Gerardo Hernandez, as a free man was to Glover.
Glover found his way over to celebrated Cuban folk singer Silvio Rodriguez, who was one of the bold-faced names from the island included in the Cuban delegation.
The reception was liberally sprinkled with Democratic senators and members of Congress, some of whom have been toiling at reaching out to Cuba for as long and as hard as the activists and the policy experts.
"I've spent 25 years in Congress trying to change this policy," said Democrat Jose Serrano, who hosted Castro in the Bronx in 1995, and was criticised for it by some. "We gave him a party at a place called Jimmy's Bronx Cafe. People who went to that event are texting me now saying 'Don't you feel vindicated?'"
"There was a war for 56 years, and|the war is over," said Philip Brenner, a professor in the School of International Service at American University.[13]
Maestre screening
Catherine Murphy October 24, 2016:
Howard University Education Department will present Maestra this Thursday at 2pm - free & open to the public!
Come on over friends in the DMV! — with James Early, Kymone Tecumseh Freeman, Medea Benjamin, John Lists, Deborah Menkart, Paul Ortiz, Makani Themba, Karen Hampton, Karen Mafundikwa, Doris Derby, Luisa Crespo, Talaya Grimes, Annette Martin, Rhone Fraser, Mimi Machado-Luces, Saad Hayes Sodaye, Matthew White, Lisa Brock, Netfa Freeman, Sira Orozco, Luisa Campos, Eve Goldberg, Luci Murphy, Alison Kibbe, Curtis Muhammad, Mwiza C K Munthali, Mia Henry, Michelle Darden Lee, Alli Jarrar, Banbose Shango, Shah Boo and U.S. Women and Cuba Collaboration at Howard University.
References