James Campbell
From KeyWiki
For other uses, see James Campbell (disambiguation)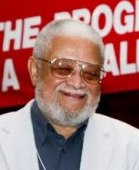 James E. Campbell (born 1925, is an African American educator and civil rights activist, worked as a teacher in Baltimore, Maryland; New York, New York; and Tanzania. He later became an administrator with the New York City public school system. Campbell also served as contributing editor for the journal Freedomways. Relocating after retirement, he became a community activist in Charleston, South Carolina and continued his involvement with educational initiatives. Throughout his life, Campbell has worked with organizations focused on socialism, Pan-Africanism, freedom struggles, and equity in education.[1]
Collection
Campbell's archival collection, located in the Avery Research Center at the College of Charleston includes letters written by Campbell to Betty Shabazz, letters from the Malcolm X Commemoration Committee, and professional correspondence relating to Campbell's involvement with the Charleston branch of the National Association for the Advancement of Colored People (NAACP) and the South Carolina Algebra Project.
Photographs include images of an Audubon Ballroom Rally attended by Malcolm X and Ella Lee-Little Collins, images of Nelson Mandela's 1990 visit to New York, and personal photographs. Professional materials chiefly relate to Campbell's career as an educator and school administrator in New York; his association with the Organization of Afro-American Unity's Liberation School; documentation of his tenure as an English teacher in Tanzania; and civic involvement related to educational issues in Charleston, South Carolina.
Subject files include interview transcripts of Malcolm X and printed material relating to Jesse Jackson, South Africa, Central America, and the Caribbean. Publications and clippings include international, national, and local newsletters, publications, newspaper, and magazine clippings assembled by James E. Campbell. Newspaper and magazine clippings are heavily represented, a large portion of which relate to the life, death and legacy of Malcolm X. [2]
Herbert Aptheker Testimonial Dinner
On April 28, 1966 James Campbell was a sponsor of the Herbert Aptheker Testimonial Dinner. The dinner was held on the occasion of Herbert Aptheker's 50th birthday, the publication of his 20th book, and the 2nd anniversary of the American Institute for Marxist Studies. It was held in the Sutton Ballroom, The New York Hilton, Avenue of the Americas, 53rd to 54th Street, New York City. Most speakers, organizers and sponsors were known members or supporters of the Communist Party USA.[3]
CoC National Conference endorser
In 1992 James E Campbell, New York Board of education (ret.) James Island, South Carolina, endorsed the Committees of Correspondence national conference Conference on Perspectives for Democracy and Socialism in the 90s held at Berkeley California July 17-19.[4]
Committees of Correspondence
In 1997 James Campbell served on the National Co-Ordinating Committee of the Committees of Correspondence.[5]
Committees of Correspondence 2002 Conference
At the Committees of Correspondence National Conference and Convention, July 25-28, 2002 San Francisco State University.
Disarmament and the Military Budget. Panelists included: Kenneth Riley, David Bacon,, Marilyn Albert, Renee Saucedo, Angela Sambrano, Cathi Tactaquin, Marty Price, Patrice Sewell, Joan Cohen, Claire Carsman, James Campbell, Peter Orris, Thelma Correll, Edith Pollach, Amaha Kassa, Harry Targ, Steve Williams, Karen Talbot, Mort Frank, David Cohen.[6]
Black Radical Congress
In March 1998 "Endorsers of the Call" to found a Black Radical Congress included James Campbell, Retired Educator[7].
Support for Barack Obama
In 2009 James Campbell was listed as a signer[8]of the Progressives for Obama website and as a national Co-chair of Committees of Correspondence for Democracy and Socialism.
CCDS Democracy Charter Study Group
In 2017 the CCDS Democracy Charter Study Group consisted of James Campbell, Timothy V. Johnson, Mildred Williamson, Pat Fry, Erica Carter, Karl Kramer, Mark Solomon, Anne Mitchell, Meta Van Sickle.[9]
References