Jacqueline Cabasso
From KeyWiki

Jacqueline Cabasso is a Northern California activist.
Western States Legal Foundation
Jacqueline Cabasso is the Executive Director[1]of Western States Legal Foundation (WSLF}, where she has worked since 1984. As WSLF's principal organizer, she is responsible for community education, media, networking, client coordination and fundraising. Ms. Cabasso frequently writes for and travels on behalf of WSLF, speaking at public hearings, conferences and rallies, and meeting with organizers throughout the world. She is a leading voice for nuclear weapons abolition, speaking at events across North America, Europe, and Asia.
In her home region, Ms. Cabasso chairs the Coordinating Committee of the Peoples NonViolent Response Coalition. At the national level, she convenes the Nuclear Disarmament/Redefining Security working group of United for Peace and Justice. Since 1994, Ms. Cabasso has represented WSLF at negotiating and review sessions of the Comprehensive Test Ban Treaty and the Nuclear Non-Proliferation Treaty. In 1995, she co-founded the Abolition 2000 Global Network to Eliminate Nuclear Weapons, which has grown to include more than 2000 organizations in over 90 countries, and she continues to serve on its international Coordinating Committee.
Ms. Cabasso is the co-author, with Susan Moon, of Risking Peace: Why We Sat in the Road (Open Books, 1985), an account of the huge 1983 nonviolent protest at the Livermore Nuclear Weapons Laboratory and the subsequent mass trial conducted by WSLF. She has written and co-authored numerous articles for publications including the Bulletin of the Atomic Scientists and the journal Social Justice.
Department of Peace
Speaking to a crowd of 200 peace activists March 11, in Oakland California, Reps. Barbara Lee (D-Calif.) and Dennis Kucinich (D-Ohio) took the occasion to condemn the Bush administration's plans to target seven nations with nuclear weapons.
"To think that the nuclear option is on the table as a viable strategy is terrifying," said Lee. "We must keep peace out there as an option."
Kucinich declared, "We have a crisis in the country – a crisis in the the lack of belief in the power of peace. The Bush plan," he said, "challenges America morally. It raises the question of what America stands for." Both statements were warmly applauded by the audience gathered to hear about a proposed Cabinet-level Peace Office initiated by Lee and Kucinich.
They were joined in their stand by Communist Party USA affiliated activist Jackie Cabasso, spokesperson for the Peoples Non-Violent Response Coalition, organizer of the event, who said, "The U.S. position needs to be condemned today, immediately! We need a Department of Peace, but we need some interim measures in the meantime." The PNVRC was formed in the wake of the events of Sept. 11 to promote non-violence as the answer to terrorism.
The bill (HR-2459) that would set up the Department of Peace was introduced in Congress on July 11, 2001 by Kucinich; at that point there were 61 co-sponsors, including Lee.
The bill would order the federal government to set up a $3 billion a year agency with a Secretary of Peace who would be a member of the President's Cabinet, and seven assistant secretaries. The mission of the Department would include: hold peace as an organizing principle; endeavor to promote justice and democratic principles to expand human rights; develop policies that promote national and international conflict prevention, non-violent intervention, mediation, peaceful resolution of conflict, and structured mediation of conflict.
A national "Peace Day" would be declared as an occasion to urge all citizens to create peace.
The forum was moderated by leftist Oakland City Councilmember Nancy Nadel. Oakland teacher Jessica Wright, also spoke of the need to involve young people in peace work.[2]
Communist Party USA
In September 2006 the Peoples Weekly World listed several members, or supporters of the California Communist Party USA.
Abe Blashko, Leo Blashko, Lilo Heller, Sara Alchermes, Armando Ramirez, Cassandra Lopez, Danny Morales, Gail Ryall, Jacqueline Cabasso, John Kitchenka, John Reiger, Juan Lopez, Marilyn Bechtel, Siri Margerin .[3]
WAR AND PEACE ... Connecting the dots
PANEL: Wilson Riles, Jr., Jackie Cabasso, Aimee Allison, Andrew Lichterman. Think through the excuses this country uses to go to war and the role of the peace movement. Using a social, economic and political lens, we will dialogue around what strategies are needed to increase the effectiveness of the peace movement in ending war abroad and its damaging impacts at home. 1433 Webster St March 16, 2006.[4]
United for Peace and Justice
In 2005 and Dec 2008 Jacqueline Cabasso, Western States Legal Foundation was voted onto the Steering Committee for United for Peace and Justice.[5] [6]
Award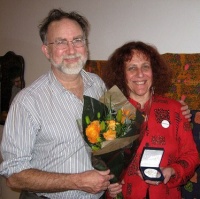 Committees of Correspondence conference
At the 6th National Convention of the Committees of Correspondence for Democracy and Socialism (CCDS) at San Francisco's Whitcomb Hotel July 23-26 2009 a panel[7]featured responses to a "Democracy Charter" written by Jack O'Dell. Bill Fletcher Jr, editor of Black Commentator, Michael Eisenscher of US Labor Against the War, Jacqueline Cabasso from Western States Legal Foundation, Frank del Campo from the Labor Council for Latin American Advancement and Steve Williams of POWER (People Organized to Win Employment Rights)addressed the "charter. Bill Fletcher, Jr. cast the Charter as a political and social guide for mass struggle.
Disarm Now! conference
In June 2010, Jacqueline Cabasso addressed the Disarm Now! Conference, Riverside Church, New York. (Workshops: Dismantling Discourses: Nuclear Weapons & Human Security) is executive director of Western States Legal Foundation in Oakland, California, a founding mother and coordinating committee member of Abolition 2000, a steering committee member of United for Peace and Justice, and North American Coordinator of Mayors for Peace.[8]
Bay Area New Priorities Campaign
Initiating signers, Bay Area New Priorities Campaign were;
Peace, War, US Foreign Policy, and Climate Crisis
Posted on October 2, 2014 by Democratic Socialists of America E Bay invites you to a report back and discussion about Peace, War, US Foreign Policy, and Climate Crisis Saturday, October 11, 2014.
Michael Eisenscher, US Labor Against the War, Jacqueline Cabasso, Western States Legal Foundation, United for Peace and Justice.
Michael and Jackie work locally with the Bay Area New Priorities Campaign.
Both Michael and Jackie are back from New York where they attended People's Climate March, Sunday Sept 21, and People's Climate Convergence (on days prior to the march), Niebyl Proctor Library, 6501 Telegraph, Oakland.[10]
Mayors for Peace
The agenda of the U.S. Conference of Mayors' annual meeting June 19-22, 2015, in San Francisco ran the gamut of issues mayors must deal with every day - water, technology, climate, energy, transportation, law enforcement, jobs, education, housing - to name a few.
But one issue kept resurfacing: how to confront and deal with the virulent racism that remains a current in U.S. life, whether expressed in last week's killing of nine African Americans engaged in bible study at Emanuel African Methodist Church in Charleston, S.C., or killings by police that recently took the lives of Michael Brown, Freddie Gray and others.
A series of demonstrations, including a Friday "arms are for hugging, not policing" action and a Saturday morning march of several hundred protesters, kept up a relentless drumbeat about the meeting's heavy corporate sponsorship (read Wells Fargo, Walmart, Google and a couple dozen more). Protesters called on the mayors to end racist police brutality, demilitarize the police, and work to solve the crises of gentrification and affordable housing.
Speaking before the march, Jackie Cabasso, North American Coordinator for Mayors for Peace, called the USCM "a real mixed bag. Some good things are going on in there, and some really bad things." Since the mayors are "more diverse, more approachable, more progressive and more subject to citizens' pressures than members of Congress," she said, "It's a good thing we are out here today, telling them what we think and telling them that arms are for hugging."
Reminding demonstrators that this year marks 70 years since the U.S. atomic bombing of the Japanese cities of Hiroshima and Nagasaki, Cabasso called the bombings "the bedrock of the military industrial complex ... at the center of a process that goes onto the streets through the widespread availability of guns and translates into wars around the world and the militarization of the police."
Founded in 1982 by the mayor of Hiroshima, Mayors for Peace has over 6,700 member cities in 160 countries, over 200 in the U.S. In the last decade, Mayors for Peace has introduced and the USCM has passed increasingly strong resolutions for worldwide elimination of nuclear weapons.[11]
Working Group for Peace and Demilitarization in Asia and the Pacific
Working Group for Peace and Demilitarization in Asia and the Pacific released a "Statement Opposing U.S.-South Korea Joint Military Exercises Key Resolve Foal Eagle" circa 2008;
Christine Ahn, Gretchen Alther, Rev. Levi Bautista, Jackie Cabasso, Herbert Docena, John Feffer, Bruce Gagnon, Joseph Gerson, Subrata Goshoroy, Mark Harrison, Christine Hong, Kyle Kajihiro, Peter Kuznick, Hyun Lee, Ramsay Liem, Andrew Lichterman, John Lindsay-Poland, Ngo Vinh Long, Stephen McNeil, Nguyet Nguyen, Satoko Norimatsu, Koohan Paik, Mike Prokosch, Juyeon Rhee, Arnie Sakai, Tim Shorrock, Alice Slater, David Vine, Sofia Wolman, Kevin Martin.[12]
References