Jake Schlitt
From KeyWiki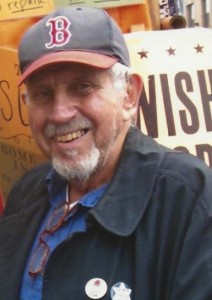 Jake Schlitt has been a labor, civil rights, Jewish community and democratic socialist activist since the 1940s. He has been an organizer for the International Ladies Garment Workers Union, a staffer for the Jewish Labor Committee, and a volunteer with the Brotherhood of Sleeping Car Porters for the historic 1963 March on Washington. In 1973 Jake Schlitt participated in the founding convention of the Democratic Socialist Organizing Committee, which later evolved into Democratic Socialists of America.[1]
Background
Born in the Bronx in December 1927, his mother was a cloak finisher, a member of Local 9 of the International Ladies Garment Worker s Union. She had come from Romania in 1904 at the age of 16, made her way to the Lower East Side of New York, worked in the sweat shops, took part in the 1910 Cloakmakers Strike, and was elected shop chairlady and a member of the local's Executive Board. Her heroes were Eugene Debs and Meyer London. Her commitment to socialism and trade unionism she passed on to her son.
Jake Schlitt attended the Bronx public schools and City College, but a decade after Irving Howe. He was a member of the Congress of Racial Equality , and was active in the 1949 City College strike calling for the ouster of Professors Davis and Knickerbocker.
In 1950 he went to work for the ILGWU, where almost every officer was a former socialist. (While he was organizing alteration workers, Anne Draper, who was organizing millinery workers, sold him a subscription to Labor Action and introduced him to Max Shachtman.)
He was drafted in 1954, returned to New Y ork and was hired by the Jewish Labor Committee as the liaison with its field directors, one of them being Julie Bernstein, a kindred spirit. It was Julie who demanded, as he did of so many others, that Jake join the Socialist Party USA. He also worked with Sam Friedman, one time SP vice presidential candidate.
From the JLC, Jake Schlitt moved on to become Education Director of the Amalgamated Laundry Workers Union. While at the Laundry Workers in 1963 he volunteered at the Brotherhood of Sleeping Car Porters as Bayard Rustin planned the March on Washington, bringing five busloads of Laundry Workers to the March.
Schlitt went on to work for AFSCME in Washington as Education Director, and in 1966 was hired by the U. S. Commission on Civil Rights. He attended the founding convention of Democratic Socialist Organizing Committee (later DSA) in 1973, and was an active member of the Washington Chapter. He has been a dues paying member ever since.
It was during this period that he was also active in Labor for Peace, Jews for Urban Justice, the grape boycott, the Poor People's Campaign, and organized a union at the Civil Rights Commission. He was one of a half dozen union men attending the 1974 Founding Conference of the Coalition of Labor Union Women. In 1979, Jake was named director of the newly formed New England Region of the Civil Rights Commission, and became involved in t he Boston civil rights scene as one of the founders of the Greater Boston Civil Rights Coalition and later the Greater Boston Interfaith Organization.
He has been a member of the Workmen's Circle from 1956, served on its National Executive Board, and was President of the Boston chapter. He also was a member of the Washington DC and Boston Jewish Community Relations Councils, reminding them that, though they are members of the "establishment," most of their parents and grandparents who came to this country were socialists, supported unions, and opposed capitalist exploitation.
When Congress cut the Civil Rights Commission's budget in 1986,eliminating seven offices including Schlitt's, he managed to get an appointment as a member of the Massachusetts Board of Review of the Department of Employment and Training, then as Inspector with the Fair Labor Division of the Attorney General's Office, retiring in 1997.
He has been a longtime member of Workers Education Local 189 of the AFT, and somewhere along the way was appointed to the Advisory Council of the Workers Defense League.
He is married to the former Fran Morrill and has, altogether, three children - democratic socialists all.[2]
DSA award
Harlan Baker June 9, 2014:
This years recipients of the Boston Democratic Socialists Debs-Thomas-Bernstien Awards. (Left) Lucy Parks accepting for Cecily McMillan. Jacob Schlitt's daughter in the middle and Jacob Schlitt.
Jacob Schlitt is a long time labor and civil rights activist . In 1965 he was appointed to the U.S. Commission on Civil Rights.
Democratic Socialists of America
Debs-Thomas-Bernstein Awards Reception
Irving Howe memorial
In 1993 the Boston Democratic Socialists of America local organized a public memorial for Irving Howe, which was held on June 8; Fran Schlitt and Jacob Schlitt and Randall Kennedy spoke. [3]
2002
On June 13, 2002 Boston Democratic Socialists of America presented its 25th Annual Debs–Thomas–Bernstein Awards to "leaders who fight for democracy, here at home and around the world". State Representatives Pat Jehlen and Anne Paulsen, Co-Chairs of the Progressive Legislators Group received the award. Ellen Feingold, the earliest known recipient (1979) spoke on the history of the organization. David Knuttunen and Susan Davidoff were benefactors of the reception. Jake Schlitt was a patron of the reception.[4]
2009
On June 30, 2009, Boston Democratic Socialists of America presented its annual Debs-Thomas-Bernstein Award to Professor, author, and health care reformer Rashi Fein, along with the winners of a union election at St. Elizabeth's Medical Center in Brighton, accepted by Sonia Marshall, the key organizer of the campaign. Sheila Decter of the Jewish Alliance for Law and Social Action presented the award to Rashi Fein. The event was held at the home of Marcia Peters and David Karaus. Mike Fadel of SEIU Local 1199 (formerly Boston DSA staff person) and the AFSCME-affiliated New England Organizing Project were benefactors of the event.[5][6]
Jake Schlitt and Fran Schlitt were supporters of the event.
2010
On June 13, 2010, Boston Democratic Socialists of America presented its annual Debs-Thomas-Bernstein Award to "two champions of social justice and grassroots democracy, Georgia Hollister Isman and Jack Clark". Honorary Co-Chairs for the event were Massachusetts AFL-CIO President Bob Haynes, State Senator Patricia Jehlen and special guest Senator Sonia Chang-Diaz. Georgia Hollister Isman's award was presented by Andrea Miller of NARAL. Massachusetts AFL-CIO Vice-President Ed Collins and Janet Boguslaw from Brandeis University introduced the other honoree, Jack Clark, who then "entertained and informed us with a brief tour of U.S. Socialist history". David Knuttunen & Susan Davidoff were benefactors of the event.[7][8]
Jake Schlitt and Fran Schlitt sent greetings to the event.
2014 awardee
Boston DSA Debs-Thomas-Bernstein Awards Reception, took place Sunday, June 8, at the Workmen's Circle, 1762 Beacon Street, Brookline
Join us at Boston DSA's annual awards reception, this year honoring two activists separated by six decades but united in the cause of social justice — Jacob Schlitt and Cecily McMillan.[9]
Backing Elizabeth Warren
In The Yankee Radical, June 2014 page 3, Boston Democratic Socialists of America member Jake Schlitt claims he urged Elizabeth Warren to run for US Senate, at an Occupy Boston gathering.[10]
References