Jackie Lavalle
From KeyWiki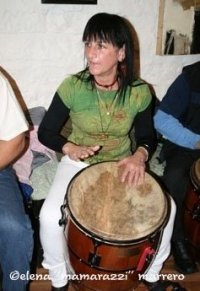 Jackie Lavalle works at Queens Public Library
Education
Studied at Hunter College.
Party member
Jackie Lavalle, a member of the Ohio Peace Council in Cleveland, attended the Communist Party USA's extraordinary conference , Milwaukeee, April 1982. [1]
Endorsed Communist Party Call
On March 30 2002 the Communist Party USA paper People's Weekly World called for a national holiday in honor of late Farm Workers Union leader Cesar Chavez. The article was followed by a long list of endorsers including Jackie Lavalle, Almost all endorsers were confirmed members of the Communist Party USA.[2]
Birthday greetings to Gus Hall
The following contributors to the World 1996 Fund Drive sent birthday greetings to Gus Hall, national chair, Communist Party USA. People's Weekly World, 21 December, 1996 - Jackie Lavalle.
National Party Building Conference
National Party Building Conference Hosted by Communist Party USA and People's World.
Saturday, November 11, 2017 at 12 PM – 6 PM EST
Join Communist Party activists and members in a national conference. You can register here https://tinyurl.com/ycdouk3y
The conference will take place November 11th to 12th to plan our work in the fight against the Trump Administration and its white supremacist ruling class backers. Find information here about how to participate. http://www.cpusa.org/2017-national-party-building-conference-resist-organize-vote-grow/
The conference will be streamed from Chicago to regional meetings in New Haven, Los Angeles, and Orlando. Whether you're on the East Coast, West Coast, in the MIdwest or the South, you'll be able to participate.[3]
Those invited on Facebook included Jackie Lavalle.
"Socialism Betrayed"
In 2004 Roger Keeran, and Thomas Kenny published "Socialism Betrayed: Behind the Collapse of the Soviet Union"
Special thanks went to Bahman Azad, Norman Markowitz, Michael Parenti, Anthony Coughlan, and Betty Smith for reading the entire manuscript and suggesting editorial and substantive changes. We would also like to thank those who read all or parts of the manuscript and those who shared their ideas and sometimes their encouragement: Gerald Horne, Frank Goldsmith, Erwin Marquit, Sam Webb, Elena Mora, Mark Rosenzweig, Gerald Meyer, Joe Sims, Lee Dlugin, Pat Barile, Daniel Rubin, Phillip Bonosky, Bill Davis, Evelina Alarcon, Tim Wheeler, Scott Marshall, Noel Rabinowitz, Paul Mishler, Jarvis Tyner, Esther Moroze, Marilyn Bechtel, Gerald Erickson, Constance Pohl, Jackie DiSalvo, Richard Najarian and Brawee Najarian, and Jim Miller.
Also thankedd were librarians, Mark Rosenzweig of the Reference Center for Marxist Studies and Jackie Lavalle, for helping with the research, and Eileen Jamison for tracking down numerous books and articles. Also owed a debt of gratitude were Gregory Grossman for helping find sources on the second economy. Also thankedd were SUNY Empire State College for granting a sabbatical leave to Roger Keeran during which he did some early research and writing. Catherine Keeran for her assistance and Alice Ward and John Ward for providing accommodations and company, while Roger did research at the University of Texas. David Granville, Derek Kotz, Ian Denning and Charles Keller, and for technical help.[4]
Tribute to George Edwards
Jackie Lavallewrote on the 2012 death of Communist Party USA leader George Edwards;
George Edwards was my good friend and always my inspiration. I used to say to myself "when I grow up I want to be like George" He had more energy than most people half his age. What Bruce Bostick wrote is so true. The thing was even if you were about to get frostbitten while giving out union literature in the dead of winter, you knew that if George was doing it nothing was more important to do and you wanted to be by this side!
His enthusiasm to make the world a better place was infectious: he lived and struggled like no one I know
and besides all that he also knew how to make us laugh. I just can't imagine this world without George. I guess the best thing for me is to try to be more like him. [5]
Peace march
On Apr. 26 2015, Jackie Lavalle, joined a a peaceful march against the most violent instruments of war ever created by humanity: nuclear weapons. The demonstration was sponsored by Peace and Planet: Mobilization for a Nuclear-Free, Peaceful, Just & Sustainable World. She interviewed several people.
Nearly 8,000 thousand activists assembled at Union Squares Park's north side on Broadway at E 17th St. to listen to speakers and then marched up Third Ave. to the United Nations to deliver eight million signatures.
Brooks Kelly, who was balancing his young daughter on his shoulders as he marched with a delegation from the U.S. Peace Council said, "I'm here for my children and their future."
Diane Beeny from a New Jersey group called "The Hiroshima/Nagasaki Remembrance Committee." She was wearing a vintage t-shirt distributed at the June 12, 1982 event. "I have been active in the anti-nuclear movement a long time," she said with obvious pride, adding, "For a peaceful, just and sustainable world we also need to fight against racism and economic inequality."
As the marchers assembled for their parade to the United Nations I spotted Vinie Burrows, the award-winning Broadway actress and women's activist, helping her peace associates hold up a huge banner. Burrows, who has fought innumerable battles for social justice, said it was "wonderful to be in solidarity with our Japanese brothers and sisters demanding no more war, no more nuclear weapons which result in human catastrophe like Hiroshima and Nagasaki."
A UE worker, Gary DeLuke from Local 170 in West Virginia, felt very strongly about his presence at the march:
"I am here to connect with my fellow workers around the world-to find common ground with them-peace is important for working people because war means workers are fighting workers-war is very rarely in their interest."
Jarvis Tyner, New York District chair of the CPUSA was standing tall throughout the march, greeting demonstrators and observing the dynamics of this international outpouring for peace and against nuclear weapons. Tyner, who is originally from Philadelphia and is a former union activist for the Teamsters, has just completed a pamphlet, "Black Lives Matter." For copies: NY@cpusa.org.
He said: "The ultimate weapon of terrorism is nuclear weapons. The Obama administration is fighting nuclear terrorism by negotiating with Iran." He asked, "So, when are we-the United States-going to take the necessary steps to rid ourselves of nuclear weapons? How are you going to eliminate terrorism if we don't eliminate nuclear weapons?" [6]
References