Isaiah Toney
Jump to navigation
Jump to search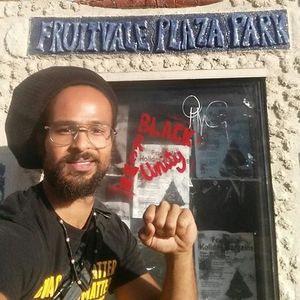 Template:TOCnestleft Isaiah Toney is an Organizer Washington D.C. Metro Area Alliance of Californians for Community Empowerment.
Previously he worked for Jobs with Justice, United States Student Association, DC Jobs with Justice.
Education
The George Washington University.
Movement Activist Apprenticeship Program
Isaiah Toney is an alumni of the Movement Activist Apprenticeship Program.[1]
Supporting Nikki
Nikki Fortunato Bas 4 Oakland April 21, 2018.
With Mari Rose Taruc, Gabriel Haaland, Millie Cleveland, Brad Erickson, Nikki Fortunato Bas, Jessamyn Sabbag, Dashiel Johnson, Kimi Lee, Jahmese Kathleen Myres and Isaiah Toney.
Washington Peace Center award
On December 8, 2010, the Washington Peace Center hosted their 6th Annual Activist Awards Grassroots Gala, at All Souls Church and" celebrate the hard work and successes of DC activists in creating a more just and peaceful world." IPS takes pride that our very own Marc Raskin is one of the recipients of this year's Activist Award! Join us for the activist party of the season!
The awardees were:[2]
"A stronger global movement"
Sunday 18 November 2012, in Washington DC The Lucy Gonzalez Parsons Institute for Education and Justice convened "How can we build a stronger global movement, and what will it take to win? Hear perspectives on movement building from the US and the Philippines!"
With Bill Fletcher, Jr. Author, They're Bankrupting Us! And 20 Other Myths about Unions Co-Author, Solidarity Divided: The Crisis in Organized Labor and a New Path toward Social Justice, Barbara Ehrenreich Author, Nickel and Dimed: On (Not) Getting by in America and Bait and Switch: The (Futile) Pursuit of the American Dream, and Elmer Labog (via video) National Chairperson, Kilusang Mayo Uno, May First Workers Center in the Philippines.
Those signalling there intention to attend via the Wherevent website included Jon Liss, Cameron Barron, Graziela Santos, Samantha Miller, Sapna Pandya, Jane English, Naomi Demsas, Mishy Leiblum, Mackenzie Baris, Virginia Leavell, Betty Garman Robinson, Walda Katz-Fishman, Lillian Diallo, Liana Dalton, Rosa Lozano, Isaiah Toney, Rishi Awatramani, Shane Stewart, Chuck Hendricks - most of whom were associated with the Freedom Road Socialist Organization.[3]
Metro DC DSA Public Facbook group
Members of the Metro DC Democratic Socialists of America, public Facebook group, as of March 12, 2017 included Isaiah Toney.[4]
External links
References