Irving Howe
From KeyWiki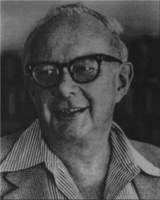 Irving Howe was a leading US socialist.
New Oxford Review
From an advertisement for New Oxford Review in Democratic Left September/October 1991.
An ecumenical monthly edited by lay Catholics, we've been characterized by George Will as " splendid," by the University of Chicago's Martin E. Marty as "lively," by the Los Angeles Times as " influential," by Newsweek as "thoughtful and often cheeky," by Utne Reader as "surprisingly original," by Library Journal as "brilliant," and by Christopher Derrick, England's foremost Catholic apologist, as " by far the best Catholic magazine in the English-speaking world."
We publish Protestants, Catholics, Anglicans, Eastern Orthodox, Jews, and an occasional nonbeliever. Writers who've appeared in our pages include such diversely penetrating intellects as Robert Bellah, Christopher Lasch, Jean Bethke Elshtain, Daniel Bell, Robert Coles, Irving Howe, Walker Percy, Norman Lear, John Lukacs, J.M. Cameron, Henri Nouwen, Avery Dulles, Gordon Zahn, Will Campbell, Stanley Hauerwas, Richard Mouw, and Sheldon Vanauken . We bat around a wide variety of issues and defy easy ideological pigeonholing. We'll keep you on your toes! [1]
Independent Socialist League
Prominent members of the Independent Socialist League included Hal Draper and Ann Draper, Julius Jacobson and Phyllis Jacobson, Max Shachtman, Al Glotzer, Herman Benson, Gordon Haskell, Ernest Rice McKinney, Saul Mendelson, Deborah Meier, Don Chenoweth, Sam Bottone, Joe Friedman (Carter), Paul Bernick, Jack Rader, Carl Shier, Lewis Coser, Ernest Erber, Stanley Plastrik, Irving Howe, B.J. Widick.[2]
DSOC founding convention
The Democratic Socialist Organizing Committee founding convention Socialism'73 took place in New York City, October 12 and 13, 1973, at the Loeb Student Center, NY University and at the McAlpin Hotel. Speakers included;
Democratic Socialist Organizing Committee
Some 150 delegates and 100 observers met at Houston's Airport Holiday Inn, February 16-19, 1979, for the fourth national convention of the Democratic Socialist Organizing Committee (DSOC).
DSOC's leadership[4]at the 1979 convention included-Michael Harrington, chairman, Julius Bernstein vice chairman, Victor Reuther vice chairman, Jack Clark national secretary.
the national board consisted of-Julian Bond, Harry Boyte, Bogdan Denitch, Harry Fleischman, Irving Howe, Alex Spinrad, Gloria Steinem, Harry Walsh, Nat Weinberg, Richard Wilson
District 1199 Cultural Center
In 1982 Advisers to the District 1199 Cultural Center, Inc. New York were:[5]
DSA Conference delegate
In 1983 Irving Howe was a New York delegate to the Democratic Socialists of America conference in New York City, October 14-16, 1983[6]
DSA vice chair
In 1984 Democratic Socialists of America vice chairs were Harry Britt, Ron Dellums, Dorothy Healey, Irving Howe, Frances Moore Lappe, Manning Marable, Hilda Mason, Marjorie Phyfe, Christine Riddiough, Rosemary Ruether, Edwin Vargas Jr, William Winpisinger[7].
American Solidarity Movement
The American Solidarity Movement was announced in early 1984 by Democratic Socialists of America, as a vehicle to support American labor unions it considered under attack, or on strike and in need of support.
Members of the Initiating Committee for an American Solidarity Movement were: Michael Harrington (convenor), Stanley Aronowitz, Balfour Brickner, Harry Britt, Harvey Cox, Rep. Ron Dellums, Bogdan Denitch, Barbara Ehrenreich, Cynthia Epstein, Jules Feiffer, Rep. Barney Frank, Msgr. George Higgins, Irving Howe, Eleanor Holmes Norton, Frances Fox Piven, Jose Rivera, Ray Rogers, Gloria Steinem, Peter Steinfels, Ellen Willis.[8]
Paying tribute to Michael Harrington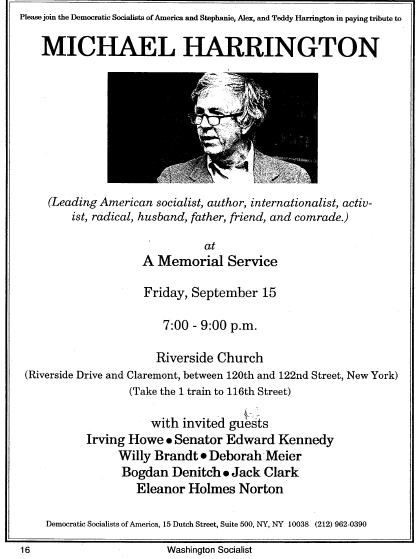 On Friday September 15, 1989, a tribute service was held to commemorate the recently deceased leader of Democratic Socialists of America, Michael Harrington.
Invited guest speakers were Irving Howe, Senator Edward Kennedy, Willy Brandt, Deborah Meier, Bogdan Denitch, Jack Clark and Eleanor Holmes Norton.[9]
Socialist Scholars Conference 1990
The Socialist Scholars Conference 1990, held September 6-8, at the Hotel Commodore, New York, included panels such as:[10]
Michael Harrington as Theorist: A Critical Evaluation
DSA Youth conference
Irving Howe was a guest speaker at the Democratic Socialists of America Youth Section 1992 conference.
"Dissent" magazine
In 2009 the Dissent magazine masthead[11] listed Editors Michael Kazin, Michael Walzer and Irving Howe (1920-1993)
Dissent magazine was founded in 1954. Early personnel included[12];
Editorial Board:
Travers Clement, Lewis Coser, Irving Howe, Harold Orlans, Stanley Plastrik, Meyer Schapiro
1954 Contributing Editors:
Erich Fromm, Bert Hoselitz, Norman Mailer, Frank Marquart, A. J. Muste, George Woodcock
References