Iqra Khalid
Jump to navigation
Jump to search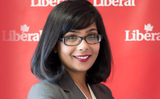 Iqra Khalid is a Pakistani born Liberal member of the Canadian Parliament.
Muslim Student Association
Iqra Khalid is a past president of the York University Muslim Student Association.
Motion M-103
After first passing a motion that condemns Islamophobia, last month, Iqra Khalid, a Member of Parliament (MP) from the governing Liberals, tabled Motion M-103 in the House of Commons. The motion demands that Islamophobia be treated as a crime without even bothering to define the offense.
Thomas Mulcair, the leader of the leftist New Democrat Party, read the first motion in the House of Commons:
"Mr. Speaker, in a moment I will be seeking unanimous consent for an important motion based on the e-petition sponsored by the Hon. Member for Pierrefonds–Dollard that asks that we, the House of Commons, condemn all forms of Islamophobia," Mulcair said.
References