International Socialist Review
Jump to navigation
Jump to search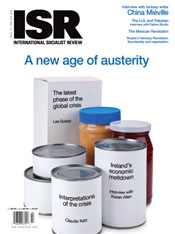 Template:TOCnestleft The International Socialist Review is a bimonthly marxist publication published by the marxist organization Center for Economic Research and Social Change. It's party is the avowedly marxist "International Socialist Organization".
Various writers for International Socialist Review
According to an ad for "International Socialist Review", "Special issue: The Future of The Global Justice Movement" - "Whose World? Theirs or Ours?," which appeared in the Socialist Worker SW, September 14, 2001, Page 12, the following people were contributors to this publication:
Personnel
As at May 2010, the following worked for the Review:[1]
The following contributed to the May-June 2010 issue:[1]
2011
As at March 29, 2011, the following worked for the ISR:[2]
Editorial Board:
Socialism Conference 2010
The ISR sponsored a conference "Socialism: Ideas for Changing the World", Chicago, Illinois, June 17-20, 2010 and Oakland, CA, July 1-4, 2010. The announcement for it was published on the back cover of "ISR" issue Number 71, May-June, 2010, and had as a promo line, "Revolutionary politics, debate, and entertainment." The following are excerpts from the advertisement:
Join us for more than 100 talks on issues such as:

What is the Real Marxist Tradition
Race in the Obama Era
Capitalism, Climate Change, and the Future of Humanity
Abortion and Women's Liberation
Building a New Left
"Don't miss the chance to meet, talk, and socialize with hundreds of others like you who want to build an alternative to a system of greed, racism, war, and oppression."
An endorsement by radical athlete/professor John Carlos was also featured on this page:
"The young people at the conference took me back in time to when you were ready to stand for what was right. It lets you know that what you may have planted years ago will come to reality today. I feel great to have become a part of it."
Speakers included:
References