International Physicians for the Prevention of Nuclear War
From KeyWiki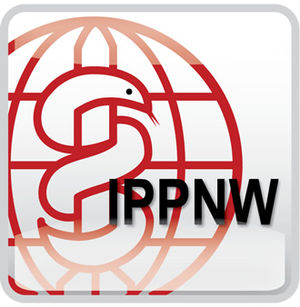 International Physicians for the Prevention of Nuclear War was based in Boston, MA and was formed in 1980.[1]
About
Founded in 1980 by a group of Soviet and American doctors, IPPNW was an inspiration born of the Cold War. Their stated reasoning for the initiative were a common interest in survival, and that their obligation as physicians included a common commitment to the prevention of nuclear war. They organized a team to conduct meticulous scientific research based on data collected by Japanese colleagues who had studied the effects of the atomic bombs dropped on Hiroshima and Nagasaki. And they drew upon their knowledge of the medical effects of burn, blast, and radiation injuries.
The doctors stated that nuclear war would be the final epidemic; that there would be no cure and no meaningful medical response. In the words of former New Zealand Prime Minister David Lange, "IPPNW made medical reality a part of political reality." Physician activists were instrumental in the campaigns to ban atmospheric and underground nuclear test explosions and in helping to shut down nuclear weapons testing sites and production facilities.
From uranium mining to nuclear testing and production, from Nevada to Moruroa and Hanford to Chelyabinsk, IPPNW and its affiliates collected and analyzed data that provides the public with "a frightening assessment of the health and environmental costs of pursuing security through nuclear weapons."
The organization held its first congress near Washington, D.C., in March 1981. Soviet government involvement with International Physicians for the Prevention of Nuclear War is overt: large high-level Soviet delegations attend conferences and IPPNW's three co-chairmen are Yevgeny Chazov, Soviet Deputy Minister of Health; Sir Douglas Black, president, Royal College of Physicians; and Bernard Lown, a Harvard cardiologist.[2]
IPPNW membership overlaps that of Physicians for Social Responsibility.
IPPNW's role was described by Ann Zill of the Charles Stewart Mott Foundation as:
"To coordinate all the [anti-nuclear] Physicians groups that have sprung up in countries such as Canada, Sweden, Finland, Germany, England, Switzerland, Norway and Australia."[1]
As the Cold War came to an end, IPPNW had grown to comprise some 200,000 physicians, health care workers, and concerned citizens every region of the world.[2]
IPPNW was awarded the UNESCO Peace Education Prize in 1984 and the Nobel Peace Prize in 1985.
Personnel
Co-Founders
The following were co-founders of the organization:[2]
Board of Directors
From 2010 - 2012, the following served on the Board of Directors for the organization:[4]
Co-Presidents:
Regional Vice Presidents:
At Large Directors:
International Medical Student Representatives:
Ex Officio Members:
Staff
As at August 10, 2011, the following worked for the organization:[5]
IPPNW Student Movement
The following are leaders of the Student Movement of IPPNW. The Governing Body consists of the National Student Representatives and is presided over by the two International Student Representatives.[6]
Project Coordinators:
Regional Representatives:
National Representatives:
External Links
References